Our CANSLIM screen from December 20th featured the following 8 stocks ranked by Market Cap: Apple (AAPL), Baidu (BIDU), Research in Motion (RIMM), Celgene Corporation (CELG), Cognizant Technology Solutions (CTSH), Southwestern Energy (SWN), Intuitive Surgical (ISRG) and Netflix (NFLX). 



There has been no change in the top-8 listings, so has anything changed with respect to their trading action?
Certainly, it has been hard to escape the news around Apple (
AAPL
). Although, pulling a chart to show the rally from March 2009 lows shows yesterday's open gap down was a good opportunity to take a long position close to its 50-day MA. The real question with Apple is not its price action, but the volume it has traded. If you compare the volume of the past few months to even Christmas of last year you can see it's well down. Complacency? Retail players holding the bag?? Don't fight the trend but watch how it behaves on its next test of its 50-day MA. I suspect it won't be long before sellers control the volume chart.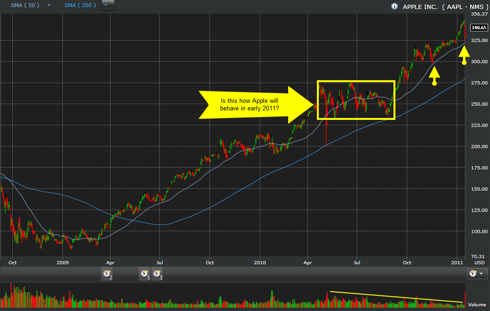 Next on the list is BIDU. It was able to recover from its break of support. It failed to reach the measured move target down to the low
$90s I had suggested
. Buyers were able to step in at $95 support first tested in October 2010 and have currently pushed it above its 50-day MA and into October-December price congestion. Likely to trade around $110 for a bit before mounting a challenge on 2010 highs around $115. 
Research in Motion (RIMM) was a better success. It was able to successfully defend $58 support, helped by the "Golden Cross" between 50-day and 200-day MAs. It has since broken from its 'cup-and-handle' and is working towards a test of $74 having surpassed the challenge of $64 resistance.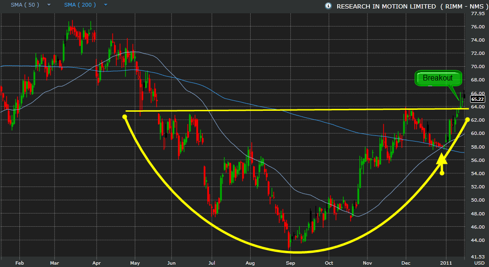 Price action for Celgene Corp (
CELG
) remains lackluster and range bound by $55-63. 
The same could not be said for Cognizant Technology (
CTSH
). It followed through on its bull flag and is on course to test its measured move target of $80.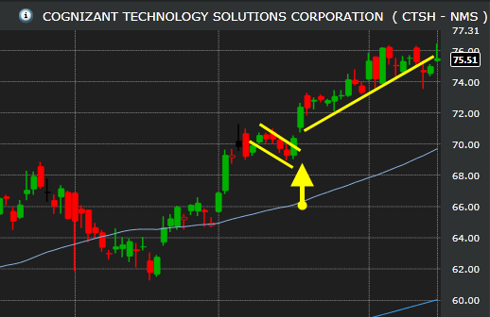 Next is Southwestern Energy (
SWN
). It is perhaps a stock to watch over the coming weeks as it's about to generate a "Golden Cross" between its 50-day and 200-day MAs. Like Research in Motion (
RIMM
) before it is emerging from a base. It has good potential to achieve a measured move target of $45 which so happens to be a reaction high from June of 2010.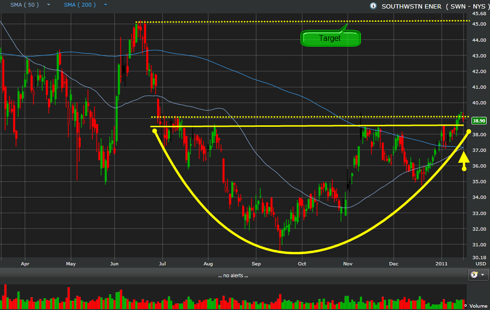 Intuitive Surgical (
ISRG
) has enjoyed three very strong days in five but is fast approaching potential resistance at the 200-day MA. 
Finally, Netflix (
NFLX
) was able to defend its 50-day MA in December and recovered from what - at the time - was a break of support. It is slowly making its way to challenge the early December high. 
That's all for this month - maybe next month will see a new stock break the Top-8.