Of the seven stocks for this week, the 'best' 5-day Pattern belonged to Copano Energy (NASDAQ:CPNO), but the actual effectiveness of this Pattern across the Weakest to Strongest setting was poor.

Instead, I opted for a six-day Pattern selected from the Copano Energy chart (CPNO). This sequence of three neutral days, followed by a bear, bull, bear sequence appeared in August of last year.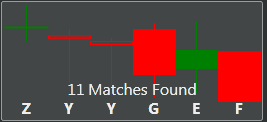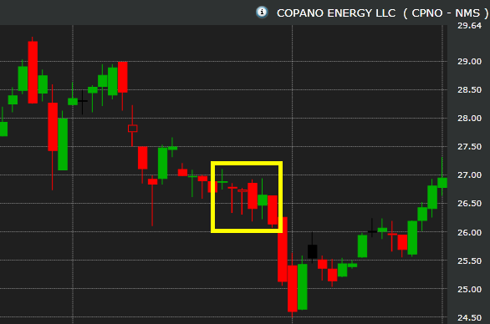 The Pattern performed strongly (to the upside), despite the sell off which followed in the aforementioned case. 


Match
Level
Patterns
Found
1-Day
% Win
2-Day
% Win
5-Day
% Win
Average Return
/ Trade
Weakest
109
65
54
62
5.9%
Weak
65
61
46
53
5.9%
Neutral
36
66
52
65
6.1%
Strong
11
66
52
66
9.8%
Strongest
3
66
33
66
14.2%
This was a relatively rare Pattern with only 109 matches at the Weakest setting. Ironically, the period used to select the Pattern was followed by two strong down days before prices recovered, but the probability of a higher close on the day after the Pattern completed was 61% or higher (across different Matches). Although weakness on the second day of the Pattern invariably occurred and in some cases, losses dropped the stock price below the closing price of the Pattern (i.e. retraced all of the 1-day gain and then some). 
On the fifth day after the Pattern losses had recovered and the probability of a profitable return was in the 60s.
The Average Return Per Trade for the Pattern kicked around 6.0% (using an initial stop of 10%, raising to 5% after a 15% gain; exit after a 25% gain), with the percentage of winning trades around 67%. 
A Market Scan at the 'Strong' setting revealed Duke Energy (NYSE:
DUK
), Hormel Foods (NYSE:
HRL
), Paychex (NASDAQ:
PAYX
), Stryker (NYSE:
SYK
) and AT&T (NYSE:
T
).
You can try our
Free
or
Premium
version PatternDNA today and find your next trading opportunities.