Pattern
of the week is from Cisco (NASDAQ:
CSCO
) and is comprised of two bearish days, a catchall day, then two more bearish days.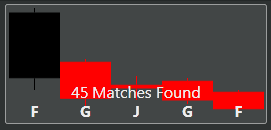 This relatively rare Pattern offered the following returns based on different Match sensitivities (across 18 U.S. stocks over the past 12 months). 
Match
Level
Patterns
Found
1-Day
% Win
2-Day
% Win
5-Day
% Win
Average Return
/ Trade
Weakest
137
62
67
75
7.0
Weak
110
63
70
75
8.0
Neutral
45
59
64
63
7.3
Strong
19
60
63
60
12.7
Strongest
1
n/a
n/a
n/a
n/a
This particular Pattern was interesting because it performed strongly at the Weak and Weakest match setting. Part of its success may be attributed to its rarity. When you consider the percentage of trades which are winners the range goes from 72% at the Weakest Match up to 94% at the Strongest.
The Average Return Per Trade (Average Return Per Trade assumes an initial stop of 10%, raised to 5% off the price reached on a 15% gain. Ultimate Profit Target of 25%) of 7.0% was the best of any Pattern so far at the Weakest Match.
When we ran a
Market Scan
at the Weak setting against the S&P 500 there were 17 matches. This was reduced to just 2 at the Strong Match (CSCO was one of these - the other can be found by upgrading to
Premium
!).
One of the Weak Matches for this Pattern was Pulte Corporation (NYSE:
PHM
). Wednesday's morning gap has seen a jump to $7.67 from $7.48. It still remains some $0.06 away from testing channel resistance. A stiffer band of resistance lives around $8.85. Over the next five days look for a challenge on $7.93.