This week saw one change to the eight stocks from last week. This week's list, ranked by Market Cap: Apple (NASDAQ:AAPL), Barrick Gold (NYSE:ABX), Free McMoran (NYSE:FCX), Baidu (NASDAQ:BIDU), Research in Motion (RIMM), Cognizant Technlogy (NASDAQ:CTSH), Intuitive Surgical (NASDAQ:ISRG), and Southwestern Energy (NYSE:SWN). So Netflix (NASDAQ:NFLX) has been bumped in place of Barrick Gold (ABX). The Screener setup was as follows:





So how has the past two days of selling impacted these stocks?

This week's screener victim, Netflix (NFLX), collapsed back to $210 support. The orderly consolidation I was looking for, tossed to the wind. Sellers have the momentum so the $210 buy marker does not appear as attractive and that gap down to $194 has a good chance of filling. Will it be able to make the grade? It holds the 9th spot with a Market Cap of $11.7B and a Normalized P/E of 76.56. It's well ahead of 10th place F5 Networks (NASDAQ:FFIV) with its $9.3B Market Cap and Normalised P/E of 61.7.

Apple (AAPL) holds top spot with a $312.0B Market Cap and won't be toppled anytime soon. The past few days of selling have taken it outside of channel support, but holding its 50-day MA, which has been an attractive entry point for the Aug-Feb rally. This time around I suspect buyers will wait for the 200-day MA to appear before stepping up their game, but nibbling here is a start. If channel support was regained, then look to a possible bear trap.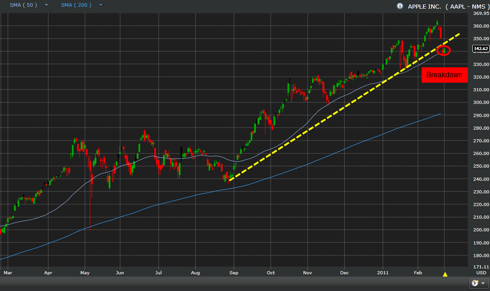 New kid on the block, Barrick Gold (ABX), jumps in at second place. Slow-and-steady is its mantra with buyers using the 200-day MA to great effect. At $52.53 it's a good $6 away from the 200-day MA, but with gold prices working through a consolidation (a consolidation Silver prices cleared with ease), there is a resonable probability for Barrick to catch a solid bid.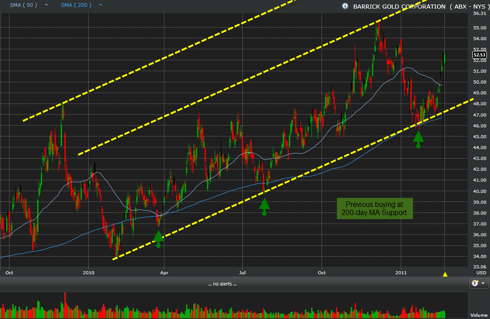 Another commodity play, Free McMoran (FCX), occupies third spot. It has the lowest Normalised P/E of the eight stocks at 11.04. Unfortunately, this P/E could go lower as the $53-$57 consolidation broke to the downside, leaving it with $48 and the 200-day MA (at $44) to look too for support. Buyers might want to wait to see what happens. Stocks trading between 50-day and 200-day MAs rarely trend cleanly.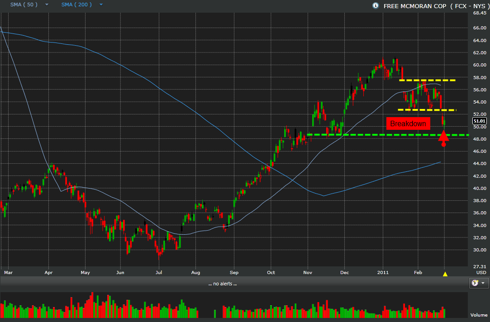 Baidu (BIDU) was also hit hard by the selling. My suggestion for a low risk 'bull flag' was burned by the past 2-days selling (up to that point it was behaving well). Current support is the Oct-Nov reaction high at $114 and gap support at $110. Note, the 50-day MA is currently at $110 - so the latter is looking a more likely test.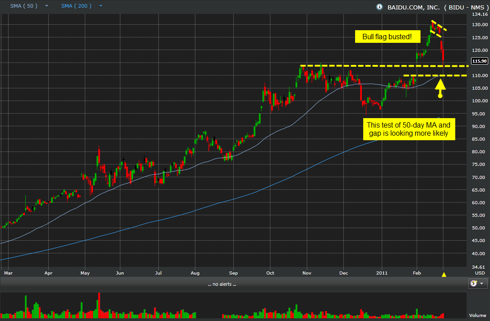 Research in Motion (RIMM) is not setting the world alight, but the past two days of selling - which has crippled many a strong rally - had little effect here. Volume selling light too. Test of 50-day MA at $62 probable.

Cognizant Technology Solutions Corp (CTSH) undercut its 50-day MA which is a little worrying. The November undercut didn't hurt, but this time the decline could be more substantial. There is also quite a gap from $74 down to $63, which is where the respective 50-day and 200-day MAs lie.

Intuitive Surgical (ISRG) has finally started to crack under the pressure with the large breakout gap now looking a hindrance rather than a help (for prospective buyers). Working in it's favour is an upcoming 'Golden Cross' between 50-day and 200-day MAs. A possible scenario is a spike low to the 50-day MA (which will be close to the gap low) that will offer the brave some value. Another advantage it has is that it trades well below last April's highs, so it won't be attracting too much attention from short term traders.

Finally, Southwestern Energy (SWN), is another stock penned in by 2010 highs. But with yestarday's strong push into Energy stocks it was able to create a bear trap from what had been a break below its 200-day MA. It has also enjoyed a recent 'Golden Cross' between 50-day and 200-day MAs - another reason to suggest the worst may now be now behind it.