There was no strong Pattern from this week, so instead I took advantage of PatternDNA's custom select a Pattern. The Pattern was selected from the July reaction low in New Gold (NYSEMKT:NGD). The resulting Pattern, GZGGB, features a bearish day, followed by a neutral day, two more bearish days, and finishes with a bullish day.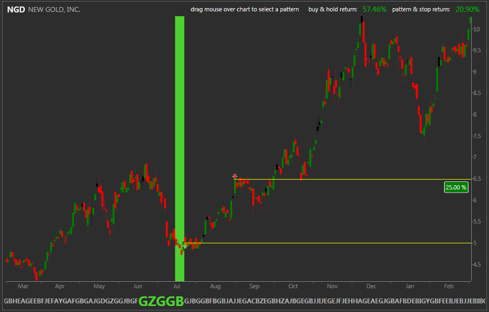 The Pattern was run against 18 U.S. stocks and the following performance returned. The Average Return Per Trade assumes an initial stop of 10%, raised to 5% off the price reached on a 15% gain, with an ultimate profit target of 25%


Match
Level
Patterns
Found
1-Day
% Win
2-Day
% Win

5-Day
% Win
Average Return /
Trade
Weakest
225
46
50
57
3.9
Weak
157
46
56
57
4.4
Neutral
88
36
37
53
5.4
Strong
54
42
48
59
6.0
Strongest
6
0
40
60
12.3
At the weakest Match setting Pattern profitability was low, so the effectiveness of the Pattern is dependent on a rigorous fit with few substitutions. The six matches at the Strongest setting (across 18 stocks over the past year) offered 67% winning trades with an Average Return Per Trade od 12.3%.
However, the most interesting aspect of the Pattern may be the action on Day 2. Across the five Match levels there was a 54% probability of a lower close at the end of Day 2 compared to a 57% probabiltiy of a higher close at the end of Day 5. The trade statistics were more generous, with an average win percentage of 60% (using an initial stop of 10%). So the way to play this may be to wait until the end of Day 2 before going long.
Runing a
Market Scan
at a Neutral Match against the S&P 500 found 35 stocks sharing this Pattern. This dropped to 4 at the Strongest Match - upgrade to
Premium
to view these 4 stocks.
One match was C.H. Robinson Worldwide (NASDAQ:
CHRW
).