This pattern has a lot in common with an earlier pattern from January 19th, differing in only a single letter. The sequence is four mild bearish days, ending in a strong bearish day and was found in Harbin Energy (NASDAQ:HRBN).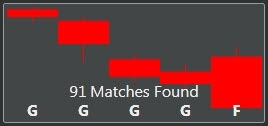 Match
Level
Patterns
Found
1-Day
% Win
2-Day
% Win
5-Day
% Win
Average Return
Per Trade
Weakest
127
68
70
80
6.0
Weak
91
70
69
80
6.4
Neutral
49
78
60
68
8.1
Strong
19
66
52
41
9.0
Strongest
3
66
100
33
7.1
This pattern is a bit of an oddity. From a straight win percentage over the five days after the pattern completes it works better at its Weakest Match and loses performance as the number of substitutions and gap days are reduced (the statistics for Strongest Match are ruled out because of the low number of matches).
However, if the pattern is considered over the longer term, then Average Return per Trade (Average Return Per Trade assumes an initial stop of 10%, raised to 5% off the price reached on a 15% gain. Ultimate Profit Target of 25%) improves as the Match becomes more stringent.
So if you are looking to play the short term there were 89 matches (drawn from the S&P 500) as suggested by
Market Scan in PatternDNA premium
for the pattern at the Weakest Match. Looking at the Neutral Match returned 17 hits.
One of those stocks was Dell (NYSE:
DELL
). What's interesting about Dell today is that it has backfilled the gap (not a good thing really) and held it as support. It is in the process of shaping the right-hand-side of a new base. There is a relatively low risk opportunity given the initial 10% stop as used by the aforementioned analysis puts a protective price at $12.70, well away from $13.25 support from the latter part of 2010, or the spike low of $13.00 in January.