Pattern of the Week was pulled from a reaction low in Microsoft's (NASDAQ:MSFT) chart.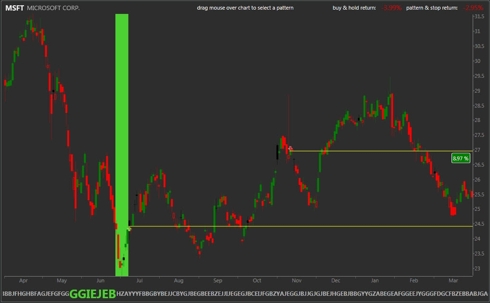 This seven day pattern starts with three bearish days, then three bullish days - mixed with a catchall day on the recovery.
 

Match
No. of Patterns
1-day
% Win
2-day
% Win
5-day
% Win
Average Return
Per Trade (> 5 day)
Weakest
242
46
50
51
4.4
Weak
187
45
50
53
4.2
Neutral
128
42
51
55
2.8
Strong
55
41
47
63
3.3
Strongest
30
50
47
67
4.0
Unusually, for a Pattern selected from a reaction low it wasn't particularly bullish. As the stringency of the Pattern match increased, the probability for a higher close on day 1 dropped (with the exception of the Strongest Match). 
Day 5 performance was particularly interesting. A higher probability of a winning position on day 5 was countered by the Average Return Per Trade data which didn't correspond to higher returns (Average Return Per Trade assumes an initial stop of 10%, raised to 5% off the price reached on a 15% gain. Ultimate Profit Target of 25%). This was because the win percentage on the longer time frame didn't increase beyond the initial 58% and the average loss per trade got worse as the Match level increased.
For those looking to milk a trade from this Pattern (perhaps buying on the open of day 2?) there were 115 stocks matching at Neutral. This
dropped to 19
at the Strongest setting.
One of these stocks was Rowan Companies (NYSE:
RDC
).