Written: 2/1/2011

Company Overview
Excel Maritime Carriers Ltd. (Excel) is a provider of worldwide sea borne transportation services for dry bulk cargo, including among others, iron ore, coal, grain, steel products, fertilizers, cement, bauxite, sugar and scrap metal. The Company's fleet consists of 47 vessels and services large blue chip companies like EDF, Cargill, Bunge, BHP Billiton and others.



Excel's share price has been relatively volatile over the last few years. The charter rates that EXM charges is referenced from the Baltic Dry Index. This index has been volatile over the past several years due to commodity pricing uncertainty coupled with a murky economic outlook. With fuel costs rising and charter rates at near record lows, EXM's profit margins have been squeezed. In 2007 and 2008 when the Baltic Dry Index was at all-time highs, EXM's share price hit a record high. However, EXM's share price today is a fraction of what it was in 2007 and currently presents us with a value opportunity. 
EXMs Debt Outstanding (total debt outstanding ~ 650 million)
·         150 million dollar debt (1 7/8 Coupon)  due 2027 convertible to 11.27 shares/lot @ $5.25
·         Revolving loan (500 million withdrawn from a line of 1000 million) at LIBOR
·         EXM has a market cap of about $375 million but an equity value of 1,486  million
·         Total enterprise value for the company is a bit over 1500 million (considering the full credit line)
Excel's debt outstanding has a relatively low cost of capital. Low rate environments and liquid debt capital markets will ensure that excel will not have any significant issues raising capital if its cash position were to deteriorate. With low interest coverage ratios, EXM should have no trouble making current or future payments.
EXMs Management Efficiency
Statistically, the return on equity and return on capital numbers for EXM have been dramatically higher than  industry averages. Excel has been able to produce higher income on a larger asset and capital base than most of their peers. EXM has had a track record of better utilizing its ship fleet to produce higher revenues by locking in higher charter rates and higher volume.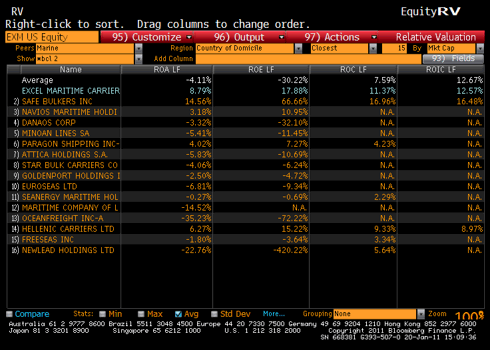 Stock Drivers
Cash Position: As of Q3 2010 EXM has 85 million dollars in cash (1.05 $/share) which is approximately 23% of its share price. However, its cash position has been dwindling. Cash & cash equivalents has dwindled from 109 million as of the end of 2008 to 85 million as of Q3 2010. The company attempted to issue notes to finance their working capital requirements but have postponed the placement due to news of receivership from one of their competitors (Korea Lines Inc). 
Baltic Dry Index: Excel maritime has different types of tankers including 7 capesize, 14 kansarmax, 21 panamax, 2 Supramax and 5 Handymax carriers. Rates for these different ships are implied through the publication of indices as reported by the Baltic exchange in London, with the Baltic dry index being the primary reference.
As noted earlier, the Baltic Dry Index is in multi year-low despite record prices in agricultural commodities, industrial metals and raw materials.  High commodity prices typically suggest high or increasing demand but shipping rates aren't reflecting the expected increase in freight volume. One can argue that there is still significant over-capacity in weight tonnage across all the names in the sector. However, according to the graph of the Baltic Dry against the Goldman Sachs Commodity Index, previous divergences had led to record years. (eg: index lagged behind commodities (2005-2006)
Nonetheless, freight rates are due for a rally. As china's commodity inventories dwindle, commodity imports from Australia should increase. With high commodity prices transaction volume typically increases as producers try to sell their inventory and consumers try to build inventory for consumption. 
If the Baltic Dry Index recovers - their operating margins should surge. With an earnings yield of over 70%, a 1$ increase in EPS should result $1.43 increase in the share price. If the EXM's earnings multiple recovers to the industry average of around 6 and assuming a significant drop in earnings to $1/share, we should still see a $6 share price. (25% premium to today's closing price) 
Figure: EXM (orange) v Baltic Dry Index (white)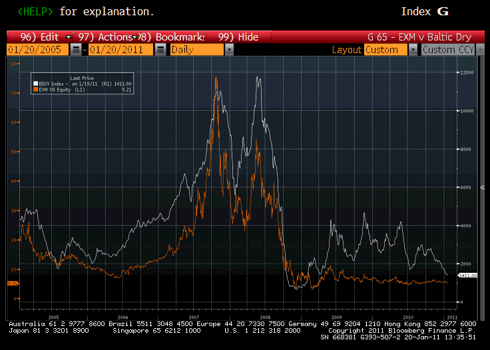 Figure: Baltic Dry Index(white) v GS Commodity Index (Orange)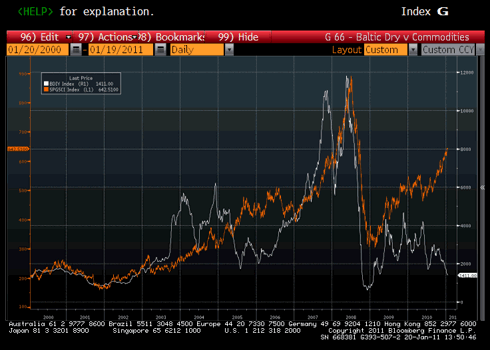 Valuation
Relative Valuation: Using average industry multiples (P/E, P/B, P/S) and the EPS, BVPS, sales per share of excel maritime carriers, the average valuation for EXM comes out to $13.53/share.
Asset Valuations: BVPS stands at about $20/share. Some analysts and bloggers have been suggesting that the company overvalues their ship fleet The stock however is trading at about a 75% discount to its book value. Marking down their assets to  approximately 90% of current assets and 75% of non-current assets (ship fleet) implies a book value of close to its share price. 
Recommendation
Fundamentally, EXM might not be the strongest company out there but is currently priced at an attractive valuation. With all the negative sector news incorrectly priced into the stock, EXM could be a compelling short-term play. Although attractively priced, I do not think that EXM is a long term hold. The company has to recapitalize and sell assets in order to build a stronger balance sheet position to withstand market risk.
Option might be an attractive way to get exposure to this opportunity. The September 2011 1 strike calls are trading for $3.8. This gives the investor the opportunity to enter in this trade at a 1$ discount to its stock price but participate in 100% of the upside in this stock. A near term recovery to about 6$, a move of only about 25% should provide investors with a solid gain of 58% in 8 months, which would equate to a 97% annualized return.
Disclosure:
I am long
EXM
.