From June 2018:
Nam Tai Property (NTP) is a property developer based in China. Currently it is in the process of developing two plots of land in Shenzhen. Although it is rich in assets, it does not generate significant revenues yet. In this post I will discuss why Nam Tai's stock remains undervalued (current stock price $11.95) and when investors can expect the company to become fairly valued.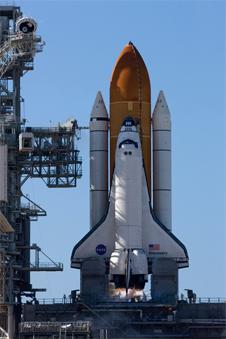 Nam Tai – Overview
A brief history of the company:
1975 – Nam Tai Electronics is founded by M.K. Koo in Hong Kong
1979 – Deng Xiaoping designates Shenzhen a Special Economic Zone (SEZ) on August 26, 1979. More on that and its significance later.
1980 – Nam Tai is reincorporated in the British Virgin Islands due to its tax advantages
1987 – The Company begins manufacturing in Shenzhen to take advantage of lower costs in mainland China
1988 – IPO on Nasdaq
1993 – Acquires 26,314 square meter land in Bao'an district of Shenzhen (Gushu) with a 50-year lease. This land at the time was outside the SEZ. Lease expires in 2043. This will become the Phase I of Inno City development.
1999 – Acquires additional 26,311 square meter land next to the land acquired in 1993 with a 50-year lease. Lease expires in 2049. This will become Phase II of Inno City development.
2003 – Transfers listing from Nasdaq to NYSE
2007 – Second manufacturing facilities in Wuxi, city 90 miles west of Shanghai. Wuxi has a current population of over 6 million.
2007 – Acquires land use rights in Guangming for $9.1 million. Intends to build manufacturing plants but never built the plants. Now it is destined to become Inno Park. Lease expires in 2057.
2010 – The SEZ is expanded to include Bao'an district
2013 – Revenues of $855 million
2014 – Nam Tai Electronics ceases manufacturing and focuses on property development. The company changes its name to Nam Tai Property. Property development is a new business for Nam Tai and it actively seeks partners to help in property development
2017 – In April, purchases 1,207 square meter property to be used for future Corporate Headquarters for $13.7 million in Bao'an district. Lease expires in 2054.
2017 – In May, breaks ground in Guangming, the plot of land destined to become Inno Park
2017 – Kaisa acquires the entire stake of Mr. Koo in a private transaction, which was about 17% of the shares outstanding. Mr. Koo is 74 years old and has been open about his lack of expertise in property development. Kaisa is mainly a real estate developer in Shenzhen. More on Kaisa later.
2017 – Kaisa continues to increase its stake through open market purchases. By the end of the year Kaisa owns close to 25% of the Company.
2017 – Begins cooperation with Kaisa. Hires engineers and real estate professionals from Kaisa to join the Company. Kaisa's co-founder, Mr. Ying Chi Kwok is appointed CEO. Ms. Yu Zhang, a Kaisa affiliate is named CFO. Mr. M. K. Koo, Nam Tai's original founder remains chairman of the Company and maintains options to buy 480,000 shares at $6.22.
2018 – In January, Mr. Koo exercises his option and purchases 160,000 shares
2018 – In February, Mr. Koo purchases the Company's 204 square meter Hong Kong Administrative Offices, for $9.7 million after the Audit Committee reviewed two valuation reports prepared by two independent appraisers. This was used as the Company's Administrative Offices in the past.
2018 – In April, the Company receives $184 million credit facility from China Construction Bank for Inno Park development. It also maintains over $170 million in short term investments and cash on its balance sheet. The Bank has offered about $760 million in credit facility for the development of Shenzhen properties.
2018 – In May, Nam Tai selects two contractors to the development of the properties in Inno Park. More on the design later.
From manufacturer or property developer
Throughout its history, Nam Tai has returned millions of dollars to shareholders as dividends. The business, however, had no moat. Original Equipment Manufacturers (OEMs) dictated the terms and competition for manufacturers was rough. Companies like Nam Tai Electronics had to often take the risk of building manufacturing plants and incur capital expenditures. There was no guarantee that the OEMs like Apple would use them as manufacturers. Some of Nam Tai's competitors spent heavily on manufacturing plants only to be disappointed by the OEMs. Around 2013 Nam Tai realized that the risk of building ne manufacturing plants without a guarantee in purchases was not worth it. They also realized that they were sitting on very valuable property in a growing city and so they decided to pivot to property development despite their lack of expertise.
Throughout its 43-year history, the one constant has been Mr. Koo. He has been an excellent steward of the company and has treated shareholders fairly. I was disappointed when he sold his entire stake to Kaisa in 2017 despite the stock rising 20%. It is somewhat reassuring that he continues to be the Chairman and maintains stock in the Company. Nam Tai is his lifetime accomplishment and shareholders should be comforted by his continued involvement despite his relative inexperience in property development. Much like Microsoft and Berkshire Hathaway shareholders should be happy about the involvement of Warren Buffett and Bill Gates respectively.
Where is Shenzhen?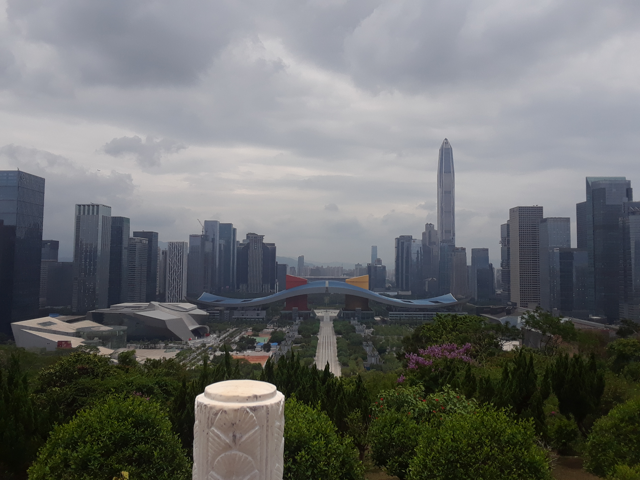 The 1.4 billion people in China know Shenzhen as well as the 325 million Americans know New York City. Most Americans, however, have little knowledge of Shenzhen. Nam Tai is a US listed company. The filings are in English. The Chinese know how valuable Shenzhen real estate is but most cannot understand Nam Tai's SEC filings and cannot easily purchase the Company's shares in the NYSE. US investors, on the other hand, have easy access to the SEC filings but they are fearful of investing in a country with a political system they do not understand and in a city that most have never heard of. Never mind that Shenzhen has been the fastest growing major city in the world since 1979. The investors who can buy the stock easily do not understand its value and the investors who know the value cannot buy easily which has led to a great opportunity for investors who can bridge the two cultures.
Shenzhen was a fishing and farming village of 30,000 in 1979 just north of Hong Kong. Prior to Deng Xiaoping's policy of "Reform and Opening" (also known as "Socialism with Chinese characteristics"), Shenzhen was kept intentionally undeveloped due to its proximity to Hong Kong. It was kept as a buffer zone between mainland China and the British governed city. All of that changed when it was designated to become the first Special Economic Zone (SEZ) in 1979. SEZs are more free market oriented than the rest of China. Tax and trade incentives in these zones attract foreign capital and have been an engine of growth. The granting of SEZ status to Shenzhen coupled with its proximity to Hong Kong led to its current population of about 12 million. As Shenzhen grew, the government expanded the SEZ. By 2010, the area included all of Nam Tai's properties and became five times larger than its original size. For comparison Los Angeles is 469 square miles and has a population of about 4 million.
Shenzhen's GDP per capita in 2016 was $49,185 which is comparable to Australia and Germany. However, this statistic is somewhat unreliable as it excludes the migrant population in the city. The city's total GDP of about $303 billion is comparable to Ireland and Portugal. Many of the properties in the city were constructed quickly and poorly on rice paddies by farmers. These buildings consequently appear a lot older than their age. With increased wealth and development, they will likely be destroyed and built to last longer.
Despite soaring real estate prices in Shenzhen, it remains considerably cheaper than Hong Kong which is the most expensive real estate market in the world. Many Hong Kongers have hence moved to Shenzhen because of its relative affordable housing. The discrepancy in prices and the general real estate frenzy led to some bizarre sales. In 2016 tiny apartments of about 350 square feet were selling for about $240,000. 900 square feet apartments were selling at that time for about $800,000. These are Seattle prices but it is clear that Shenzhen is not nearly as wealthy as Seattle – not yet anyway. Since 2016, the Shenzhen real estate market has cooled somewhat. The Chinese government has actively halted the sale of the tiny 350 square feet apartments. In June of 2016 a developer paid $2.1 billion for 152,400 square meter plot of land 1.8 km from Inno Park. This plot, however, was zoned for commercial activity (Inno Park is zoned for Industrial activity) and was 50% larger than Nam Tai's property in the same district.
Nam Tai's Properties
Table below summarizes Nam Tai's properties:
| | | |
| --- | --- | --- |
| Location | Square Meters | Intended Use |
| Guangming, Shenzhen | 103,739 | Inno Park |
| Gushu, Shenzhen | 26,314 | Inno City Phase I |
| | 26,311 | Inno City Phase II |
| Bao'an, Shenzhen | 1,207 | Corporate Headquarters |
| Wuxi | 43,698 | To be leased or sold |
Below is a map of Shenzhen properties.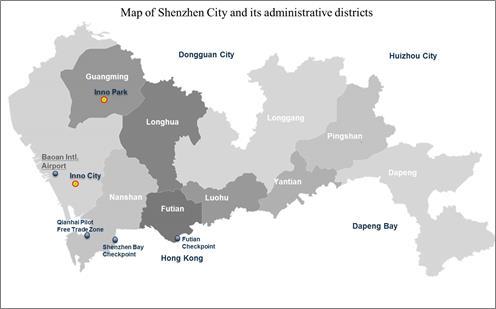 Inno Park
The construction at Inno Park in Guangming district has already begun. As mentioned above, two construction teams are currently working on the property. Below are pictures of the construction site as of June 1, 2018.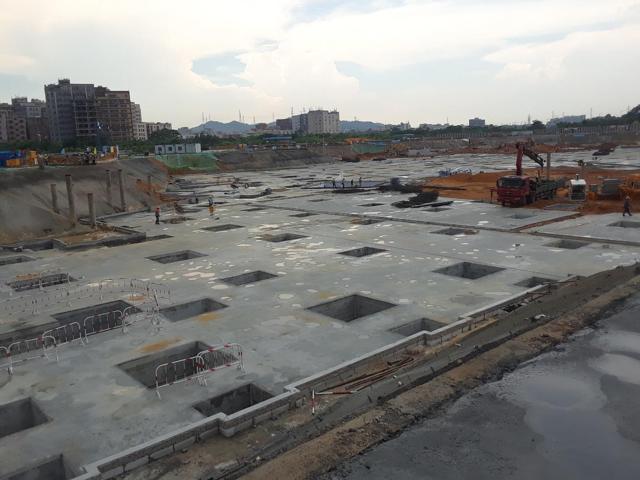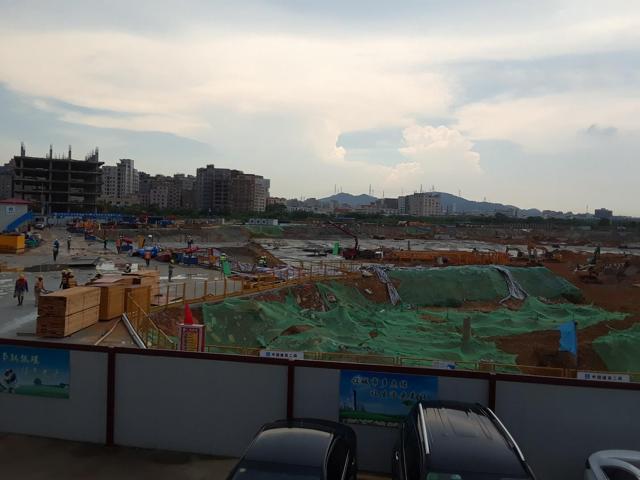 Below is a blueprint and model of the site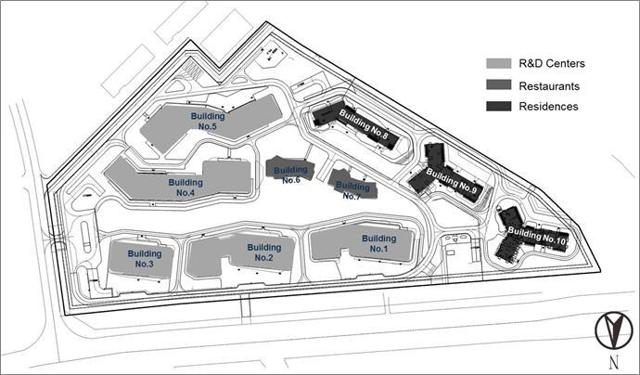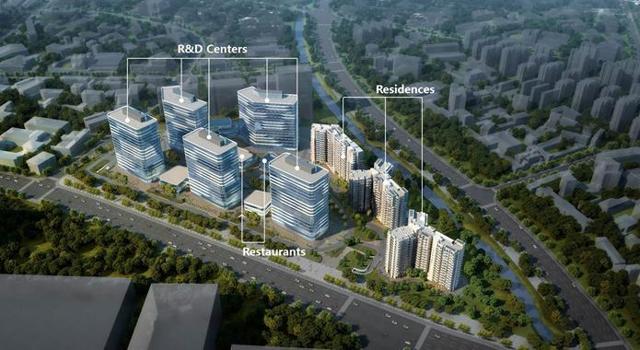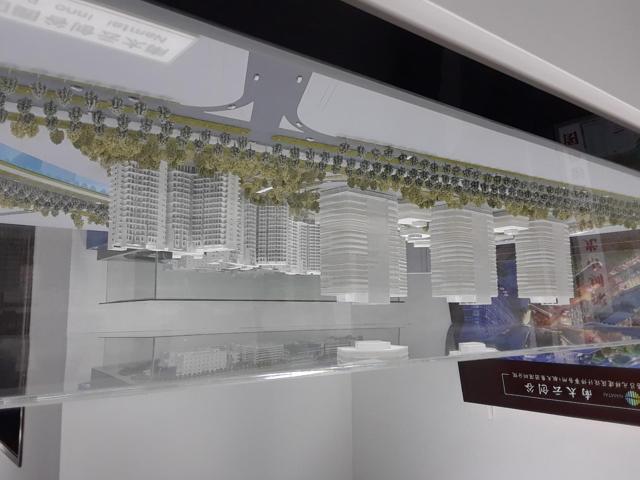 The total construction floor area in the ten buildings is expected to be around 331,832 square meters. Roughly half the area will be devoted to office space. Construction costs are estimated to be $381 million. The property is scheduled for completion on October 2020. Anyone familiar with construction knows that often these big projects are delayed. However, Chinese construction time schedules are considerably more accurate than the US. For contractors there is little incentive to delay projects is a lot less since the demand for construction in Shenzhen is so much bigger than any city in the US.
As can be seen in the Shenzhen map above, Inno Park is located in the Guangming district which is the newest district. It is also further from the center of the city (depicted in the Shenzhen picture above) than Nam Tai's Inno City location. A fast bullet train station is scheduled for completion later this year and will connect Guangming to Hong Kong. Below is the route of the bullet train.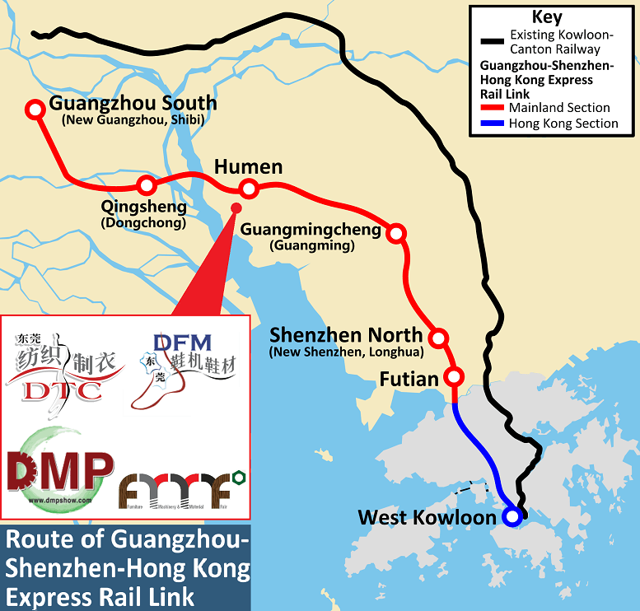 The bullet train will travel at over 200 mph connect Hong Kong to Guangming in about 20 minutes. The same trip today takes well over an hour.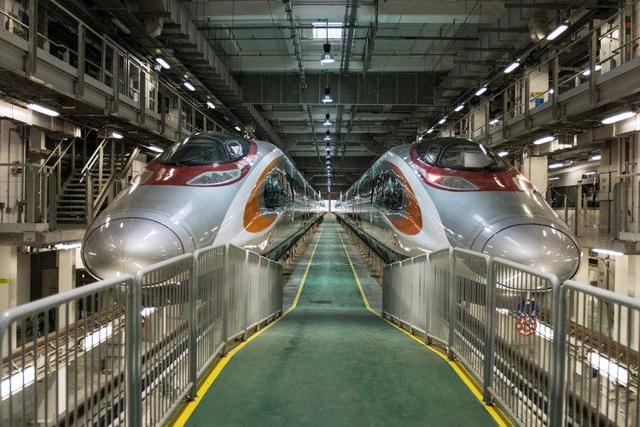 In addition to the fast bullet train, there will be new metro lines connecting Guangming to other Shenzhen locations. The existing metro in Shenzhen is safe, clean, efficient and vibrant. Below is a map of the district and public transportation.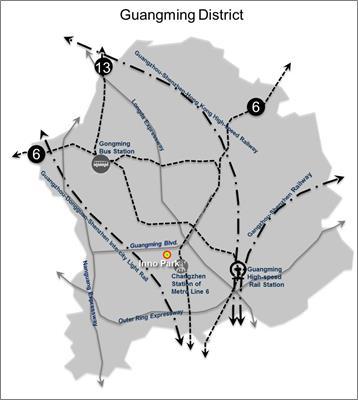 Inno City
The construction in Inno City located in Bao'an district has not begun yet. Nam Tai has already demolished the building that is now set to become phase I of the project. The building on the west side of the plot still stands and the Company hopes to lease it on a short-term basis. The prospects for leasing, however, are not very good since the lessor will have to put up with major construction next door and the lease will have to be about two years. Below are models of the planned construction though they are not finalized.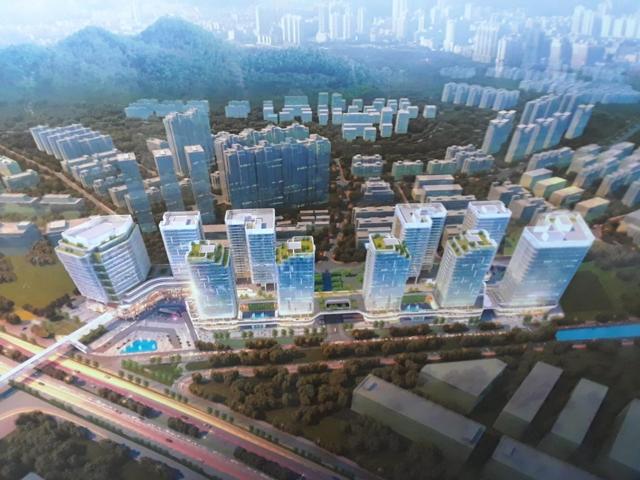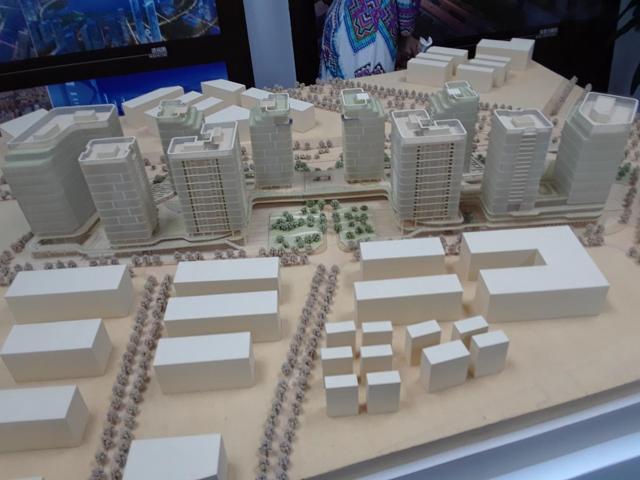 Inno City is a more vibrant part of Shenzhen and about five miles from Shenzhen's International Airport as depicted below.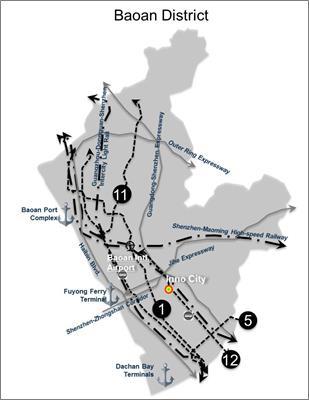 Inno City development is scheduled to be completed in tow phases. The rationale for the two phases is:
1) Nam Tai does not want to flood the market with available space all at one time.
2) Nam Tai can possibly lease the west side of the property that is deemed to become phase II of the project.
3) The government does not allow demolition of existing buildings that are less than 15 years old. The buildings in the east side (phase I) satisfied this requirement and have already been demolished. The west side buildings satisfy the 15-year rule in June of 2020. The Company hopes to speed up the process.
The two phases of the project will have about 348,380 square meters of floor space. Roughly half will be dedicated to office space. The estimated cost of the two phases is $458 million. Phase I and II are scheduled for completion in November of 2021 and May 0f 2023 respectively.
Wuxi
The Wuxi property was acquired in 2006. Manufacturing started in 2010 after construction of a plant. Nam Tai ceased manufacturing operations in Wuxi in June of 2013 and subsequently sold all its equipment in September of 2014. The Company had hoped to sell the property in 2017 but was unable to find a suitable offer. Currently it hopes to lease the property but would also consider a sale. Four of the 63 employees of Nam Tai are based in Wuxi currently.
Kaisa
Kaisa, a Hong Kong listed company, is also based in Shenzhen. Its main activities are property development in Shenzhen although it is quickly expanding into other businesses such as transportation and healthcare. With a market capitalization of $26 billion , it could have easily swallowed all of Nam Tai. Some investors speculated that after it bought Mr. Koo's stake for $17, it would make an offer for the rest of the company. I do not believe that will happen anytime soon especially in light of Kaisa's co-founder becoming Nam Tai's CEO in February of 2018. Kaisa's CEO/co-founder is Nam Tai's CEO's brother.
Kaisa got into serious trouble in December of 2014. Accused of corruption by the Chinese government, Kaisa's assets were frozen by the government. Business halted at Kaisa and it subsequently defaulted on US dollar denominated bonds held by investors like Fidelity and Black Rock. Trading of Kaisa stock was suspended in Hong Kong in March of 2015. Trading resumed in March of 2017 and the company's rose 85% on the first day of trading.
For better or for worse Nam Tai's fortunes are tied to Kaisa. Perhaps if an American developer with a cleaner history had bought Mr. Koo's shares for $17, Nam Tai's share price would be closer to $17 now. However, US developer do not have the expertise to negotiate the rules and regulations of the Chinese government. Kaisa has extensive expertise in property development in Shenzhen.
Is there a conflict of interest? For now, the interests of Nam Tai and Kaisa are aligned. As a 25% shareholder, Kaisa wants Nam Tai to succeed. Cynical investors might argue that Kaisa could intentionally drive Nam Tai to the ground and purchase the remaining 75% for a low price. That is not a likely scenario since Nam Tai is a tiny fraction of Kaisa's size and especially after their recent troubles, they would not want to further harm their reputation.
The conflict of interest may emerge in several years when Nam Tai looks to grow beyond Inno Park and Inno City. Both companies are in the business of property development in Shenzhen and at that time will become competitors. The final phase of Inno City will be completed in 2023 so for now we are a way away from that issue.
Nam Tai – A Rocket Waiting for Launch Day
I first wrote about Nam Tai in March of 2014 (stock price was $5.90) and again in February of 2017 (stock price was $7.50). The point of stating the prices when I wrote the first two articles is merely to show the trend. The short-term price movement is irrelevant to me since I intend to hold this investment to at least the conclusion of the two projects barring any unusual events. I would not be surprised if the price plummeted to 2014 levels about $3.00 again. Nam Tai has little earnings and most investors are waiting for the Company to show them the money before they jump in.
So how much is Nam Tai worth? The Company periodically publishes the reports of real estate consultants that value the properties on its website. The estimates are quite different from each other. This does not surprise me since there are so many assumptions that must be made to properly value the real estate. What is evident, however, is that the current stock price of $11.95 significantly undervalues the Company's assets. Kaisa, the experts understand the Company's net worth. They did not buy the stock for $17 so they could spend years developing the property and flip it for say $22. More than likely even the $17 price was a bargain for Kaisa. Once the projects are completed and earnings start rolling in the rocket will finally launch and investors will likely be rewarded for their patience.
The Chinese government is investing heavily in Bao'an and Guangming districts of Shenzhen. Much of Shenzhen is hilly and the government is reclaiming land from the sea to create a district that will rival Hong Kong. The border between Hong Kong and Shenzhen will disappear in 2047. Real estate prices are likely to converge further at that point. Many of the modern buildings and the airport in Bao'an district are built on the reclaimed land. As with other large human projects that alter the topography, such as the Panama Canal, there are critics.
"Upon completion, a bay will have completely disappeared, and two islands in the river mouth will be connected. However, experts are warning that these projects are not only changing the landscape and topography but are also having a gradually growing impact on the environment."
In the US both parties agree a great need for infrastructure spending. Roads and bridges are in desperate need of improvement. The public and the President also strongly supports the idea of increased spending on infrastructure, but for years Congress has failed to act. One advantage of having a single party in charge in China is that the government can act decisively. China is improving its rail system and roads. To its credit, it has lifted millions of its citizens out of property in the past three decades. I am not advocating for China's political system but there is much that we can learn from them as there is much they can learn from us.
Risks
Nam Tai currently has no negligible revenues and earnings. It is no longer a net-net. It will soon borrow heavily to develop its properties. Its existence will depend on successful execution. Judging by the gap in the stock price and what Kaisa paid for Mr. Koo's stake, investors are not showing much confidence in Kaisa. This may limit Nam Tai's access to capital markets in the US. The depressed stock price coupled with Kaisa's history on defaulted bonds does not make raising money in the US attractive.
Geopolitical risks in the region also add more uncertainty particularly in the South China Sea. Disputes over trade can also hurt Shenzhen's economy. ZTE, a Shenzhen company, was recently in the crosshairs of the Trump administration. The Company is also dependent on Chinese authorities for various regulatory approvals. Currently, it is trying to change how some of the properties are zoned. Like Kaisa in 2014, it could run into trouble with the government. There is much uncertainty about the development of the properties and we are a long way from completion. Investors ultimately need to decide whether the potential large returns are worth the risks.
Disclosure: I am long Nam Tai