TA Summary: Short-term bearish, Target Price 447
If Apple (NASDAQ:AAPL) cannot impress investors enough with their earnings report this week, I think the stock will have some trouble in the near-term. Although I think their earnings will be robust fundamentally, I do not think they will be good enough to start attracting enough buying, and will lead to selling taking over. If we cannot hold the 500-505 level, I am targeting 447 as the next stop for AAPL. This was a support level that lead AAPL to its high of 705.
In addition to price levels, I also looked at a number of indicators. MACD and the RSIWilder are not signaling overbought, but are still trending lower from overbought, showing to me the stock has more selling in its near term, eventually becoming truly oversold.
On the contrarian side to my thesis, other indicators are showing positive signs of oversold signals. AVI is above 40, which should mark its top and begin trending lower. RSI, STO, TQI and Slow Stoch. all pointing to oversold/buy signals, very promising.
Based on both views, my thesis is a short-term pullback to 445-450, marking a strong bottom there if it holds. At that point, AAPL will become seriously oversold, and the buyers will start pouring in.
#fanvestments #tos #TA $AAPL
Full Disclosure: No current position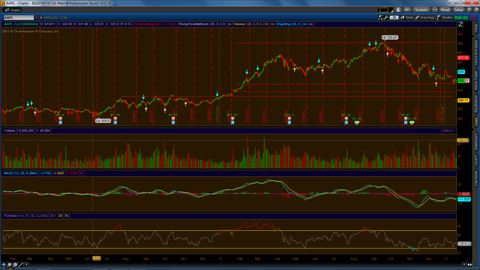 http://fanvestments.com/Terms_of_Use.html
Disclosure: I have no positions in any stocks mentioned, and no plans to initiate any positions within the next 72 hours. I wrote this article myself, and it expresses my own opinions. I am not receiving compensation for it. I have no business relationship with any company whose stock is mentioned in this article.