The great Rotation? Where have I heard that before ? No, not bonds into stocks !! - Read On !
The first day of spring is here and after 10 weeks of 2013 we are well into the New Year with the S & P at 1560 for an approx 9.4% gain YTD. We have set all time highs on both the Dow 30 and Dow Transports registering a Dow Theory BUY signal, and in my opinion has started a new secular BULL market in motion (more on that for another time ). The Russell and other indices likewise have set new records with only the S & P a mere 3 points or so from joining the party.
With that backdrop it may seem unwise to step out on the limb and start recommending new positions.. However, after reviewing what has taken place so far , I believe that we are at the early stages of a rotation from what has been working in this market to what has lagged. Specifically Tech and to some degree Oil and the Oil service sector. I also believe this rotation will keep corrections manageable and shallow as money stays in the market but simply finds a new home.
Today I want to concentrate on technology. I started my own rotation by taking profits from positions in the financials (BTW, I still like the sector Long term) and parking some money in AAPL which as stated in my Instablog Post, I purchased on March 15th.
Now I have another favorite which has lagged and been out of favor since their last earnings report, F5 Networks - FFIV. Full Disclosure, I purchased shares today @ $90.20.
F5 Networks, Inc., headquartered in Seattle, Washington, is a leading provider of technology that optimizes the delivery of network-based applications as well as the performance and availability of servers, data storage devices, and other network resources. Or simply put they provide the behind the scenes backbone services for the Internet.
Growth has been their mantra, and as with most tech outfits they are held to demanding numbers quarter after quarter, with any disappointments not treated very kindly. In the case of FFIV, we now have a company that is predicted to grow around 18-20 % in the next 2 years, with a forward looking PE for 2013 of 20 and PE of 17 for 2014. The stock has come down from a high of $140 last year to its current price around $90 where I feel it has found major support. Given the metrics I outlined, my opinion is that we are not getting in at the highs or paying a vast premium to get involved. I've included a weekly chart below to bring this into context: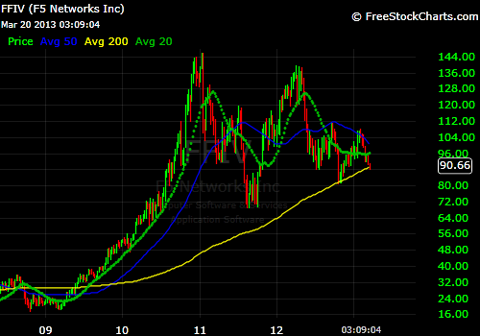 It is suggested that investors complete their due diligence before investing, and I will add that there is always a possibility that the stock will break that support level in which case I recommend using a 10% mental stop after establishing a position. Remember there are no absolutes when it comes to investing.
I'll have full updates as necessary if I feel the position or market turns against us. Lets see what develops.
There are a few more candidates that I am contemplating for purchase in the tech arena. Stay Tuned.
Disclosure: I am long FFIV.
Additional disclosure: Stocks for Income means just that @ Stock4Income.com