Apple has made a nice "under the radar" move since I last recommended the shares @ 390 and again in the 415-420 range.
Commentary from July 6th:
https://seekingalpha.com/instablog/706857-fear-greedtrader/2012882-apple-revisited-keeping-it-simple
At that time I laid out my thoughts and a scenario that I believed could very well play out for the shares. One of the most bullish chart signals is a "double bottom" pattern that was identified , but hardly publicized due to the negative sentiment that swirled around the company at that point in time.
Revisiting the chart today , demonstrates that "double bottom "once again , but now shows that the stock has breached the descending 200 day MA line and sits above that trend line for the first time since Nov 12. In addition, I have drawn a trend line to show how the shares have broken above the area that capped recent rallies.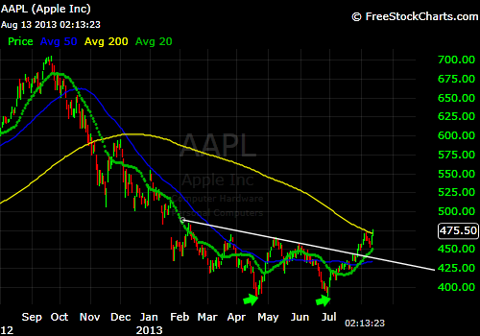 Now the question that presents itself , is this perhaps a "false" breakout ? The next few days of trading wil tell the story. I peg the next resistance point around 485. A successful break there and a move to 500- 515 could well ensue.
AAPL inst just a "Technical" story. I see '13 FY estimates of 39 - 39.50 , and in fact i see lower '14 estimates rolling in at 44.5 to 46. Those lowered estimates DO NOT include any new product categories and were lowered by research firms entirely due to LOWER iPad assumptions. The continued negative sentiment is baked into these estimates..
Essentially, at 4.4x EV/EBITDA and 9.6% FCF yield, trends at AAPL would have to erode meaningfully from current levels for the shares not to at the very least perform with the market. A 12 multiple with $45 in earnings - yields a stock price of 540. Of course the negative sentiment says they in fact will erode , i'm not in that camp..
This is a transition story that is playing out.. One has to lose the "growth and expanding margin "story".. The scenario outlined above does not suggest the "wheels" are all falling off.
In my view i give them & T Cook the 'time" to 'get it right" when the product refreshes come to market. Most wanted it yesterday , hence the negative slant on the share price. How would the market & shareholders react to a botched rollout.. ? Company is not exactly "bleeding" here, hence IMHO , they have earned the "time" to do it right.
Patience and out 'timing' of purchases are playing out very nicely
Stay Tuned
Disclosure: I am long AAPL.
Additional disclosure: stocks4income@usa.com