There are times when the market presents us with opportunity. This past year I have used the "fear" of others to my advantage by buying into (COH), (NYSE:FCX) & (NASDAQ:BBBY) . All were purchased when investors panicked after a "news" event. However, some of these sell offs are completely unwarranted.
Lets take a look at (NASDAQ:CSCO). The headlines as reported were the layoff of 4,000 employees , and weaker guidance into the next quarter. Resulting in a 7% decline after the announcement. Now with an overall correction lurking in the markets, we may in fact see more weakness here.
While investors may continue to "panic" , I view the stock as an opportunity.
The latest quarterly report on earnings was the 10th consecutive "record" earnings result, In addition that report contained the 10th "record" revenue result for the company. Hardly a dire situation here.
The guidance that was presented , which the market interpreted as 'light' is in fact the same guidance that John Chambers CEO, gave a quarter ago. If in fact Cisco meets that guidance, it will then be the 11th consecutive earnings record. The company is hardly 'bleeding"
There are many reasons for the layoffs, but apparently the market wants to look at the negatives and simply throw away the positives.
The daily chart below will give us the "technical" picture and a hint at what to do now. Notice that there is a "gap" in the share price in May. A general rule of investors is that all "gaps" must be filled. That would suggest further weakness to the $22 level.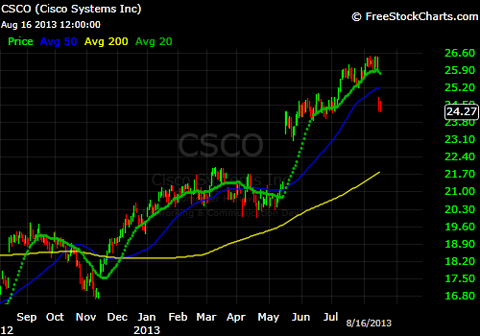 CSCO sports a Free Cash Flow yield of 9.9%. A yield above 5% represents good value . Anything in the 8-10 % range is a stunning bargain. For those not familiar with this metric : Free cash flow is important because it allows a company to pursue opportunities that enhance shareholder value. Without cash, it's tough to develop new products, make acquisitions, pay dividends and reduce debt. I deploy this metric in completing due diligence on a stock. Earnings can often be clouded by accounting gimmicks, but it's tougher to fake cash flow. For this reason, I calculate FCF as it gives a much clearer view of the ability to generate cash and thus profits.
In addition, a forward PE of 12, a dividend yield of 2.6% with prospects of increases down the road, make the shares a compelling story. I have owned the shares for a while with my initial purchase @ 19-20. While we may see more overall market weakness , I would suggest investors begin to nibble. Leaving cash available as there is a possibility that shares could trade back to the $22 level as mentioned. Any opportunity to pick up shares in the low 20's will be rewarded as we go into 2014.
Disclosure: I am long CSCO.
Additional disclosure: Don't be an "Average Investor" Stocks4income@usa.com