While the S & P is now in "overbought" territory after the recent rally to new highs, GS doesn't fall into that category as it was sold off last week after its recent earnings report..
From a technical standpoint, the daily chart shows the uptrend and rally in the stock from the beginning of this year remains in place with a recent successful test of the 200 day MA in early October.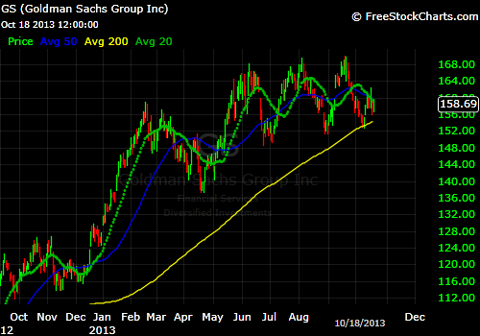 Goldman Sachs just reported Q3 results that showed lower M&A and client activity just like results from other financials , i.e Bank of America and Citigroup. As a result the shares sold off 4% on the day.
Goldman is one of the best capitalized financial firms in the sector and continues to commit to its share buyback program. In the third quarter the company repurchased 10.2 million shares worth $1.65 billion. 65.7 million more shares are authorized under its existing share repurchase program. In addition, although modest, it just increased the dividend by 10 % and now has a forward yield of 1.4%. Things can't be too bad at GS if they decided to increase the payout.
Although the US financial sector has done well as the economy slowly recovers , there could be much more upside on the horizon. Financials usually show one of the highest sensitivities to GDP growth implying that they are likely to be doing really well when the economy is improving.
More M & A activity, IPO activity, etc.. should also be on tap as global economies improve. The financial sector does well in early and late expansion phases in the business cycle which allows bank stocks to perform a few more years with above-average returns. The stock is selling at a PE multiple of 10, and at 1.04 times book value which indicates that it is not expensive at this level.
Historically GS has sold for 2 times book , so there is plenty of runway here for price appreciation. EPS estimates for '14 are for GS to earn $16/share and if we apply the historical PE of 11-12 , the stock can trade up to the 175-180 level.. Technically, there is plenty of resistance at the 175 level, but for LT investors I envision that area will eventually be broken to the upside as the fundamental story unfolds.
For those that are inclined, GS offers excellent call premiums to enhance your yield by writing covered calls.
I started a position today @ $159.60 . At the moment it is planned to be core position , I wont rule out writing calls later on if i get decent price appreciation from here..
BAC & JPM are also trading under their respective book value and can be purchased at these levels on any weakness.
Disclosure :I have owned BAC & JPM for a while and recently added to my JPM position.
Best of Luck !
Disclosure: I am long GS, BAC, JPM.
Additional disclosure: I am long numerous equity positions- Full list can be seen here in this blog..I am short Gold