Has anyone noticed all of the "bubble" talk lately ? The 'this is 2000 all over again" talk. Or the many quips heard now, like-"there is so much enthusiasm in the minds of investors " this is all going to come crashing down. Perhaps you've recently read this often used quote - "Look at all of the mania out there ? everyone wants to be in this wildly speculative market. We know how this is going to end !!
Really ? Since the naysayers have had their initial claims about the equity market rejected , they now have turned to the "overvalued' 'bubble" mania propaganda. Of course there are pockets of overvaluation in this market and they can be found at any time in any type of market. For every TSLA ,& YELP , I can roll out CSCO,MSFT,XOM and many more ..
Funny how its the same crowd that has kept many investors from participating in the equity markets since 2009-2010, that have now returned in force to tell us all exactly what we need to worry about now. Same guys and gals that have been wrong with Europe , China, debt ceiling fiasco, etc. etc,. They even tried rolling out Japan as the next debacle, the next 'market event" that was going to take down the global economy. Speaking of Japan , maybe they need to take a look at this and reconsider..
http://www.businessinsider.com/japanese-services-pmi-2013-11
I'd rather try & stay focused on what has gotten the equity markets to these levels and turn a deaf ear to the pundits that have been left in the rear view mirror.
So it's all "mania' & wild speculation, HMMM , Maybe we can check the facts and see what is really happening out there.
According to the nation's largest asset manager, BlackRock, with some $4 trillion in assets, a majority of people are NOT "partying" with the all-time highs we're seeing in stocks. In fact, a great many of them are ignoring it entirely.
Despite steady gains in recent years that have pushed some stock markets to all-time highs, most people are not comfortable taking on more risks to achieve better returns, according to the global survey -- one of the largest ever, spanning 17,567 investors including 4,000 Americans, across a range of income levels...
While affluent investors (those with more than $250,000 in investable assets) expressed greater confidence about their financial futures, even they - along with investors of all types around the world -- tend to hold a lot of cash, with no immediate plans to change their investment mix. In the U.S., investors of all types held 48% of investable assets in cash, with 18% in stocks and 7% in bonds.
48% cash, 7% bonds, 18% stocks.
Now let's go back to the late '90's, where stocks and stock mutual funds were 40% of US household net worth, according to data from the Federal Reserve - more than double the current totals. The 18% number we see today is actually closer to the 16.5% number registered at the bottom of the secular bear market in 1982 !!
Is that "Mania" & "bubble like" , mom & pop retail investors really in this market ? - think again.. this is still the most unloved market in history, I have asserted that fact this entire year and those that say otherwise are simply incorrect again ..
My "unofficial' survey of other independent financial advisors indicates that the advisors are more optimistic and bullish than their clients. In short, clients are not banging down the doors to invest in U S equities.. and the Blackrock study enforces that notion.
Stay focused on the improvements in the global economies that have been mentioned here in this blog. There is plenty of positive change and progress. Its not perfect , and the markets don't need it "perfect" to go higher.
Then we have the "its all going to come crashing down " crowd. Combined with the cries of "you will lose all of the gains" and "never be able to get out in time " warnings.
For those that wish to listen to that noise please consider this before acting.. Lets take a snapshot of the last 5 years . All would agree in that time period we witnessed some of the worst declines in market history in conjunction with the worst financial crisis of all time. Given that backdrop ,consider the folks that sat in their 401 k's before 2008 , & did absolutely NOTHING. Today they have seen there entire portfolio not only recoup the entire "paper loss" but their balances are now higher than in 2007 because the market is up 165% from the low...
Now for the more astute investors who were more proactive - who practiced risk management and actively managed their accounts . those accounts have reaped even larger rewards in the last 5 yrs. and now have increased their wealth for retirement. And lets not forget -- the dividend compounding that took place that added more gains to all...
So, I " cherry picked" the worst financial crisis the global markets have witnessed in history.. The results 5 years later are positive. So what exactly are the naysayers warning me about ? Of course there will be corrections and there will be another bear market as sure as I am writing this. No one is denying that. However if one uses simple logic, invests in quality names , practices risk management, the example above says it all. Its really very simple.. just look at the folks that did nothing , they are light years ahead of the unfortunate people that panicked and sold.
As for the souls that decided they were right and continue to short this market for reasons they keep reciting to us. Well ,they are being carried out feet first. Take a moment, look at where the S & P is and reflect on who's been wasting your time and distracting you from your retirement goals. Who's been filling investors heads with noise & nonsense. They continue to do the same today, and rest assured when we do have that correction or at some point down the road when we dip into bear market territory, those same folks who have tossed aside the profits and opportunity that the markets presented to us, will then claim victory. I simply say --- nonsense ..
Secular Bull markets last for years. So when I am asked the question have i missed this bull market ?, the answer is no. Stay with the large cap names that pay dividends, (div. aristocrats) Nothing wrong with nibbling on XOM,CVX,MSFT,CSCO,TGT,GS. Wait for opportunities to present themselves when they sell off for one reason or another. (I.E CMI dropped over 10% from 139 down to 123 over concern about guidance.) It went "on sale" and astute folks picked it up at a discount. XOM was trading at 85 when i picked it up . https://seekingalpha.com/instablog/706857-fear-greedtrader/2283752-adding-2-div-aristocrats-initiate-xom-adding-to-cvx
that's where it was trading in Nov '12 ! & The bears tell me this market is overvalued ?
Look at the other theme that I've mentioned in the past. The parade of dividend increases and company share buybacks keep on rolling. (NYSE:ESV) an undervalued favorite that i mentioned here just increased its dividend 50%. at today's price it still yields 5% ! (NYSE:RIG) another mention here had blowout earnings this past week , it yields 4.5% .
https://seekingalpha.com/instablog/706857-fear-greedtrader/2257382-transocean-rig-ensco-esv-update
They both have rock solid balance sheets . There are plenty of opportunities to build a nice portfolio with a decent yield and a chance to capture some growth.. MSFT just broke out from a 12 year base , a cash cow with a 3% yield.. CSCO, AAPL, GS, JPM ---- The "market" is hardly overvalued.
Don't take my word for it, a picture is worth a thousand words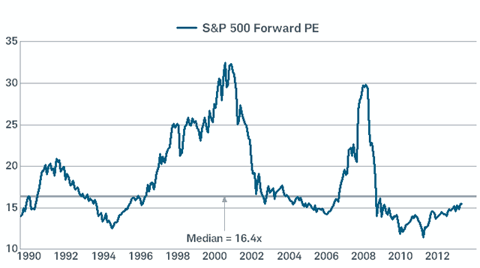 "Scale" into positions. Allocate funds in at least 3-4 different slices and time periods..
The bank sector which has lagged recently showed very good strength on Friday , two recent purchases : (NYSE:JPM) up $2.31, (NYSE:GS) up $3.53. https://seekingalpha.com/instablog/706857-fear-greedtrader/2328872-goldman-sachs-gs Both are inexpensive and as interest rates slowly rise that environment will play into strong earnings growth. (NYSE:C) is another that can be added here..
If that strength continues into next week it bodes well for the overall market. If nothing else it shows the "rotation" that we have seen between sectors as the market grinds higher , a very healthy sign.
All is not full steam ahead, the market has given us a tremendous year in terms of percentage gains. There will be pullbacks, and perhaps more volatility in the near term. Within the backdrop of a secular bull market, use those corrections to establish and build positions in select quality companies. For those that have been in the market, build some cash by trimming extended positions, to be deployed when we get a chance at bargain prices. Look at the biotechs , a group that has been very strong in '13, they are currently in correction mode as the S & P makes new highs, down 8 - 10% from their individual highs .. (NASDAQ:CELG) & (NASDAQ:AMGN) are two favorites.
As for the overall market, I would prefer we pull back to the upward trend line on the S & P which is around 1700-1720 and remove more "excess" . Currently we are not 'overbought " at S & P 1770 ,BUT IMO the further we drift higher from here ,the next corrective phase may be a bit deeper .. ,and it also may present a very good buying opportunity ..
Best of luck to all !!!
Disclosure: I am long CVX, XOM, JPM, CELG, AMGN, TGT, GS, CSCO.
Additional disclosure: I am long numerous equity positions , all can be seen here in this blog .I am short gold via DZZ