I added two positions today and went back to what has worked before (NASDAQ:EBAY) & (NYSE:WLL) ....
Purchased 500 Shs EBAY @ $54.78 and sold the Jan 55 calls for $1.32 Another 2.8% yield if called away in a holding period of less than 30 days ..
Purchased 500 Shs of WLL @ 61.68 and sold the Jan 62.50 Calls for $1.90. That position will earn 4.4% if called away or a solid 3% if we still own the shares after expiration on Jan 18th..
Since inception (June 5th) the portfolio has brought in $14,258 a nifty 14% return on the 100,000 we initially started with. This is an actual portfolio with documented trades , all outlined in the table below: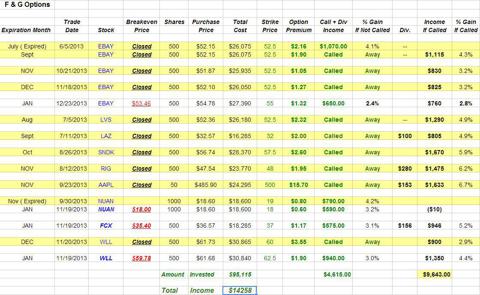 Happy Holidays and the best of luck to all in the New Year !!
Disclosure: I am long EBAY, WLL.
Additional disclosure: I am long numerous stock positions , all of which can be seen here on this blog..