Sentiment indicators have been in the financial headlines lately as we have seen numerous bullish readings from the AAII. (American Assoc. Individual Investors) https://seekingalpha.com/currents/post/1482541
These can and often used as contrary indicators that can be useful in calling short term trends. As they are published weekly they can be volatile, swinging from overly bullish to overly bearish in a blink of an eye.. Lately the talk has been centered around the bullish sentiment...
What about the "average" guy out there ?
From A recent Gallup Survey ....
"U.S. investors are generally wary about stocks as a way for Americans to build wealth, as only 37% say the stock market is an "excellent" or "good" way for average Americans to grow their assets, while 46% consider it "only fair," and 16% call it "poor."
This is according to the Nov. 7-11 Wells Fargo/Gallup Investor and Retirement Optimism Index survey -- conducted shortly before the Dow Jones industrial average crossed the record 16,000 mark in November.
"Still, U.S. investors' positive outlook seems muted. In November -- after three quarters of solid stock market gains and the Dow on the verge of breaking 16,000 -- barely half viewed it as a good time to invest or expressed optimism about where the market is heading in the next 12 months. This begs the question of what it would take for investors to show real exuberance about the stock market. The answer is likely a strong stock market coupled with a booming economy -- the combination that produced 60% or better optimism on this measure in the late 1990s. "
That is why I keep mentioning two important points , the 'average Joe hasn't embraced this market.. It's still unloved and even "hated" by many ..BUT when all things look "rosy", as suggested by the strong market , booming economy commentary --- the market may just be at a major top..... Well, we aren't close to that point, given a backdrop of a steady, slow growing economy (3% or so GDP) combined with the issues that are on the front page - Obamacare , etc. Instead, I believe we are in the "sweet spot" of this recovery that is indicative of the secular bull story I maintain..
Some may fear (this is the new cry from the "bears" ) that the oversized gain in the stock market during 2013, is surely to be followed and punished with losses in the coming year. However, historically after a one-year total return in the 25 - 30% range, the S&P 500 has followed it up by more solid years of gains. In fact, the average return in a year following a 25 - 30% gain was 12%, and stocks posted a double-digit gain in four of the five occurrences (the exception was 1961's gain of 26.9%, which was followed by a loss of 8.7% in 1962) In fact, most of the years were actually followed by several years of strong gains, as was the case in 1943,2003, and 2009. Now in case the naysayers haven't noticed, this market is in that 25-30% sweet spot mentioned above..
There have been many reasons presented here in this blog , based on historical data, that continue to bolster that theory, some can be viewed here : https://seekingalpha.com/instablog/706857-fear-greedtrader/2502891-market-update-12-20-its-all-about-the-economy
And shown below is another graphical depiction of market history :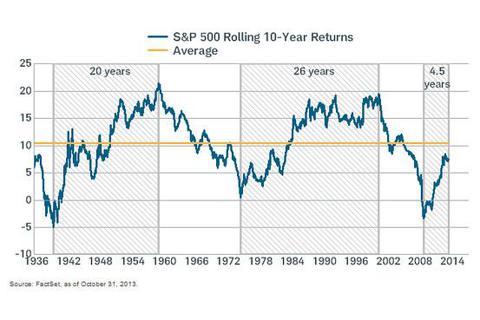 Notes from a Liz Ann Sonders presentation (Chief Market strategist for Charles Schwab)
As the chart shows, the 10-year average of annual market returns is still running below typical long-term performances. "Notice the long-term pattern of this chart," "Investors don't spend a lot of time hanging around the median line, but instead the market tends to trend in one direction for multi decades (well-overshooting the mean) before heading back down to well-undershoot the mean. "Being less than five years into the upcycle, history suggests we have more room to run,"
My .02 -- Take a close look at where we are in this picture and look at what may be in store over an extended period of time.... My secular bull story ...
Now, lets put that in context.. There will be corrections, in fact, some very deep. There will also be a cyclical bear market thrown in (20-25% or so drop) ,that is typical and Normal, However, the evidence I have maintained and presented all year is still intact. I believe the Long Term Trend is decidedly in the Bulls favor ....
Inflation as a piece of the secular bull puzzle.. It's a key ingredient to the secular bull story. Other secular bull markets were ignited when inflation was beaten down -- 1982 , Fed Chair Volcker and his campaign against inflation, and look at the S & P chart to see where the market went from there.. Its crucial to keep inflation in check ..
The advances in technology, coupled with the rise of China's manufacturing prowess, have driven down the prices of manufactured goods at the same time that they have boosted the productivity of labor. Labor is much more productive today, thanks to our computing power, overall tech advances (3D printing) and the internet. ( Cloud technology one of the drivers for this sea change is in its infancy) These strides have made it so that it takes less and less input from people to make more and better products. One of the reasons the recovery on Job growth has been so slow.. Corporations can survive quite nicely with less people..
You will get an argument from just about everyone as to how much inflation is out there and of course how it's calculated. Let me state that I look at the data that money managers and chief strategists use in their game plans.. IMO these figures are the only set of data that matters.. And here is the inflation picture as of today (from the scottgrannis blog) :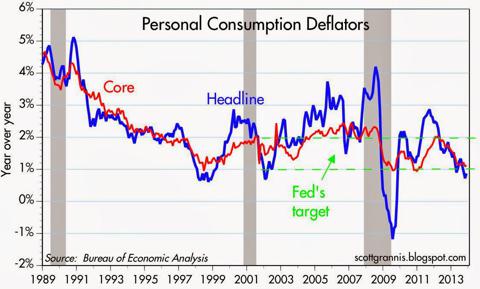 On a year over year basis, headline inflation has dipped to just below the Fed's desired target range. I can add that the 6-month annualized rate of inflation according to these same two measures-shows inflation is running at a 1.3% annual rate and well within the Fed's target range .. The nice thing about all of this is that monetary policy has had little if any effect on this data.. For those that still want to argue this, all they need to do is look at Gold prices .. No Inflation equals lower gold prices and the 27% drop this year in Gold has signaled just how benign inflation is...
The run to new highs into the end of year continues, and so does the secular bull theme as the pieces to the puzzle are in place....
I'm not chasing anything here,, instead I sold calls on FB (Feb 65) to take advantage of the recent gain and generate income. It's an example of how to manage some of the gains. (NYSE:V) is another candidate to so just that ..
(NYSE:TGT), (NASDAQ:CSCO), (NYSE:RIG) , all can be bought here for dividends and gains in '14 ...
Best of luck to all....
Disclosure: I am long CSCO, TGT, RIG, V, FB.
Additional disclosure: I am long numerous equity positions , all can be seen here in this blog....