For the Bulls, 2013 was a great year & looking back at the portfolio selections and commentary during this past year I had the good fortune , for the most part in 'getting it right" .. Stocks continued on the secular bull theme I laid out and the secular bear story in gold that I warned about played out as well.. My mistakes in 2013 were at times looking for bigger declines than what we actually experienced. There were windows of opportunity that were presented during the year, and as each came upon us I did remain cautious at times.. However, the thesis of taking profits along the way and waiting for pullbacks on my "radar" stocks is a tried and true strategy that I have used to increase the bottom line of a portfolio..
During 2013 we have witnessed numerous dow theory Buy signals (many were highlighted here in this blog) during the year. Accordingly, I enter the new year in line with Dow Theory, stating once again that the primary trend of the stock market is "up." I am not in line with the negative naybobs that say this bull market is getting too old . My counter to that argument was stated here with my first thoughts on 2014 :
https://seekingalpha.com/instablog/706857-fear-greedtrader/2445241-the-markets-where-we-are-my-first-look-at-2014-part-i
From that commentary, the bottom line- this bull market is just over 2 years in duration..
I also believe we are now in the sweet spot in this recovery as I mentioned last week :
https://seekingalpha.com/instablog/706857-fear-greedtrader/2524481-the-secular-bull-story-continues-with-the-sweet-spot
Let's stop and take a look at one of the drivers for the market my first glimpse of earnings for the new year..
Of course the first cry we will hear is that elevated profit margins cannot remain where they are, and therefore must revert to their historic mean - hurting earnings in '14. This is the SAME argument from the naysayers we have heard since 2010; and for me I will dismiss it once again. One of the secular stories that is being played out is that many companies are moving their IT needs to the "cloud," which saves a huge amount of money permitting margins to stay wide. This along with other technological advances that are in full view, tell me not to buy into the margin compression argument. Add in the fact that the European headwind that hampered earnings last year is now slowly dissipating.
From Thompson Reuters, S & P 500 companies reporting their 3 Q '13 results, show that earnings grew 8.7% y/y, the best rate of earnings growth for the key benchmark in 2 years. The economists I follow suggest the 4th Q '13 reports will be quite robust when companies begin reporting next week.
Estimates I received for 3rd Q '13 earnings growth of 7% - 8% were 'Spot on" . Since I stay with the people that have had it right , these same folks now expect the 4th quarter of 2013 to be plus 10% by the time the 4th quarter is fully reported by mid-March '14.
My takeaway from the reports I have seen - Q4 '13 earnings growth will be north of 10% led by Financials and it will be the best quarter of y/y earnings growth in the last 2 years for that group.
The two best sectors for 2014 as of expected earnings growth today are Energy and Financials, the only two sectors to see upward growth estimate revisions for 2014, during the last 6 months of 2013. I am presently overweight both of those sectors. Check out my 2014 picks for names in those categories : https://seekingalpha.com/instablog/706857-fear-greedtrader/2495221-dec-15th-eye-on-the-fed-stocks-for-14
Secular Themes continue :
Industrial Renaissance, Energy Independence, the Digitization of Society, Modern Medicine, there are some major disruptive themes that are reshaping industry. They include: 3D printing, LED lighting, Cancer Immunotherapy, Mobil adoption and the convergence of devices, and Big data . . . to name but a few. The year ahead for the U.S. economy, and markets, should be dependent on continuing earnings momentum, policy initiatives out of the D.C. crowd ,fiscal and monetary policy, interest rates, and the dollar; all of which causes me to employ a even more flexible investment style for 2014 than I used in 2013.
Finally a LT "quarterly" chart of the S & P , which graphically depicts the breakout we saw in the middle of 2013. One of many reasons I hammered home the secular Bull story throughout '13 .... As I have mentioned in earlier commentary I believe the market will move higher ,, the question is exactly how we get to those new highs. From a technical viewpoint a retest of the S & P 1550- 1560 breakout area may well be in the cards as the adage of "what was resistance , now becomes support" is clearly shown here.. The 64,000 question is when.... From where we are now its a 15% correction.. Of course if we continue unabated higher from here , well that drop just becomes steeper..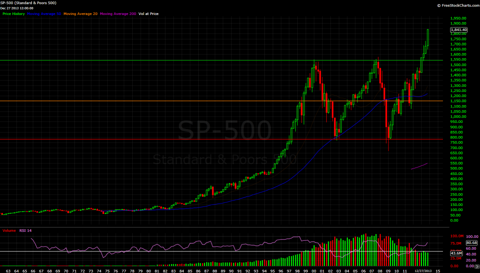 For LT investors a correction of this magnitude in the context of a secular bull market is a "speedbump" --- Just something to keep in mind.. & why I stated that a more flexible investment approach is warranted , as a dip of this magnitude if it in fact occurs will be challenging for sure .. Be nimble ... BUT stay the course....
For those with a short term view of the markets please take a look at this , it's an interesting take on that strategy and not very positive :
http://joefahmy.com/2013/12/30/short-term/
(NASDAQ:AAPL) (540) is back in a buy range - TGT 650-675
(NASDAQ:CTRP) (45) sold off on Fri and I added to my position TGT 65- 70
(NYSE:TGT) (63) has bounced nicely in the new year and is still an undervalued Div aristocrat.
My oil plays (NYSE:CXO),(NYSE:PXD),(NYSE:WLL) were beat up with the drop in oil prices this week and are attractive here..
Best of Luck
Disclosure: I am long CXO, CTRP, PXD, TGT, AAPL.
Additional disclosure: I am long numerous equity positions,, all can be seen here in this blog