The March options series expired on 3/21. The (NYSE:FCX) position was not called and at the moment I will wait for a rebound in shares before I decide to sell another call against that position.. FCX pays a nice dividend so we will be compensated if the shares take a while to rebound. That position represents a perfect example of using a stock that I don't mind owning for the intermediate or long term in case the market goes against me..
The (NASDAQ:MU) weekly options expired worthless on 3/28 and I used today's strength to sell the 4/25 weekly options @ the $24.5 strike price for $1.10.. That income adds another 4.5% to the overall investment in MU.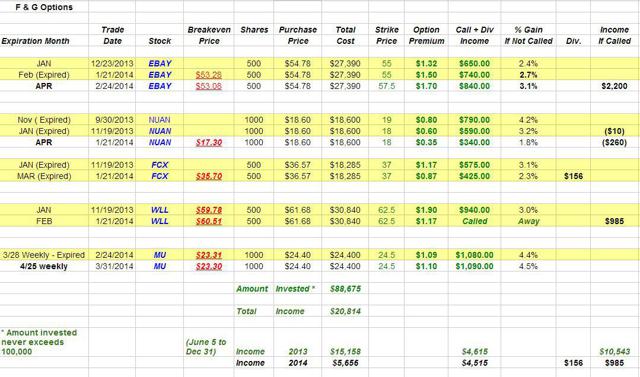 To date the account has taken in $5,656 in the first 3 months of '14 and the total since inception on 6/5/13 is 20,814.
This is an actual portfolio. At no time did the total amount invested exceed $100,000.
Best of Luck to all !
Disclosure: I am long EBAY, NUAN, FCX, MU.