This morning I indicated that for the first time since inception , I will be putting the "cash" that we have garnered in this account to work. A departure from the initial idea to show how an investor can use this strategy to generate monthly cash flow.. Prior to this, I had kept the total invested amount capped at the original $100,000 ..
With that in mind i added (NASDAQ:GILD) this afternoon. Purchased 400 shs. @ $73.98 and sold the May 75 calls for $1.87 . So for a holding period of 19 days the yield is 2.5% .
Gilead is a stock that I currently own in my portfolio, and have penned my comments on the company in an article I wrote here on SA. That being said , I do not mind owning the additional shares if the stock is not called away . A prerequisite for any stock that I put in this account.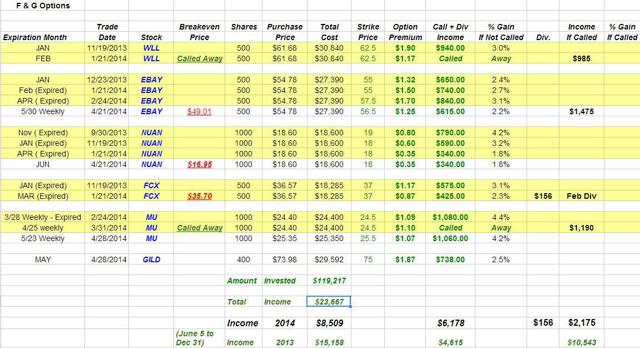 Total Income is $23,667 , and we now have $119,217 invested in these positions.
The initial $100,000 has now appreciated by 23.67% since inception. (6/5/13). The S & P has gone from 1608 to today's close of 1869 .
261 points higher or 16.3% in the same timeframe.
This is a "real " portfolio and all trades are documented in the call writing series in this blog .
Best of luck to all ...
Disclosure: I am long GILD, MU, EBAY, FCX, NUAN.
Additional disclosure: I am long numerous equity positions - all are documented here in this blog..