1st quarter '14 earnings reports are reaching their end with 464 of the SP 500 companies now having reported. Per Thomson Reuters, the y/y earnings growth for the SP 500 is +5.5%, far stronger than the 2.1% expected on April 1 '14, after the brutal Midwest and East Coast winter.
The p.e ratio on the forward estimate as of Friday's close was 15.25(x). The PEG ratio remains at the low end of the recent range at 1.86(x).
As I wrote last week, Technology and Healthcare are two sectors that are showing the best relative earnings growth since Jan 1, '14:
Here is the progression of Technology and Health Care earnings for q1 '14 as of May 9th, April 1, 2014, and Jan 1, 2014:
Technology: +9.3%, +2.5%, +7%;
Health Care: +11.9%, +3.7%, +5.8%;
Its easy to see, as of April 1, 2014, the consensus estimates had grossly underestimated growth for the two sectors.
At the beginning of this year , estimates I was receiving from analysts I follow indicated that S & P 500 earnings could grow 9-10% in 2014. Those forecasts were ahead of consensus estimates that were being tossed around on the street.
Now, after seeing the q1 '14 revisions and the expectations for q2 '14 remaining relatively stable, the last two - three weeks, I am starting to conclude the 9% + on the SP 500 earnings growth this calendar year, given the economic data, is doable.
The 64,000 question is --what p.e expansion might we see on that 9% earnings growth ? That remains a mystery, as it usually does.
In 2013, the SP 500 grew earnings 7% y/y, and yet the SP 500 increased 32% y/y. That of course was a great example of P.E expansion.
So far this year, the market's flat return might well be a function of allowing earnings growth to catch up to the index appreciation, and has nothing to do with earnings forecasts for this year. In my view, that is quite healthy.
To that end, The S & P 500 decided to break out from the trading range it was in with new highs recorded for the S & P 500, the Dow 30 and the Dow transports this past Monday.
Since mid-April the S&P 500 has been "caught" in a 1.5% range while it churned along all within a 'hair" of those new all time highs. And as mentioned last week the carnage beneath the S&P was quite extensive. This "internal" correction, as I called it, may just have been what the doctor ordered to have the major averages break to new highs.
The fundamental picture improves with two more positives that are signaling an improving economy:
Small business lending surges Small-bank loans have risen 15.1% from their 2011 low to a record high; in contrast, large-bank loan growth remains sluggish. This new high in small-bank loans in part reflects the build-out of Middle America, i.e., the manufacturing and energy renaissance, with manufacturing employment expanding 5.6% from its early 2010 low, the largest increase in more than 30 years.
In the face of significant regulatory/oversight headwinds that are particularly hitting large banks, the strength in small-bank lending is an important support for overall economic growth. Overall core bank lending continues to be healthy, with year-to-date bank loans up at a 7.4% annual rate. Consumer credit growth also is accelerating but continues to be concentrated in non-revolving student loans as banks' willingness to make consumer installment loans remains tepid.
Overlooked by many, but just as important, A synchronous global economic expansion is occurring --- Spanish unemployment shrank by 111,000 in April, more than double consensus, prompting Prime Minister Rajoy to state the trend of jobs destruction has been broken. Spain's services PMI also jumped well above consensus to 56.2, the sixth straight monthly reading above 50 and the highest reading in more than seven years. French and UK services PMIs also rose, while Germany's slightly missed forecasts but was still a robust 54.7. Globally, 78.8% of PMIs were in expansion territory, with 70% increasing year-over-year.
As usual, with the positives, comes the "wall of worry" comments from many, that stock & bonds can't go up together.
Stocks and bonds are both in positive territory this year. Now many are suggesting that "something has to give". The suggestion is that "Bonds are trying to tell us something."
This is because there is a belief by some that stocks and bonds must move in opposite directions because stocks are associated with risk and bonds are associated with stability.
And it is true that bonds generally do very well when stocks fall. But that doesn't mean that bonds always fall when stocks rise and vice versa.
Some people have a misunderstanding of the correlation between stocks and bonds. They aren't perfectly negatively correlated, which would mean one rises when the other falls. Stocks and bonds have close to a zero correlation historically, which means there is basically no relationship in their movements.
So they can rise together, fall together or move in opposite directions with no real pattern. In fact, on average, they have risen together more than not.
These are the percentages of time that the annual returns from the S&P 500 and 10 year treasuries rise in the same year by decade. Nearly 60% of the time both stocks and bonds rise in the same year at the same time.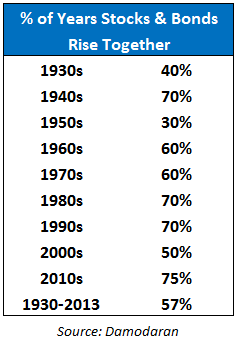 So one can draw the conclusion that Stocks and Bonds can rise together and maybe "nothing has to give " and bonds aren't telling us anything at all. And so the "wall of worry" goes on --
I have heard from more than one pundit, that 'stocks" have performed best when leadership is coming from the small-cap "risky" names. With that, the cries came from many due to the weakness in the small caps - particularly the Russell 2000. (RUT) , that this would eventually "take down" the other averages.
That said, the SPX has shown historically, and at present, that it can "hold its own" amid weakness in the risky names. I can go back to a year like 1994,where circumstances were similar as the "risky" names in the (RUT) carved out a bottom while the SPX was flat in that year.
I will note that for the moment the RUT looks like it has potentially put in a "double bottom".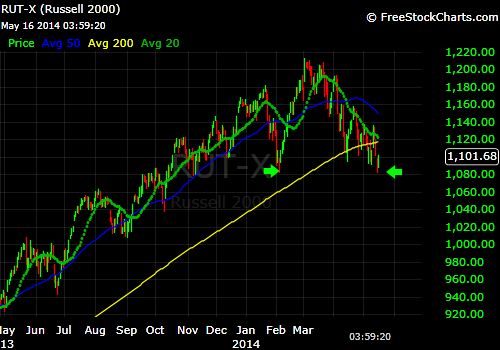 Only time will tell if the (RUT) can stabilize here and push higher. With RUT support at the important 1,080 level as the index finally reaching official correction mode with last Friday's lows, it seems buyers have emerged. A follow thru here and this could add more fuel to push the other averages higher as well. A breakdown, and the bears may have their self fulfilling prophecy come true with a potential for weakness to spread to the large caps.
From a contrarian perspective, the short-term sentiment backdrop is supportive of equities, as rallies usually occur when least expected. Retail players aren't expecting a rally, nor are option speculators, as is evident from the lack of equity call buying relative to put buying. And I mentioned two weeks ago, the "short" positioning of Hedge fund managers regarding the Russell.
However, until this technical picture is resolved, I continue to believe the current market backdrop is a good one for employing a call writing strategy. On Monday the S & P hit a new high - plenty of volatility followed and with Friday's close the average had basically gone nowhere.
I maintain a portfolio that highlights selling calls here on SA . So far it has generated approximately $24,000 in profits since June 5th of last year on an investment of $100,000. In comparison , the S & P is up 16.7% in the same time period. It is an actual portfolio, and the results are documented and updated as trades develop here on this blog.
Selecting the right stocks and writing calls against that position can be like printing money.
I was asked this past week if the latest Dow Theory buy signal signaled an "all clear" as we enter into the summer season. (By the way we just had another Dow Theory "buy" signal this past Monday) Just as I mentioned earlier, a "rally" can come when we least expect it, so too can we be sideswiped by a correction that can come "out of the blue". And we need to respect that fact.
Added to the "mix" this week were bearish calls from Ralph Acompora & David Tepper, and of course they dominated the media headlines. However all throughout this bull market its is amazing how quickly mainstream financial media "pundits" or experts turn bearish. And so here we are once again with an underlying bearish tone out there.
I am confident that IF we do get a correction of any magnitude it will NOT be caused by earnings.. As I mentioned earlier I am becoming more confident about the second half of this year regarding corporate profits.
I continue to see plenty of "divergence" in many indicators I track and so it is extremely difficult to say if the next push will be higher or will we see another drawdown with summer doldrums approaching. Next week could be telling regarding the next market move.
The way I am positioning my portfolio right now is to take advantage of the volatility and 'sideways' action of the market by selling calls to provide income.
I am also initiating positions on stocks that are on my radar and "buy " list as they sell off due to volatility.
(NYSE:AAP), (NYSE:LAZ), (NASDAQ:MU),(NYSE:CPA),(NYSE:RIG),(NASDAQ:CTRP) are all candidates .
My call on the financials has been wrong to date, They have been laggards as interest rates have remained lower that anticipated and that is a negative for bank profits.
However an "investor" has many assets working for them and others that they anticipate will also work for them in the future. I believe the bank stocks fall into this latter category.
Admittedly, I was wrong with the rate environment staying at these levels for this length of time after the Fed initiated a reduction in their asset purchases. So be it, BUT with the banks (NYSE:C),(NYSE:JPM),(NYSE:BAC) at these undervalued levels, I suggest it is a time to accumulate, rather than avoid, as the present low interest rate environment won't be here forever, and that will play into exceptional earnings for these companies in the future. They are hardly overvalued here.
Stay the course , best of luck to all !
Disclosure: I am long JPM, LAZ, BAC, C, AAP, CPA, CTRP, MU.
Additional disclosure: I am long numerous equity positions, all can be seen here on this blog