Time to recap and take a look at the portfolio since our last addition. The EBAY May 30 weekly options expired worthless. With the stock selling around 50 and my "breakeven price " for EBAY @$49 , I will wait for a rebound in shares before selling another call against that position . The shares are inexpensive and at the bottom of their trading range. Time to be patient....
The NUAN options will expire in June , and if the stock remains around the $17 level , it should bode well for selling the $18 strike price calls when the time comes..
FCX remains under $35 , today I sold the Aug. 37 calls for .42 The position will pick up another $200 for the 2 Months and it should be noted the shares received another $156 Div payment in May.
MU was called away on May 23, for a nice 4.7% return in a timeframe of less than 1 month..
The FB position is solidly in the money-- it appears shares will more than likely be taken at the end of the month..
That summary leaves the portfolio with approx. $93,000 invested and total income since inception June 5 2013 , now 1 year later is $25,866 ...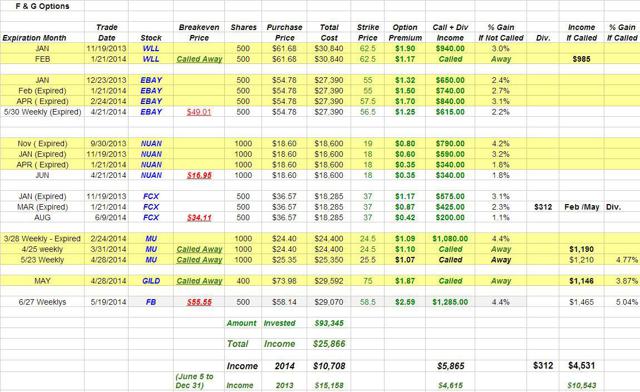 The $100,000 initial investment has grown to $125,866 in one year. At present we have approx. $32,000 to invest ..
Stay Tuned.
;;
Disclosure: I am long FB, EBAY, FCX, NUAN.