Last Friday the weekly LVS ($74.50) position was called away as the stock closed @ 74.60 .. That resulted in a 3.59% ($1,050) gain in less than a month The stock opened higher today, but settled down in the afternoon session. I repurchased the 400 shares @ 75.02 and sold the Aug. 8 Weekly options for $1.72. If called, the result will yield 3.57% in less than a month's timeframe..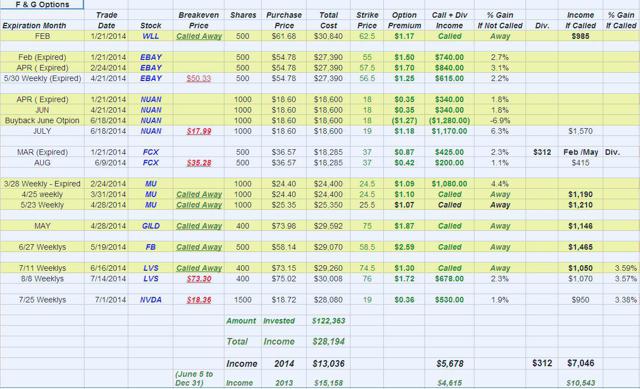 The spreadsheet details the $13,036 of income we have garnered so far in 2014. Bringing the total income since inception (6/5/13) of this portfolio which started at $100,000 to $28,194..
All trades have been documented in this series and are contained in this blog-- As stated earlier this is an actual portfolio...
Best of Luck to all.....
Disclosure: The author is long LVS, EBAY, FCX, NUAN, NVDA.