The August Options series expired this past week and with that the (NASDAQ:NVDA) position was called away @ 19 yielding a 3% gain for that 18 day holding period. Both the (NYSE:FCX) and (NASDAQ:NUAN) options expired worthless.
The NUAN position becomes troublesome again and its latest earnings report disappointed sending the share 10% lower on the day after that report.. So, after getting myself back to even on those shares, here we are again faced with a decision. For the moment, I will sit and hold, & wait for a rebound.
The news is better with FCX, as it closed just below the 37 strike price and with that I was able to sell the Sept 37 strike price call today for $.52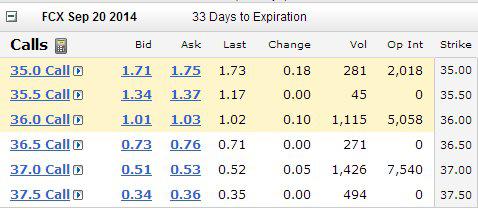 NVDA still looks cheap and attractive at these levels, so I decided to buy the 1500 Shares of NVDA back @ 19.22 and sell the Sept 19.50 call for $.44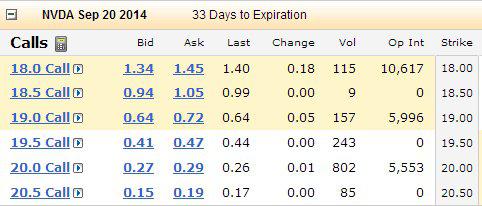 The current portfolio :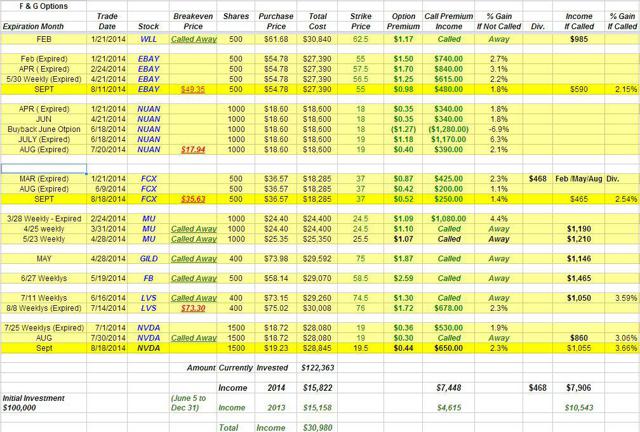 To summarize; (NYSE:LVS) and (NUAN) are presently not covered and awaiting a rebound in price. (NASDAQ:EBAY), (FCX), & (NVDA) have calls written against those positions
Current stock investment is $122,363
Gain on the initial $100,000 investment is $30,980 since 6/5/13....for a total portfolio value of $130,980
The same $100K invested in the S & P (spy on 6/13 - 161) would be worth (SPY @ 197 today) $122,360 ...
Best of Luck to all !!
Disclosure: The author is long LVS, NVDA, FCX, NUAN, EBAY.
Additional disclosure: I am long numerous equity positions - all of which can be seen here on my SA Instablog. It is my intention to present an introduction to these securities and state my intent and position. It should be used as a 'Starting Point' to conduct your own Due Diligence before making any investment decision. PAST PERFORMANCE IS NO GUARANTEE OF FUTURE RESULTS.