A recent quote I saw this past week from a noted brokerage firm.
"With capital on the line in the equity market, it is easy for investors to get caught up in the short term gyrations of market noise and lose focus on the big picture."
How many times have we read articles about how stock market gains are all due to the Fed only to later discover that earnings growth has been pretty strong. Or how many times have we read about how bad the economy is only to discover months later that it's actually improved.
The bears are always bearish when things are bad and they look at the world so negatively that they don't consider that macro weakness in the economy is actually slack that is almost always waiting to be tightened. And as it gets tightened the bears scream about the ongoing weakness and a weak economy turns into an OK economy which turns into a strong economy. It's at that point in the cycle when you really want to become more skeptical. This is the point when everyone potentially becomes convinced that the market is a one way bet.
Are we there yet-- In my opinion- Not even close.
Some evidence to that -- Apathy, (as noted by Josh Brown), in my opinion, that's one of the factors that drives a bull market.
My message has been consistent in that I believe we are in a secular bull market. This has been repeatedly, and is currently, confirmed by Dow Theory, which continues to show the primary trend of the stock market is "up." You will find that in bull markets all of the surprises come on the upside, as happened with the fresh buying that took the S & P to a new closing high this past Thursday. Is it possible that more and more investors are starting to conclude that the "secular" changes, that are driving this market are firmly in place? I first brought those changes into view about one year ago. The energy sector appears to be a major driver of our economy in the next five years, and that's also creating a manufacturing renaissance, due to lower costs. That then opens up the doors to seeing stronger commercial and industrial property prices, that in turn sparks loan demand. In my view, the government is going to be less of a drag, with a shrinking deficit, another positive. GDP growth of 3.5% is very realistic.
To that end another economic report that did in fact help fuel that new S & P high recorded a 1992. The August Flash PMI released this past week rose to the highest level in 4 years. It's just another in a string of good economic reports that we have seen lately.
The 'rant" of the week.. News flash - it isn't 2000.
How many times have we heard this comparison ? Its like 2000 or 2007 - there is euphoria everywhere, look at the "data", it suggests everyone is buying stocks.
Can we kill this nonsense once and for all ?- adding to the Josh Brown commentary;
From a recent Gallup Poll:
Amid a strong bull market that drove the S&P 500 up 30% in 2013 and has continued to produce gains, fewer than half of U.S. investors -- 41% -- say that if given an additional $10,000 to save or invest, they would put it in the stock market. Just over a third, 36%, would hold it in cash, while 20% say they would purchase a CD with it.
Can we once again say "Apathy" ? I continue to maintain that this market is still not 'accepted' by the masses.
The Flattening Yield Curve
Now let's take a look at the argument that the "Flattening yield curve" surely can't bode well for the equity market.
You would guess that the fall in rates, which is flattening yield curves, would be a negative for US equities ( the bears sure think so), indicating slowing growth prospects. However, the historical record is unclear at best.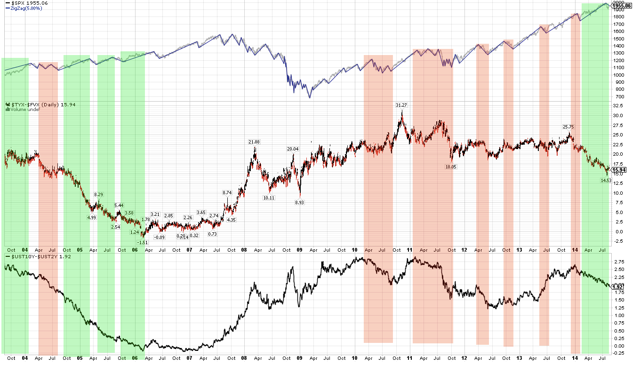 The areas shaded in green demonstrate the periods when the yield curve flattened and stocks rose. Throughout most of the prior bull market, the yield curve also flattened, yet stocks rose. Looking at the period from 2004 to 2006 is an example of rising stocks and falling rates and provides evidence that this in fact can occur. A repeat of the 2004-06 time frame, where the S & P gained approximately 18% while yields fell may indeed be will underway today . So what we are seeing now is not so terribly improbable and does not by itself indicate that a flat yield curve spells a market collapse as so many are suggesting.
This is unspectacular growth by historical standards, but its only modestly inflationary. So it does beg the question as to why yields are being driven lower.
The answer may lie in the flight to safety of U.S. treasuries, added to the existence of competing yields, especially in Europe. German bonds, like those in Japan, now yield less than 1%. In comparison, US 10 year yields of 2.35% are attractive.
Whatever the case , I believe there is precedence that it's not the death knell for the bull market. At the very least it pushes the 'pause" button on that argument, suggesting that one look at all of the data before pressing the "sell" button.
The S & P has now entered into a slightly overbought condition, and it should be no surprise. We have now seen a rally from the August 7th intraday low of 1904 where the market was completely oversold, to a new high of S & P 1992. Some 88 S & P points in two weeks. The breadth figures during this spurt were impressive and I also note the often 'left out" Financial sector started to participate. This bodes well as it shows solid strength across the board.
Here's a data point that bears watching which may give us an indication of the next short term move in the market - a Move higher as money managers start chasing or back to the trading range .. this data point, suggests the latter ...
The ISE Sentiment Index is a proprietary put/call ratio that uses only opening long customer transactions. In other words, it is measuring how many people are buying a new position in bullish call options or bearish put options. Remember, once everyone is expecting something, it rarely happens when it comes to investing. At the moment, its clearly demonstrating that the numbers are skewed heavily to the "call" side, as the ratio has registered three straight days over 200 .
The previous two times we saw three straight days above 200 were 1/16/14 and 7/22/11. The S&P 500 (SPX) dropped -3.43% and -10.83% just 10 days later.
Here's the chart so far YTD. The only meaningful weakness so far this year took place just after the last time this happened.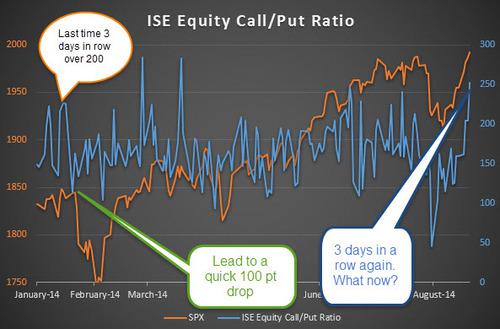 Back in July '11 this ratio put in five straight days and this took place just ahead of the huge August correction.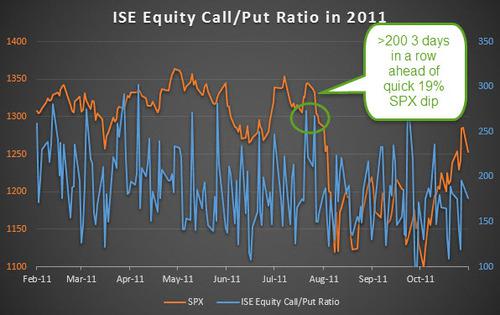 Let me stop anyone from making any rash decisions based on this information, by adding my .02 for the July 2011 occurrence.. Remember it was also the timeframe for he debt ceiling debate and subsequent DC fiasco.. Therefore it has to be put in that context.
This is ONE data point , and should be used in concert with other facts and data points. PERHAPS this suggests a short term dip form here instead of going for another leg up..
Either way - its short term in nature and in my view , doesn't alter the LT Uptrend
Stay the course, be ready to buy when the market presents an opportunity like we were just given. ( A Russian truck attacked by the Ukraine). It was laughable at the time, but not apparently not to everyone, and it shows how some investors shoot themselves in the foot over & over.
Take a look at (NASDAQ:EBAY) a name that I have been involved with since late last year.
The "story" that got me involved in this name earlier in the year is back, the Paypal spinoff.
Its been a frustrating position to own - I originally bought in at 52 last Dec, and again at 57 in March , when i thought the stock had broken out of a long base period and was set to move higher. Instead, the breakout was false and it dropped to test the lows @ 49 .
Now with the renewed Paypal story the stock jumped this past week to the 55 area.. also of note, Carl Icahn is involved as he was the one who prodded the board to split the company up to unlock value..
I'm back taking another good hard look at what this may mean in terms of actual stock value . My Initial reaction is very positive. More on (EBAY) later...
Best of Luck to all !!
Disclosure: The author is long EBAY.
Additional disclosure: I am long numerous equity positions - all of which can be seen here on my SA Instablog. It is my intention to present an introduction to these securities and state my intent and position. It should be used as a 'Starting Point' to conduct your own Due Diligence before making any investment decision.