Earnings Season is Over, & Growth Was Good
Among the S&P companies who have reported for Q2 (roughly 90%), 78% managed to beat or meet their earnings estimate and 62% managed to beat or meet their sales estimate. These results marks one of the best quarters for U.S. large caps in the past five years.
Empirical Research notes that for the core of the market (excluding financials, energy and utilities), the top line increased by 5%, the best result in several years, and the bottom line by 13%. It sees no signs that margins are about to regress toward their long-term mean; instead the globalization story continues to play out.
According to Thomson Reuter's This Week in Earnings, the forward 4-quarter EPS estimate for the SP 500 fell $0.25 this week to $126.33, versus last week's $126.58.Q2 '14
The p.e ratio on the forward estimate given the 1.71% SP 500 rally is now 15.75%.
The PEG ratio rose to 1.70(x) versus last week's 1.64(x).
The "earnings yield" on the SP 500 fell to 6.35%.
The year-over-year growth of the forward estimate fell for its 4th consecutive week, to 9.25%, down from last week's 9.40%.
The year-over-year growth rate for actual q2 '14 earnings was 10.2%, in line with what my economic sources projected, the best since late 2011.
q2 '14 revenue growth of 4.6% was also the best in the last few years.
Another positive economic data point this week:
Many thought August was going to be a bad month for the bulls but the S & P marched higher and posted a 4+% gain for the month , while the (RUT) posted a 5.3% gain in the same period. The outperformance in the (RUT) is something to keep an eye on, as it continues to negate the bear theories that the Russell will take the entire equity market down. So far, that hasn't happened, to the contrary, as the S & P now stands at a new all time high of 2003.
But what about new highs, and why do so many seem to "fear" them. Its uncharted territory for sure, but that doesn't necessarily mean it is a negative.
One trademark of true bull markets is new all-time highs. The S&P 500 made 45 new all-time highs last year and has added another 30 so far in 2014. That's a good thing, don't be fooled into thinking new highs are bearish.
In a three-month time frame following a record high, the S&P 500 averages about a 2% gain, according to Ryan Detrick, a strategist at See It Market, research site. He further notes, that's essentially equivalent to the market's average performance over any three-month period. The same goes for average six-month and one-year performances following record highs, which are also comparable to the market's typical returns during those time frames.
"New highs might seem like this "big event", but they don't really suggest anything special," according to Mr Dietrick.
From all of the evidence, I come to this conclusion, making new highs isn't some bearish event like so many claim.
Now that the S & P has hit the 2000 level it has now tripled from the March 2009 low of 666 and this climb has been accomplished in 5 years. The last time the market "tripled " was off of the 1987 low around 250 and it took nine years, when it hit 750 in 1996, it then continued higher for another 13 years before topping out @ 1550, and that was another double from that level. History surely shows that new highs can beget more new highs.. I'll add - it happens over time, "patience" is the key word for "investors".
Now lets take a look at how new highs tend to happen in clusters that can go on for many years. Looking at the chart below , the market saw new highs in the '50s and '60s, then very few in the '70s. Then continued the pattern of new all-time highs for another two decades, ending with the horrible overall performance of the 2000s. Now here we are in a fresh new decade and new highs are starting to pop up again.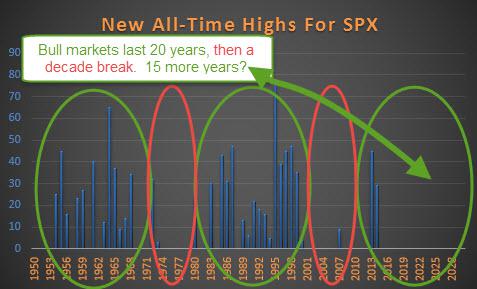 Could the same pattern be unfolding ? Honestly, I have no idea, nor am i suggesting that this will in fact happen, but what I do know is there is precedence for a re-occurrence. So it may not just be a coincidence.
I suggest now, as I have all along, don't be an investor that listens to those that have had the market story wrong, those using CAPE Shiller PE ratios to keep you out of the market or blaming the Fed /QE for the entire scope of this bull market.
September is upon us - it is a very seasonally weak period. Since 1950, September returns avg -0.47% and up just 45% of time. Both stats are the worst out of all other months. So one would think the bears have the situation in their favor with an existing overbought condition after the latest push to new highs, while we are entering a historical weak period. Remember, August was 'supposed' to be weak, so are we to be fooled again?
I've mentioned the "overbought " condition that exists in the major indexes. The relative strength indicators I use have topped, indicating S & P is indeed stretched and overbought in the short term after making new highs. However, that is no great revelation & nothing unusual there at all.
A point to consider, both the Dow 30 and the industrials have not followed the lead of the S& P as they have not posted new highs.
I have been of the opinion that this latest push might get us a "peek" at new highs and then pull back down into the 'trading range' rather than the start of a new leg higher. So far, that may be the case, and with the seasonality issue , it enhances that possibility.
On the other hand , markets can stay overbought for a while - work off any excess and then push higher, a "melt up" of sorts. A possible catalyst for that scenario, money managers come back from their summer vacations, only to see that they are in fact "behind" the averages, and the "chase" for performance may ensue.
No matter how it plays out in September - it will be a blip on the screen for the LT investor. Stay focused - look for those bargains that continue to show good fundamentals while "external" events are forcing weakness. Take advantage of the "fear" that is being expressed in a name like (NYSE:LVS), as the shares are being thrown away on concerns related to Macau. While the shares may see further weakness, (irrational behavior can last for quite some time) concerns now seem to be overdone and expectations seem to have been sufficiently lowered, setting the stage for upside surprises, as I have noted with LVS in the past. 3% yield, 6% FCF yield, LT Macau story is still intact, and Japan gaming is on the horizon.
Transocean (NYSE:RIG) 7.6% yield, has also been thrown away - here is a recent article form an author with a pretty good 'track" record for picking stocks.
Another name I have renewed interest in at current levels, is Halliburton, my thoughts are posted in this recently published article. My other selection in the oil service sector was (NYSE:CAM) , that is up a nifty 31% since I wrote this article, back in April.
Taking advantage of these situations, will pay dividends down the road -- Nobody liked (NASDAQ:GILD), when they threw away the biotechs in the spring. That has since changed as the stock continues to make new all time highs.
Best of Luck to all !
Disclosure: The author is long LVS, GILD, RIG, HAL, CAM.
Additional disclosure: I am long numerous equity positions all of which can be seen in my Instablog. Please be advised : "It is my intention to present an introduction to these securities and state my intent and position. It should be used as a 'Starting Point' to conduct your own Due Diligence before making any investment decision."