I took a few moments this week to go back and look at some of my commentary in the past few days regarding the equity market.
When another reader mentioned he was cautious and sold some names recently , I replied
Funny i have the exact same feeling ,, usually i am antsy to get right back in and put money back to work , sometimes just putting on a covered call position,,
but now i see no reason to chase or press the issue .. ,, a lot of the tech names u just sold that i also follow -- MU, QCOM , NXPI can be bought lower, & their runs aren't over, so it's time to be patient ...
I am out of those except for a core position that i maintain in MU .
Other thoughts
we are at all time highs and the market is overbought , the "seasonality" issue may move the S & p higher ..
& as i mentioned yesterday I have the largest cash position that I've held in a long time..
I don't see anything dire , its just that I'm looking for better entry points on a few names I am looking at.
This comment also conveys my views as we close out the year.
Looking over the landscape now, the only names that seem attractive to me are energy related & maybe the airlines.. other stocks i have mentioned here have hit their targets or are close to doing just that ..& i wont chase.. some like the old tech names-- CSCO & INTC have gone parabolic and in need of a serious pullback ...
I'm also having trouble selecting short term covered call candidates to put that cash back to work now ...
Hence my oversized cash position at the moment ..
Simple translation, while the seasonality issue may carry the S & P slowly higher, the market has come a long way since Oct. 15th. The following chart indicates just that and the major averages are in need of some consolidation. It is the same chart that I have used all year to indicate what usually develops when the S & P makes a new high and reaches the upper band of its trading range . This time is no different, hence my cautious outlook last week.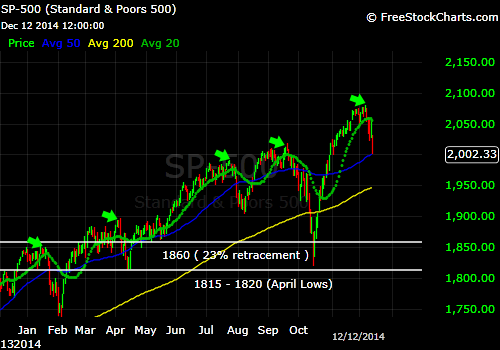 Well after I wrote that paragraph on Friday AM , we got some of that consolidation with a 33 point drop in the S & P to end the week.
The mid week market weakness was attributed to everything from the market sell off in China , the fed changing wording in their statements to when they MAY raise rates and the word "contagion" being resurfaced as oil continued it's slide.
However, its simple, the S & P was and is overbought as stated here the last 2 weeks, so it should not come as any surprise that the market now has experienced weakness. So I believe this initial drop is well within the "normal" pattern we have seen before and suggest it may have more time to play out.
Now just how far this weakness goes could depend on the unrelenting "fear" that is out there concerning the oil market "contagion".
The decline in oil has been so swift, I have found it difficult to quickly assess all of the ramifications of this move as oil now has cratered to $57 in a blink of an eye.
That introduces an issue that has jumped onto my radar screen as a challenge to the present valuation of the S & P in the near term. The continued decline in oil will have a large impact on the entire energy sector's earnings. The Energy sector's earnings weight at present is a little over 11% . When Oil hit $70 my view was that the decline in energy profits may have been offset by the increase that we could see across the board, as I believe this negative will mask decent growth elsewhere in the S & P.
I indicated above how the market is vulnerable from a technical level. There also will be a reset of expectations on the fundamental side to " S & P earnings totals in '15. This is a "fluid" situation that we are presented with and it needs to be monitored closely to see just how much damage it will do to earnings estimates for the entire market. Rest assured the market will adjust , the question is to what extent.
Stay Tuned
A Quick look back;
This is the time of the year when it is nice to go back and reflect on how certain market ideas, recommendations panned out during the year. I have stated in other missives how maintaining this instablog assists me in my research. It is a very simple way to provide a scorecard to review where I may have been right and where I have been wrong on the markets and translating that to become a better investor.
I'll start with one of the "wrong" calls. -- Specifically any selections that I put forth on the energy sector after the Sept/ Oct timeframe. Clearly the swift drop in crude Oil caught me by surprise and certainly indicates how swift and unrelenting these sell offs are.
I mentioned CXO, PXD and WLL as my favorites at the beginning of the year and if investors managed their risks in these names they should have held their own instead of getting crushed. A lot of folks like to highlight how wrong the energy selections I made early in the year may have been. While I'll always accept constructive criticism, let me offer the following as a way to better understand active portfolio management before we classify these as bad choices.
CXO went from $100 when it was selected in Jan to a high of $148 (up 48%) during the year before the selloff. It now sits @ $89 ...
PXD from $165 in Jan. to a high of $233, ( a 41% gain) it now trades @ $134.
WLL from $59 to $92 (gain of 55%) and now sits @ $34
Its clear there are at least two takeaways from the action in these names. There certainly were profits to be garnered from these selections as long as one actively managed their holdings by harvesting profits along the way. I believe its disingenuous to suggest that anyone who got involved in those names early in the year would sit thru those gains (48,41 and 55% respectively in less than 6 months) and not take some if not all of the profits.
The other lesson, the magnitude of the drop in these names is incredible and indicates how important risk management is . Might these names now offer value for LT investors ? More on that in future blog posts.
One call that I made last December and thankfully stuck with in the face of some weak trading early in the first quarter of the year was the 'financials".. They had a swoon in the first 6 months for sure , but they are ending 2014 breaking out to new highs. C, BAC & GS are candidates that can be bought on weakness as they will be beneficiaries of an improving economy and for the banks a rising rate environment will help. Another bank I like for 2015 is TCBI. It will be on my list of names that I I'll look to buy for next year. I expect to publish that list in about a week or two.
A good story this year was the "Old Tech" names like CSCO up 31% ( my Dow dog of the year" for '14) , INTC and MSFT as they all outperformed the major averages. As mentioned, I took profits in them last week as they have had parabolic moves from the Oct. 15th lows.. They are not "done" just yet, a nice correction there and I may re - enter those names at lower prices.
On the flip side , my "turnaround story for 2014" COH, was a big disappointment , the rebound never materialized and the shares continued to disappoint throughout the entire year.
Now back to a positive ; At the beginning of the year, many indicated that a gain in the equity market would not be possible after the 30% plus gain in 2013.
I didn't buy into that story, so I'm very satisfied with my continued bullish stance during the entire year noting the many Dow Theory buy signals along the way. Staying with the secular bull theme has shown to be rewarding to investors that have stayed the course.
That secular bull story was once again challenged seemingly throughout the entire year, but it appears the S & P will once again sport a nice gain in '14, after going through periods of volatility.
Overall, a productive year but not without challenges and I see plenty of challenges ahead for 2015 .. The first is my concern with S & P earnings adjustments, due to this slide in Crude oil.
Best of Luck to all !!