A stock market scenario that I contemplated playing out for 2015 is starting to gain more traction in my thoughts.
Might we see the S & P put in a similar performance in 2015 that was demonstrated by the Russell 2000 (RUT) in 2014 ?
Recall that the Russell had a gain of 30+% in 2013 and after trading in a range all year in 2014, came away with a modest 4% gain. This consolidation action in the context of a bull market is perfectly "normal" and in fact "healthy" given the spectacular gain in '13.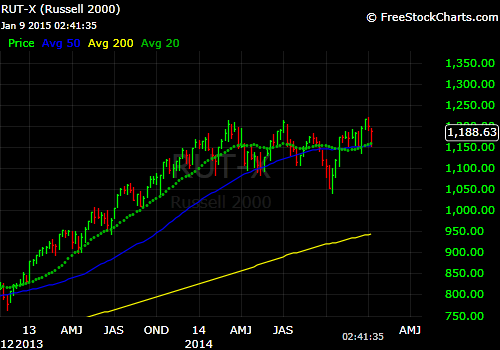 The above weekly chart of the Russell shows that sharp rise in 2013, then the consolidating "trading" range in '14
So here we are entering 2015 after the S & P gained 30% in 2014, followed by another double digit gain in 2014 (11%).
I mentioned in past commentary that I thought 2015 may produce plenty of volatility with meaningful "Ups and Downs' all within the context of a bull market. This past week sure seemed to fit that bill as the DJIA posted 5 straight days of triple digit moves.
Perhaps we can expect a "trading range" pattern develop for the S & P in 2015 working off some of those back to back outsized gains, highlighted by sharp moves in either direction.
These "moves" may come as a result of the "themes" I highlighted in my initial look at 2015.
What is going on in the rest of the world
The impact of what is "expected" to be a sustained decline in energy prices
The initial steps in the normalization of monetary policy
The political scene in Washington, D.C.
I can now add some content to those themes.
The market will surely have something to say about :
Russia and its struggling economy due to the price of oil, etc., and the effect on Europe. China growth worries. Terrorism as we saw this past week.
Potential bankruptcies in highly leveraged oil shale companies, and the domino effect with defaulting bank loans.
Interest rate mania - Fed "Obsession" will they , wont they , & when.
At the moment Obama seems more entrenched in his views than ever, signaling little compromise.
In my view, any one or a combination of these will rattle the securities markets, and possibly cause those wild swings I'm referring to. However, at the end of the day it may be more "noise" than anything else as I do not believe any one of them will threaten the secular bull backdrop.
I take my cues from what we have already witnessed during the up swing in equities. Debt downgrades, sequestration, political unrest here and elsewhere in the world, Greece, Cyprus, Ebola, end of QE, u name it, these 'events' don't end bull markets.
So the trading range pattern I anticipate presents an environment that sets the strategy for my approach to the stock market this year. From the Dec. 21 instablog post.
I believe 2015 will truly be a year where investors will have to be nimble. To that end, my strategy going forward ---

Other than my core holdings, and anything I may add to them, I won't "marry" a position for any length of time unless there are extraordinary circumstances.

I expect to utilize my call writing strategy (which to date has outpaced any and all market averages in the last 2 yrs.) quite a bit more.
Keep my cash allocation higher than I have in the past, as I look to take advantage of quick volatile corrections in both the market in general or an individual name.

Instead, I will take my "shots" by adding intermediate term positions in the names I continue to mention here. Attempt to harvest gains and then move on. In summary -- "take what the market gives me"
Now I will add to those remarks that sector and individual stock selection will be important in an attempt to compile nice returns this year.
Please note that my strategy as outlined, may not be for everyone. It will require "timing" to some degree attempting to be "nimble". Both of those factors add difficulty to investing and both can have their distinct disadvantages.
Each investor needs to look at their own personal situation. Review your goals in the context of your time horizon, risk tolerance, and portfolio makeup before embarking on any investment strategy.
The Secular bull market story is the backdrop that investors should be using in their decision making process whether they want to be "active and nimble" or more "passive" this year.
To summarize that entire commentary. The S & P will be higher down the road but not without some pitfalls and outright scares along the way.
A few tidbits that suggest the S & P can move higher.
From The latest Beige Book : "muted wage growth" and Fed policymakers in their December meeting sharply reduced both their inflation forecast for 2015 as well as the magnitude of increases in the target funds rate. An environment of stronger growth, lower inflation and a dovish Fed is very bullish.
Other indicators I follow are sending a similar signal. The ratio of the S&P to Q3 after-tax profits is around 1.11, well below the median 1.28 since 1950.
Of note for this year, the S&P has not declined in the 12 months following a midterm election year since 1947.
From a financial-market standpoint, Deutsche Bank reports that over the past 80 years, whenever the Republicans have controlled both houses of Congress-regardless of who the president is or his party affiliation-the S&P 500 has rallied by an average of 15% annually.
BLMN and TOL have started the year well and can be added on any weakness. MU reported another stellar earnings quarter and after an initial dip the shares rebounded. In my view its worthy of accumulation for a move back to the highs and an LT target of $40.
Many names that are on my watch list in tech land --NXPI, SWKS, CAVM got away from me on the quick turnaround this week, and stayed strong. Staying with discipline and what I outlined above , I won't chase, instead practice patience and wait for my entry points to develop..
This past week I added to my position in BHI, as it fit into my LT view on oil their involvement in the Halliburton deal.
Anyone concerned about wild wings and volatility and need some stability in their portfolio should take a look at both GE and VZ. They offer above average yields and both are selling at the low end of their respective trading ranges. I added more GE ($24) , VZ ( $46.20) during the "down" days this week. Both are in my Dogs of the Dow Portfolio.
Best of Luck to all !!
Disclosure: The author is long BHI, MU, VZ, GE, BLMN, TOL, CAVM, SWKS, NXPI.
Additional disclosure: I am long numerous equity positions - all of which can be seen here on my SA Instablog. It is my intention to present an introduction to this security and state my intent and position. It should be used as a 'Starting Point' to conduct your own Due Diligence before making any investment decision.