The earnings scorecard from Factset research :
Of the 323 companies that have reported earnings to date for Q4 2014, 78% have reported earnings above the mean estimate and 59% have reported sales above the mean estimate.
Earnings Growth: The blended earnings growth rate for Q4 2014 is 3.0%. The Health Care and Telecom Services sectors are reporting the highest growth in earnings for the quarter, while the Energy sector is reporting the largest decline in earnings for the quarter.
Earnings Revisions: On December 31, the estimated earnings growth rate for Q4 2014 was 1.7%. Five sectors have higher growth rates today (compared to December 31) due to upside earnings surprises, led by the Information Technology sector.
Earnings Guidance: For Q1 2015, 52 companies have issued negative EPS guidance and 10 companies have issued positive EPS guidance.
Valuation: The current 12-month forward P/E ratio is 16.9. This P/E ratio is well above the 5-year (13.6) average and the 10-year (14.1) average.
No complaints with the overall earnings picture as presented so far. This report shows the highest Percentage of Companies Beating EPS Estimates (78%) Since Q2 2010 (79%)
I am not as concerned as some when it comes to the "Guidance " issue as I maintain that company's have a built in excuse for keeping things "close to the vest" - Strong Dollar, Eurozone. etc. I wouldn't envision a CEO coming out and playing hero when He/She certainly doesn't have to -- Would You ? To that end look for companies that beat estimates and raise guidance , as their business is surely on solid ground. And when those shares go on sale they are perfect 'adds" to a portfolio. Check out an old favorite NVDA, as their stock has "broken" out after their recent earnings release.
Per Thomson Reuters;
The forward 4-quarter estimate fell to $120.94 from last week's $121.99, or roughly $1.05 per share. That now suggest a forward PE of approximately 17 and therein lies one of the battleground issues the Bulls and Bears will debate in the short term.
The forward PE of around 17 isn't a "wild " valuation given the zero rate interest rate environment, but the unknowns that may lie ahead with the energy sector will cause the debate.
The bears will say this is just the tip of the iceberg and we are about to see an earnings recession as they decline and rollover. One has to wonder whether earnings estimates are just "flip flopping" around, or are we already in a new trend or about to embark on one that suggests much lower results.
It's easy to see how the energy sector is distorting the SP 500 earnings picture along with future estimates. While the drag of the Energy sector is real, my opinion is that we are NOT on the beginning of an earnings rollover. Look at the bullet point above where five sectors now have higher growth rates than were estimated in December.
From where I sit now, SP 500 earnings are fine, excluding energy, and might even improve gradually though 2015.
Instead of wringing ones hands over Greece and the Ukraine, its best to watch rather than react as rest assured these issues surely won't end the secular bull market. Instead I look at the improvement in the U S economy that no one seems to talk about.
Over the past year, banks have begun to use their reserves to expand their lending activity. Banks are more willing to lend, and businesses are more willing to borrow: Commercial and Industrial Loans are up 13.7% in the past year, and they have increased at a nice 15.1% annualized pace in the past three months.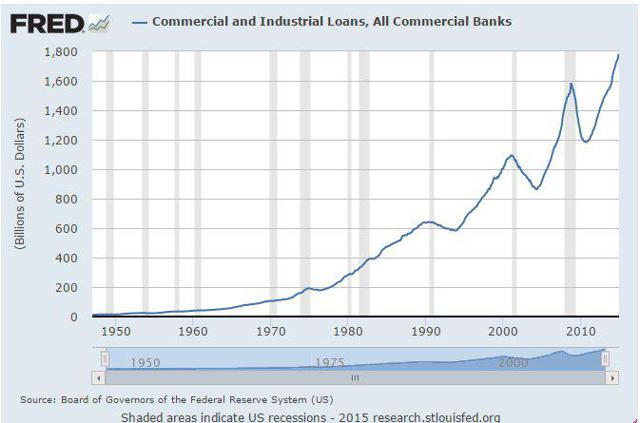 Given the meaningful improvement in labor market conditions, (look at the latest Jobs reports) and the substantial pickup in bank lending, we can conclude that confidence is increasing as reflected by the eleven year high in consumer sentiment.
I note on the latest Jobs data the key takeaway might just be that after a disappointing December, in which average hourly earnings actually declined by 0.2%, January enjoyed a strong 0.5% bounce. That is well above the 0.3% gain that had been expected, representing the largest month-over-month increase in nearly seven years.
The Eurozone
I continue to suggest that the dire forecasts about Europe are overdone and with expectations so LOW , Europe may turn out to be the biggest upside surprise in coming months. Economists and analysts continue to be caught off guard by the relatively upbeat stream of data coming out of the eurozone. Lets look at some recent results
The eurozone manufacturing PMI rose a second straight month in January to a 6-month high of 51-readings above 50 generally have been consistent with positive economic growth. The IFo business climate survey, which historically has done a great job in identifying German recessions, has improved three straight months and, at 106.7, is well above danger-zone levels. December German factory orders also rose nearly three times consensus and, in the overall euro area, retail sales jumped in Q4 by the largest amount in almost 10 years while jobless rates ticked down broadly.
There is evidence this trend will continue in 2015 as low commodity prices, a weak euro and European Central Bank easing provide support. Along with a more accommodative fiscal policy, the evidence suggests the eurozone should be able to prevent deflation and potentially could see growth perk up in coming months, good news not just for Europe but for the U.S., as well, given the effects its slowdown has had on U.S. exports and U.S. multinational earnings.
And just as I was wrapping up my thoughts on the eurozone, this positive report on German GDP came across the newswire.
Back here in the U.S.
The ISM non-manufacturing gauge unexpectedly rose in January to a robust 56.7 and has been above the breakeven level of 50 continuously since January 2010, indicating sustained expansion.
The Markit U.S. services PMI also jumped and has been above breakeven for 15 consecutive months, with respondents upbeat about the 2015 growth prospects, while the composite PMI (reflecting manufacturing and services activity) rose to levels consistent with 3.5% GDP for Q1.
What about all of this deflation talk ?
I don't expect inflation to surge any time soon, similarly, I do not think the deflation/noflation environment is a high probability - especially here in the U.S.
In my view, this creates the risk that long duration fixed income is much riskier than the market is currently pricing in. If inflation even modestly surprises to the upside in the coming years then fixed income could experience a whip lashing that will feel a lot like 2013 when long bonds experienced double digit losses.
So for those that bang the drum to tell us all that the bond geniuses have it right, they might want to rethink their theories. The potential losses that are staring them in the face are enormous, with very little in the way of reward with these paltry rates.
Commodities look modestly attractive for the first time in a long time. Oil could go lower, but the current price looks like the best risk/reward play I have seen in years. The same can be said across much of the commodity complex. If we experience an upside inflation surprise in the coming 18 months there very well could be substantial upside in some commodities. Add wage inflation in the back half of 2015 ,combined with any boost in oil prices, the year over year inflation comps will then look alarmingly high given current expectations.
The US economy continues to be stronger than most think. Not only is the de-leveraging over, but there are consistent signs of the labor market tightening and even some signs of wage growth in indices like the Employment Cost Index.
Europe could be close to a moment of truth where more pro growth policy takes hold as a result of the changes in Greece (or, the downside risk being that it unravels, something I am willing to bet against). Furthermore, QE should provide some modest boost to economic growth given the irrationally deflationary policies that have been in place thus far.
None of this means that high inflation is on the horizon. It just means that the market could be pricing in a sustained deflation/disinflation that is not all that rational. And if the market is caught even remotely flat footed here, then some of the safest instruments in a diversified portfolio suddenly begin to add a significant amount of permanent loss risk when they should be providing an investor with protection from precisely that. When the masses one day wake up and realize the losses that are staring at them, where do you think that money outflow will go? My guess is a good percentage will find its way into the equity market and buddy up with the stock folks that supposedly have the entire story on the economy wrong.
On the technical side of things
"Greece will, Greece won't", "Russia will Russia won't" set the tone for the market this past week.
The S&P 500 has now zig-zagged more than 500 points since the year began, and yet we are only 1.8% higher than where we were at the close of 12/31/14. It's definitely been an interesting couple of months for all of the market technicians out there. The market's gyrations has at various points looked to be forming several different price patterns: a head-and-shoulders top, double-top, double-bottom, triple-bottom, a triangle, and likely a few others that could be subjectively seen by all of the technical analysts.
By now, though, I think it's safe to say that once the S & P broke out of the triangle that is depicted in the chart below, apparently caused by the "Russia will" story with a cease fire in the Ukraine, the S & P also found itself out of the "box", that contained the average between 1990 and 2064.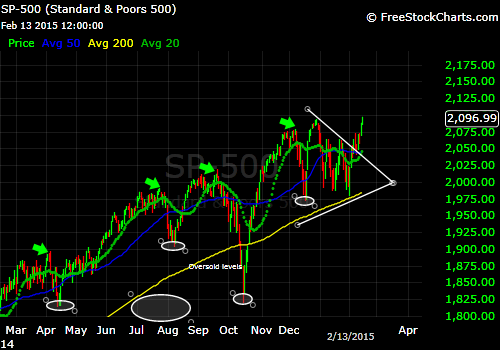 Many technicians then like to take the size of the "box" (in this case about 75 points) and add or subtract that number from the eventual breakout/ breakdown level to arrive at a price target, which results in a 2139 objective on the upside and a downside one of 1915. At the moment we can rule out the downside target and be reminded that this technical analysis isn't cast in stone. It simply is a guide that makes technicians feel good about providing their .02 to the topic.
So with a confirmed, ( for me, that required a daily close outside of the box ), break here , the next hurdle was the old closing highs @ 2090. And they were dismissed on Friday with a new closing high of 2096.
While we are at all time highs once again, I don't feel the need to 'chase" here. The names that are working continue to do well, AAPL at the top of the list, financials have come off of the floor as any hint of potential rate increase has energized the sector. And adding the energy exposure in December and early January is paying off handsomely.
Instead of chasing new highs , I am keeping an eye on names that for the moment aren't working, but have solid up trending fundamentals. A stock like DAL in the airline space comes to mind an example. Its been weak as oil has stabilized, that short term trader mentality will soon pass and DAL will have its day again and move higher.
Well, I couldn't have a weekly update without a note on the energy sector
According to Bespoke the short interest in the energy sector has jump dramatically. Highlights from their article;
As of the end of January, the average stock in the Energy sector had 9.88% of its floating shares sold short. This is the highest level of short interest for the sector since at least 2008.

The only time we saw double-digit levels of short interest for any sector was back during the Financial crisis.
I believe that sums up the sentiment that is out there regarding energy stocks . As one would imagine the sentiment on where crude oil is going isn't much better.
Take a peek at these recent headlines from.
From my technical work, WTI has come off of the lows , rallied and then saw the price rebuffed at the 50 day MA on February 9. Not a surprise, as a decline of this magnitude and size usually suggests that it may take time and a few shots at these resistance points before potentially overtaking them. Friday's close left the price once again just below that 50 day resistance level. The next few trading sessions may tell where oil may be headed in the short term. So the jury is still out on a continued rebound or a drop back to further consolidate.
More on this topic after we see what develops early next week as there seems to be some interesting chart patterns developing.
I'll leave everyone with this observation-- if energy has stabilized here and continues to drift higher, which I believe maybe in the tea leaves, that outsized short position will unwind creating additional demand for energy shares much to the delight of anyone that has positioned themselves accordingly with some of the names I mentioned last December.
Best of Luck to all !!
Disclosure: The author is long AAPL,DAL.
Additional disclosure: I am long numerous equity positions - all of which can be seen here on my SA Instablog. It is my intention to present an introduction to this security and state my intent and position. It should be used as a 'Starting Point' to conduct your own Due Diligence before making any investment decision.