The February series of options expired last Friday, and with that one of our positions (WLL) was called away for a 3.2% profit . That position was put on Jan 21 and was called away on Feb 22. a nice gain in a month's time.
During the same time frame the (EBAY) options expired worthless and we captured the entire premium for a 2.7% gain for the month..
I came right back selling the Apr 57.5 options on our EBAY position for $1.70. IF called it will be an 8% gain, and if the options expire worthless it adds another 3.1% in income for the 2 month holding period..
The holdings as of today :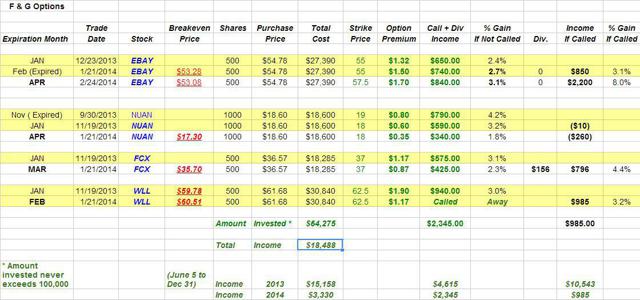 The portfolio sits with 3 positions and about $35,000 in cash to invest.... Keeping in mind that the total amount invested never exceeds $100,000.. Since June 5, 2013 the portfolio has brought in $18,488 in total income.
I'll be looking to put the cash to work and add more income in the next day or so..
As stated earlier in this series, this is an actual portfolio..
Disclosure: I am long EBAY, NUAN, FCX.
Additional disclosure: I am long numerous equity positions, all of which can be seen here in this blog..