Back at the end of January I presented an article to show a good XIV trading strategy using chandelier stops as a signal to go long XIV and when to get out.
As I mentioned in the first article, I do not strictly trade this strategy but I do use stop loss orders for my XIV trades and I tend to only go long when this strategy says to go long.
Since publishing the article, the strategy has had very mixed results with several months of choppy trade and one month of spectacular results that made up for the previous trades.
The VIX spike in February stopped out the trade causing an 8% drawdown.
The strategy gave a buy signal in early March and made a nice 19.8% run. The VIX spike in April stopped out the trade causing a 9% drawdown.
The strategy gave another buy signal in late April and made a very short 4.5% run. The VIX spike in early June stopped out the trade causing an 9% drawdown.
Overall, in this choppy sideways period, the strategy lost 4.3% from end of January to end of June.
On July 1, the strategy gave it's latest buy signal and gained an impressive 41.7% before settling down and giving the latest sell signal; settling for a nice 32.4% gain.
Here is an updated chart showing the chandelier stops on XIV along with the equity curve for the strategy.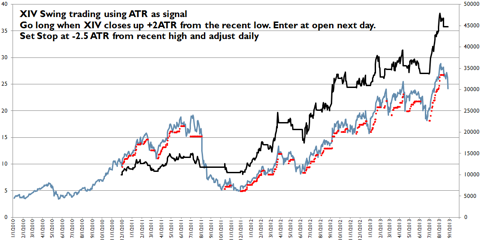 It seems like the strategy can be improved by using tighter stops to lock in more profits. And I am sure we could add indicators or other macro news filters that would keep us out of the trade completely in certain markets like the April to June taper talk market.
Still, overall, the strategy as presented would have gained 448% in the last 2.75 years; or 13.6% average per month. Again this is not any guarantee of future results and is not statistically significant enough to bet on. We certainly could have an extended period of up and down swings like we had for 5 months this year.
Please do leave comments below if you have any feedback on this article or the strategy.
Disclosure: I have no positions in any stocks mentioned, and no plans to initiate any positions within the next 72 hours.
Additional disclosure: I am currently in cash but will go long XIV when we get the next buy signal.