Business cycle indicators of where we are now
Unemployment Rate
We are continuing a very slow recovery in unemployment. The rate is now at 7.8% from a high of 8.3% in 2012 as we continue to inch our way out of the worst recession since 1930.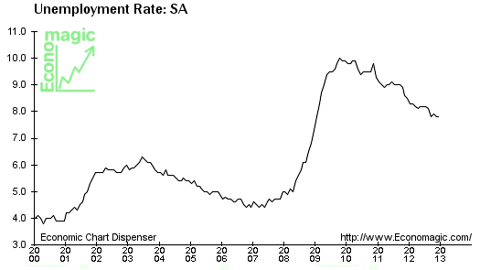 Industrial Production
Industrial production is within 2 points of the 2007 peak. It is registering more positive than negative monthly figures but nothing that suggests a strong recovery.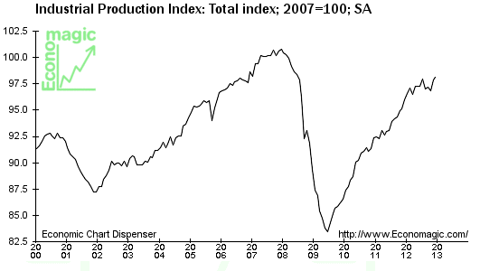 Retail Sales
Retail sales fell off a cliff in the recession. We have experienced a return to the previous trend which is healthy for the economy. There is no indication of any danger of a stock market crash judging by retail sales numbers.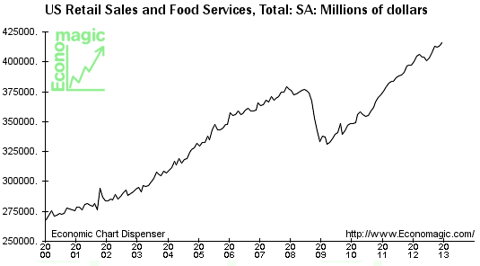 Personal Income
Growing but pretty anemically as unemployment continues high. This statistic will most certainly be affected by the tax increase placed on the wealthiest Americans in 2013. Some people will see their disposable income decrease as their income is taxed at a higher level. This in turn translates to less spending on goods and services which can affect companies in the long term.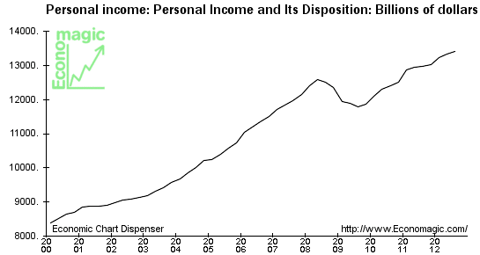 Household Debt Ratios
Household debt ratios looking great but with a pessimistic outlook as consumer confidence sank to its lowest level in more than a year in January. Without hard evidence that the budget debate can be resolved it will be tough to rebuild the lost confidence.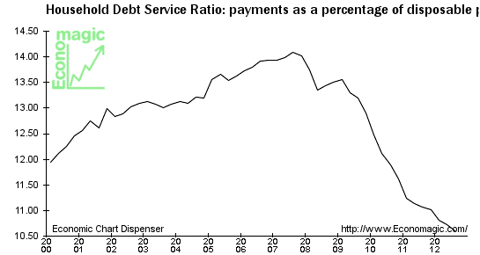 Inflation
Inflation is not a problem. With demand flat or down, so are prices. The collapse in home prices and rental prices is keeping the overall price level down. Though oil prices have crept back up they are still below previous peaks.