Walmart reported earnings this morning of $.97 per share, in line with analyst expectations.  With retail stocks dominating the earnings landscape this week, we took a look at the two behemoths in the sector, Walmart (NYSE:
WMT
) and Target (NYSE:
TGT
). Specifically, we wanted to examine the profitability of selling the front month a-t-m straddles. Since WMT historically reports a few days before TGT, we also wanted to see the effect of WMT's earnings release on TGT's front month a-t-m straddle.
The data showed that, historically, the WMT front month a-t-m straddle is not a good sale the day before earnings. In fact, over the past ten earnings selling the a-t-m straddle the day prior to earnings resulted in only four winning trades, two of which were very small ($.13 and $.09). The straddle gained in value on the other six releases.
 In fact, you would have been better off selling the TGT a-t-m straddle going into WMT's earnings, where the winning percentage from the one-day difference in the straddle price was 70%. The chart below shows both WMT's and TGT's straddle prices on the market close before WMT released earnings.  It then shows the straddles respective increase or decrease at the market close the following day.

The best trade based on both winning percentage and net gains is to sell the Target a-t-m money straddle the day before TGT's earnings announcement.  The table below shows the price of the straddle at the market close before TGT released earnings and the subsequent price at the close the next day over that past ten earnings. The difference is the profit/loss you would have made by selling the straddle.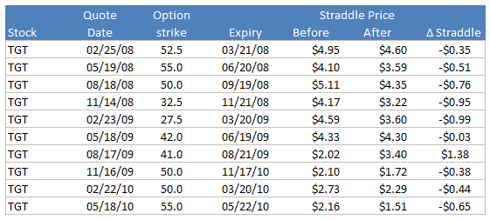 With a 90% winning percentage and a net gain of $3.68 over ten earnings cycles, we prefer to place our short premium trades on TGT over WMT.
Disclosure:
no positions