As detailed in our morning commentary yesterday, we continue to run the live scan which identifies call buying in potential tech take-out names in the $440M - $1B market cap range. One stock landing on the scanned results yesterday is Sonus Networks (SONS).
Sonus makes hardware that turns voice calls into data streams on the Internet and back again. AT&T is the company's largest customer, contributing 14% of Sonus' total sales for the quarter. Other customers include Verizon, Vonage and Level 3 Communications. Their recently released second-quarter earnings report shows little to cheer about as sales have flatlined at $61.2 million and EPS is breakeven. But 2011 is potentially a game changer for Sonus. AT&T will be rolling out its 4G wireless network while Verizon expands its network. In the meantime, SONS holds more than $350 million of cash equivalents and virtually no debt. That's about $1.27 in cash per share. The stock closed at $2.90 yesterday.
Taking a look at the o-t-m option action from yesterday, 776 Sep 4 calls traded $.05 with an open interest of 75 contracts and 259 Oct 4 calls traded $.05 as well. Prior to that, notable call buying occurred on August 10th when 1,677 September 3 calls traded on an open interest of 2,852. Early buyers picked them up for $.20 but were paying $.40 by the end of the day, driving implied volatility from 38% to 48%. The stock closed that day at $3.23.
Also, open interest on the October 2.50 calls totals 18,421 contracts. However, don't be fooled by this. This is not evidence of takeover speculation. Rather, a review of the trading history shows that the 2.50 strike calls in several expiration months was a favorite to sell. The October 2.50 calls, for instance, were sold for around $.40 over several days in late March 2010 even after a large number of Jul 2.50 calls had been sold. Below is a snapshot of open interest on April 16, 2010: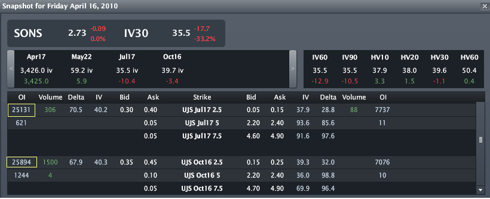 It is noteworthy that this 2.50 strike call seller has not yet rolled the position beyond October – something to keep an eye on. And with limited downside in the stock given its strong balance sheet, a continued acceleration of call buying would signal that the time is right to get on board.
Disclosure:
No positions - yet