Put buying this morning in Thor Industries (NYSE:THO) has bumped 30-day implied volatility up 4.5 points (9.8%).  The largest trade involved buying 2,000 of the October 25 puts for $2.35 while selling 510 September 30 put at $5.20. The net negative delta from the trade is approximately 50,000, meaning that for every point drop in the stock this position will make $50,000. The reverse is true for every point gain in the underlying stock price.
Combined with other smaller put purchases on several other strikes, the net deltas sold so far today is a negative 136,000 with $506,000 in premium purchased. See below.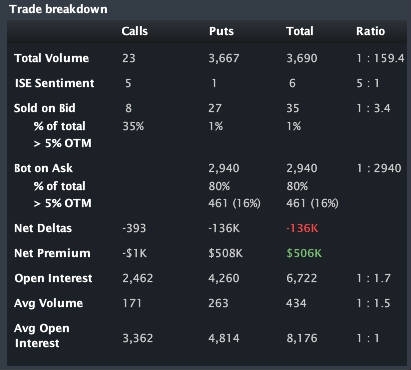 trade data provided by livevolpro at www.livevol.com
But the jitters are palpable in the options market today. It just may be investors worried that baby boomers will no longer be buying recreational vehicles in droves anymore. Or it may be something else entirely. It may be that someone emphatically believes that there, in fact, is never just one cockroach.

Could it be that investors are once again feeling nervous about THO's accounting issues?  You might recall that on June 10, 2010, THO announced it was filing its 10-Q late as their auditing firm, Deloitte, had not completed the review of how the company had previously accounted for transactions with Stephen Adams and FreedomRoads in January 2009.

Also under scrutiny was how revenue was recognized with respect to transactions with its independent dealers. If THO was required to make changes for its accounting in these two areas, the company stated there could be a material adverse change to the company's past releases in 2009 and the first three fiscal quarters of 2010. Fortunately for THO shareholders, on July 2nd THO reported that the evaluation did not result in any adjustment to their earnings calculation methodology.
Disclosure:
no positions