Successful investing in Closed End Funds is somewhat of a black art, but the basket of the following CEFs together with the treasury ETFs TLT and IEF can be used for a strategy whose past performance appears to be quite attractive:
GAB PDI PHK ETO GPM AWF BKT MMT CEF BIF MIN
The strategy selects the top two assets every four months (first days of trading in January, May, and September) on the basis of the relative performance (total return) during the immediately preceding three months.
The strategy yields the following results during 1991-2013:
| | |
| --- | --- |
| CAGR | 23.8% |
| Sharpe Ratio | 1.17 |
| Sortino Ratio | 2.85 |
| Maximum drawdown | 12.7% |
| Kelly Fraction | .49 |
It is notable that the maximum drawdown for this portfolio is considerably less than that of many balanced funds including the admirably robust VWINX (maximum drawdown 18%), one of whose objectives is to minimize the drawdowns. The returns of the strategy are, of course, substantially higher.
The equity growth curve and the historical asset allocations are shown in the following figures.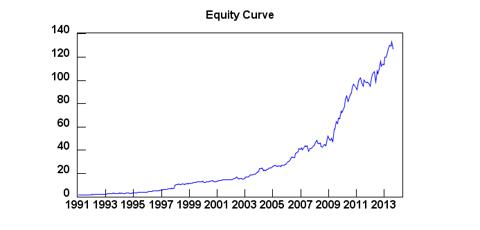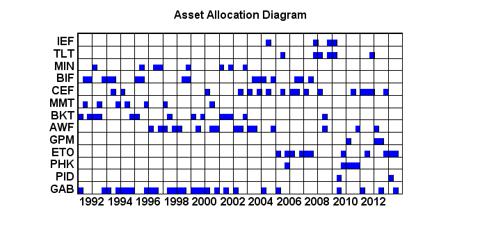 Disclosure: I have no positions in any stocks mentioned, but may initiate a long position in PHK, CEF over the next 72 hours.