This is a perfect example of constructing a portfolio with data snooping and data mining, but its excellent performance over an extended period is worth noting.
The basket consists of retailers, including auto-part retailers, largest cap US water utilities, and beverage manufacturers:
AZO ORLY ROST TJX COST AWR AWK WTR ARTNA CTWS
MSEX SJW YORW CWT FIZZ MNST DPS PEP BUD DEO
Among the beverage manufactures and retailers, only FIZZ, a company that I discovered when I noticed that all the health conscious youth around me started drinking LaCroix brand water, is small cap.
The performance of the portfolio for 1992-to-date is summarized below:
CAGR 19.2%
Max Drawdown 20.7%
Sharpe Ratio 1.21
Sortino Ratio 2.46
One Factor Beta 0.52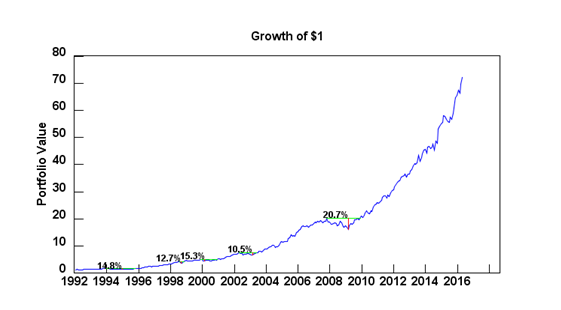 The following figure compares the rolling Buy and Hold returns of this portfolio with those of S&P 500 and Berkshire.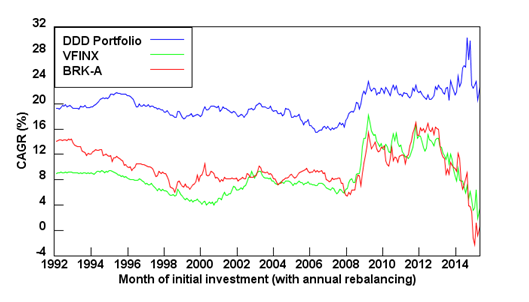 It is quite noteworthy that no matter what the date of inception, the portfolio would have handily outperformed the market as well as the gold standard for long term investing.