File this under too good to be true for actual implementation, but it is remarkable nevertheless.
Generally it is not advisable that non-professional investors play around with QLD, VXX, and XIV and similar ETFs because of the amplified risks associated with them. However, a monthly strategy based on relative strength and risk parity for QLD, VXX, and XIV does so well that it is worth noting it here even though the period of time for which all three have been available is quite short (2011-2012)
1. On the first of every month, find the two of the ETFs (from QLD, VXX, XIV) that did the best during the prior month.
2. Buy the top ETFs according to the weights based on risk parity and their daily returns during the prior month.
3. Hold them for a month and repeat the process at the beginning of next month.
In back testing, the strategy yields annual return of 67% in 2011, and has yielded the same 67% YTD in 2012.
The maximum drawdown of the monthly returns is only 6.1%.
Out of the 20 months since January 2011, only six months were not profitable.
The results are robust in that a change of the evaluation period from one month to two or three months yields similar high returns.
The following plot depicts the growth of $1 since the beginning of the 2011.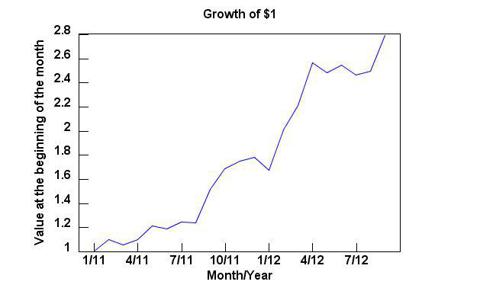 Substitution of QLD by the Ultra SPY ETF SSO, and by the Ultra Russel Index ETF UWM yields similar high returns, though slightly lower than QLD.
Disclosure: I have no positions in any stocks mentioned, and no plans to initiate any positions within the next 72 hours.