SPY had an accumulation day in volume, the first time since May 31. Plus, it held the 200 day moving average. I'm still not happy about the declining slope on the 50 day moving average so I'm not ready to get too excited about a possible bottom. But, looking at the volume patterns, yesterday's spike in volume followed by today's attempt at lower prices followed by an impressive comeback on big volume at the end of the day, at least gives me pause for a possible correction and an opportunity to sell into another rally.
QQQ a very different picture. Confirmed now in a distribution phase with a distribution day in volume. The pressure of the Chinese stocks and now I'm afraid, a further decliningRIMM after disappointing earnings in the aftermarket, is giving NASDAQ a very tough time indeed. The March low 53.77 was penetrated today on an intraday basis even though we closed above it.
IWM held the 200 day moving average and although it had the biggest percentage of gain, which we anticipated in last night's blog, it could not close above the floor trader pivot. Now, if cannot rally past 79.00 and then breaks 77.30, I will be looking once again to the ultrashort TWM which stopped exactly at Monday's high today.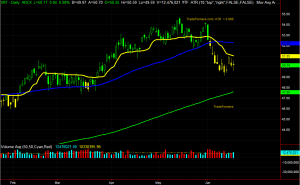 ETF's: XRT** put up a good fight but now we have a declining 50 day moving average once again and a close beneath the 10 day moving average. If it opens beneath lower, can would not be surprised to see a selloff down to the 200 day moving average.
IBB has a neutral slope on the 50 day moving average after today's activity plus a close beneath the 70 exponential. Again this would not be one that I would necessarily look to short, but at this point would only be buying if it can hold above 102.33.
SMH broke the 200 closing beneath yet hanging onto the March 16 low at 32.32. If we cannot rally from this level than that will also start to look heavier than it already does.
XLF held 14.63 and closed up on the day. The financials still have the power to keep the market from completely falling apart therefore will be watching 15.00.
The Euro held 1.42. I've been writing that that is an important support level against the dollar. Now, will be watching to see whether 1.42 holds and if so what happens the next time the Euro gets to 1.44.
For more detailed analysis join me, along with hundreds of other subscribers, at Mish's Market Minute and get my daily trade picks, trade alerts, training videos, and exclusive analysis tools. Sign up for Mish's Market Minute now and get a free 2 week trial!