VALUATION WARNING: Our models find that overvaluation is at levels typically seen when market pullbacks occur. Overvalued stocks assigned a valuation now make up 83% of our universe and 47% of the stocks assigned a valuation are calculated to be overvalued by 20% or more. ALL sectors are calculated to be overvalued by double digits.
Woo-Hoo
--ValuEngine upgrades Qihoo 360 Technology to Strong Buy
Qihoo 360 Technology Co Ltd. (NYSE:QIHU) offers Internet and mobile security products. Its core Internet and mobile security products include 360 Safe Guard and 360 Anti-virus 360 Mobile Safe, 360 Safe Browser, 360 Personal Start-up Page, 360 Application Store and 360 Safebox. The Company also provides advertising services by providing marketing opportunities on our websites and offers web games developed by third parties, provide Internet security services such as remote technical support to paying customers and provide other Internet value-added services. Qihoo 360 Technology Co Ltd. is headquartered in Santa Fe, New Mexico, USA.
The stock was a 5-Engine upgrade STRONG BUY today. Qihoo reported decent Q1 guidance last week, and projected revenue of @ $227 million--which beat the consensus of $203 million.
ValuEngine updated its recommendation from BUY to STRONG BUY for QIHOO 360 TECH on 2014-03-11. Based on the information we have gathered and our resulting research, we feel that QIHOO 360 TECH has the probability to OUTPERFORM average market performance for the next year. The company exhibits ATTRACTIVE Momentum and Company Size.
As a bonus to our Daily Bulletin readers,
we are offering a FREE DOWNLOAD of one of our Stock Reports
Read our Complete Detailed Valuation Report on Qihoo 360 HERE.
Below is today's data on QIHU: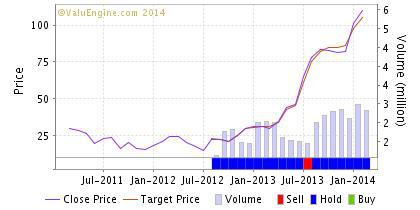 ValuEngine Forecast
 
Target
Price*
Expected
Return
1-Month
117.07
1.39%
3-Month
120.36
4.24%
6-Month
125.37
8.58%
1-Year
134.75
16.70%
2-Year
162.30
40.56%
3-Year
117.01
1.34%
Valuation & Rankings
Valuation
13.62% undervalued
Valuation Rank
92
1-M Forecast Return
1.39%
1-M Forecast Return Rank
100
12-M Return
262.97%
Momentum Rank
99
Sharpe Ratio
0.75
Sharpe Ratio Rank
80
5-Y Avg Annual Return
44.90%
5-Y Avg Annual Rtn Rank
96
Volatility
59.59%
Volatility Rank
35
Expected EPS Growth
141.94%
EPS Growth Rank
90
Market Cap (billions)
9.50
Size Rank
90
Trailing P/E Ratio
124.15
Trailing P/E Rank
26
Forward P/E Ratio
51.32
Forward P/E Ratio Rank
8
PEG Ratio
0.87
PEG Ratio Rank
49
Price/Sales
14.16
Price/Sales Rank
9
Market/Book
17.90
Market/Book Rank
7
Beta
1.92
Beta Rank
16
Alpha
0.88
Alpha Rank
97
ValuEngine Market Overview
Summary of VE Stock Universe
Stocks Undervalued
16.72%
Stocks Overvalued
83.28%
Stocks Undervalued by 20%
4.64%
Stocks Overvalued by 20%
47.32%
ValuEngine Sector Overview
Disclosure: I have no positions in any stocks mentioned, and no plans to initiate any positions within the next 72 hours.