VALUATION WATCH: Overvalued stocks now make up 52.83% of our stocks assigned a valuation and 19.57% of those equities are calculated to be overvalued by 20% or more. Seven sectors are calculated to be overvalued--with one at or near double digits.
Not So Crafty
--Budweiser Fumbles SuperBowl Commercial
Anheuser-Busch (NYSE:BUD) is the leading global brewer and one of the world's top five consumer products companies. Their portfolio of well over 200 beer brands continues to forge strong connections with consumers. They invest the majority of their brand-building resources on their Focus Brands - those with the greatest growth potential such as global brands Budweiser, Stella Artois and Becks, alongside Leffe, Hoegaarden, Bud Light, Skol, Brahma, Antarctica, Quilmes, Michelob Ultra, Harbin, Sedrin, Klinskoye, Sibirskaya Korona, Chernigivske, Hasserder and Jupiler. In addition, the company owns a 50 percent equity interest in the operating subsidiary of Grupo Modelo, Mexico's leading brewer and owner of the global Corona brand.
AB-InBev, like so many macro brewers, has been unable to address the problem of falling market share and popularity amongst young and old drinkers alike. Once a mainstay of the US market, AB-InBev's Budweiser is under assault from upstart craft brewers, whose segment keeps growing by leaps and bounds. In fact, in 2013 sales of craft beer exceeded those of Budweiser.
In the past, BUD has responded by acquiring craft brewers and adding them to their stable of brands. However, this past weekend the company embarked on another path with its highly controversial Super Bowl commercial, "Brewed the Hard Way." The ad, replete with images of bearded, plaid-clad "hipster" craft-beer drinkers, essentially mocked both craft beer and craft- beer consumers.
Reaction so far has been negative, with many analysts noting that AB's commercial even attacked a style of beer manufactured by its most recent craft acquisition, Elysian Brewing. This is doubly problematic given the fact that many craft drinkers refuse to indulge in a craft brewery's offerings--no matter how good in the past--once it is acquired by a large macro concern. Elysian Co-Founder Dick Cantwell noted that "it doesn't make our job any easier, and it certainly doesn't make me feel any better about a deal I didn't even want to happen. It's made a difficult situation even more painful."
Judging from the SuperBowl ad, AB-InBev remains clueless as to how it should address the changing tastes and demographics of the US beer consumer. Making of fun of potential customers--as well as lost ones--has fallen flat, just like the sales of AB-InBevs flagship product.
ValuEngine continues its HOLD recommendation on ANHEUSER-BUSCH InBev ADR for 2015-02-03. Based on the information we have gathered and our resulting research, we feel that ANHEUSER-BUSCH InBev ADR has the probability to ROUGHLY MATCH average market performance for the next year. The company exhibits ATTRACTIVE Company Size but UNATTRACTIVE Price Sales Ratio.
As a bonus to our Newsletter readers,
we are offering a FREE DOWNLOAD of one of our Stock Reports
Read our Complete Detailed Valuation Report on AB-InBev ADR HERE.
Below is today's data on BUD: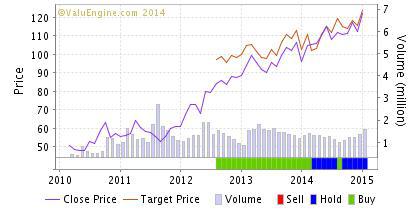 ValuEngine Forecast
 
Target
Price*
Expected
Return
1-Month
125.87
0.26%
3-Month
125.95
0.32%
6-Month
126.50
0.75%
1-Year
129.42
3.08%
2-Year
143.52
14.31%
3-Year
97.05
-22.70%
Valuation & Rankings
Valuation
4.46% overvalued
Valuation Rank(?)
37
1-M Forecast Return
0.26%
1-M Forecast Return Rank
70
12-M Return
33.12%
Momentum Rank(?)
86
Sharpe Ratio
0.92
Sharpe Ratio Rank(?)
93
5-Y Avg Annual Return
17.94%
5-Y Avg Annual Rtn Rank
86
Volatility
19.40%
Volatility Rank(?)
83
Expected EPS Growth
6.85%
EPSGrowth Rank(?)
32
Market Cap (billions)
201.71
Size Rank
100
Trailing P/E Ratio
23.21
Trailing P/E Rank(?)
49
Forward P/E Ratio
21.72
Forward P/E Ratio Rank
27
PEG Ratio
3.39
PEG Ratio Rank
10
Price/Sales
4.31
Price/Sales Rank(?)
22
Market/Book
3.52
Market/Book Rank(?)
34
Beta
0.84
Beta Rank
61
Alpha
0.15
Alpha Rank
83
ValuEngine Market Overview
Summary of VE Stock Universe
Stocks Undervalued
52.83%
Stocks Overvalued
47.17%
Stocks Undervalued by 20%
19.57%
Stocks Overvalued by 20%
12.5%
ValuEngine Sector Overview
Disclosure: The author has no positions in any stocks mentioned, and no plans to initiate any positions within the next 72 hours.