VALUATION WATCH: Overvalued stocks now make up 61.71% of our stocks assigned a valuation and 25.81% of those equities are calculated to be overvalued by 20% or more. Fifteen sectors are calculated to be overvalued--eight by double digits.
--We're Sorry... Really Sorry
BP Settles With US Government and Gulf States
BP p.l.c. is the holding company of one of the world's largest petroleum and petrochemicals groups. Their main activities are exploration and production of crude oil and natural gas; refining, marketing, supply and transportation; and manufacturing and marketing of petrochemicals. They have a growing activity in gas and power and in solar power generation. BP has well-established operations in Europe, North and South America, Australasia and Africa.
The media are reporting today that BP has reached a settlement related to damages associated with the massive 2010 Gulf of Mexico oil spill. Details have not yet been released, but according to Bloomberg, press conferences are scheduled for this morning by the Attorney Generals of states effected by the spill--Louisiana, Mississippi, Alabama, and Florida.
The 2010 spill was a disaster for the Gulf and BP's reputation, exposing lax safety practices and a seeming lack of concern on the part of the firm and CEO Tony Hayward. Hayward's legendary "Sorry" speech, which was a PR disaster, led to his widespread ridicule and eventual resignation.
Since then, the company has spent almost $30 billion on clean up and associated costs--out of a war chest of @$44 billion. But, the company has been fighting claims along the way and trying to avoid big payouts to states and cities under the US federal Oil Pollution Act.
BP was an interesting case from a quant research perspective, because as shareholders dumped the stock, the price dived yet earnings as calculated by analysts remained the same. So, it actually looked more attractive to computer-based stock forecasting and valuation models.
Angry environmentally-conscious investors berated firms who ranked the BP a BUY despite the milions of barrels of oil pouring into the Gulf. This was yet another example of the fact that computers can only measure financial data, and until qualitative analysts adjusted earnings data to reflect the liabilities associated with the spill, a true picture of the company's health was impossible to obtain. The stock has never returned to where it was before the spill, and is currently up @23% from the low it hit in June, 2010--although it had been up from the low almost 70% in July, 2014
Below is today's more extensive data on BP:
VALUENGINE RECOMMENDATION: ValuEngine continues its HOLD recommendation on BP PLC for 2015-06-30. Based on the information we have gathered and our resulting research, we feel that BP PLC has the probability to ROUGHLY MATCH average market performance for the next year. The company exhibits ATTRACTIVE Company Size but UNATTRACTIVE Earnings Growth Rate.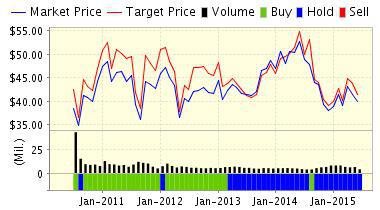 ValuEngine Forecast
 
Target
Price*
Expected
Return
1-Month
40.08
0.31%
3-Month
40.87
2.28%
6-Month
41.41
3.63%
1-Year
41.43
3.68%
2-Year
39.15
-2.03%
3-Year
45.53
13.93%
Valuation & Rankings
Valuation
1.64% overvalued
Valuation Rank(?)
59
1-M Forecast Return
0.31%
1-M Forecast Return Rank
74
12-M Return
-20.79%
Momentum Rank(?)
28
Sharpe Ratio
-0.02
Sharpe Ratio Rank(?)
42
5-Y Avg Annual Return
-0.71%
5-Y Avg Annual Rtn Rank
41
Volatility
32.50%
Volatility Rank(?)
54
Expected EPS Growth
-27.64%
EPSGrowth Rank(?)
11
Market Cap (billions)
121.44
Size Rank
100
Trailing P/E Ratio
12.18
Trailing P/E Rank(?)
87
Forward P/E Ratio
16.84
Forward P/E Ratio Rank
49
PEG Ratio
n/a
PEG Ratio Rank
n/a
Price/Sales
0.38
Price/Sales Rank(?)
88
Market/Book
1.54
Market/Book Rank(?)
63
Beta
1.97
Beta Rank
13
Alpha
-0.38
Alpha Rank
21