VALUATION WATCH: Overvalued stocks now make up 42.38% of our stocks assigned a valuation and 13.78% of those equities are calculated to be overvalued by 20% or more. Four sectors are calculated to be overvalued.
Lose Money, Live Better?
Wal-Mart Shares Dive On Bad News
Wal-Mart Stores, Inc. (NYSE:WMT) is the world's largest retailer. They are engaged in the operation of mass merchandising stores, which serve their customers primarily through the operation of three segments, which are the Wal-Mart Stores segment, the SAM'S Club segment and the International segment.
Wal-Mart today provided its strategic outlook and growth plans for the future at the company's 22nd annual meeting for the investment community at its headquarters in Bentonville, Arkansas.
The company had bad news for investors, and indicated that as a result of a stronger than anticipated impact from currency exchange-rate fluctuations, it now expects net sales growth for the current fiscal year to be relatively flat. Charles Holley, Walmart's executive vice president and chief financial officer, brought more bad news, noting that
operating income is expected to be impacted by approximately $1.5 billion from the second phase of our previously announced investments in wages and training as well as our commitment to further developing a seamless customer experience. As a result of these investments, we expect earnings per share to decline between 6 and 12 percent in fiscal year 2017.
There was some palliative here as well, with the company trying to mitigate the bad news for shareholders with the announcement of a new $20 billion share-buyback program. "This share repurchase program, combined with our annual dividends, reinforces our continued commitment to delivering increased value to shareholders. We remain committed to maintaining a strong balance sheet and financial position that enables us to continue focusing on growth-oriented opportunities," continued Holley.
Shares took a dive on this news today. As of this writing, they are down more than 8%. That's the worst one-day decline posted by the company in @15 years. And, the stock is now trading around $60/share. That's a multi-year low for the stock as well.
In terms of market cap, that's a $16.5 billion "hair cut." To put that in perspective, that's the approximate market cap of more than half of the companies in the S&P 500 index. In terms of size, Wal-MArt is now trailing rival Amazon.com-- a retailer that has no brick and mortar stores whatsoever. It's a huge pullback. But, then again, Wal-Mart is a massive company.
So, what can we draw on here moving forward? Is this just another Chinese currency-devaluation hiccup? Is this the price to be paid for finally giving workers a bigger piece of the pie and adjusting some of the most regressive labor policies amongst US firms--but, if so, then how can the company also start a $20 billion share buyback? Has the firm's aggressive expansion finally gone too far? And, how will this sort of news effect the decision-making process at the Fed when the next duiscussion of rate increases comes up?
There is much here to digest for both Bulls and Bears. But, just as with the Alcoa earnings at the beginning of this week, we have to wait and see to garner a better overall picture.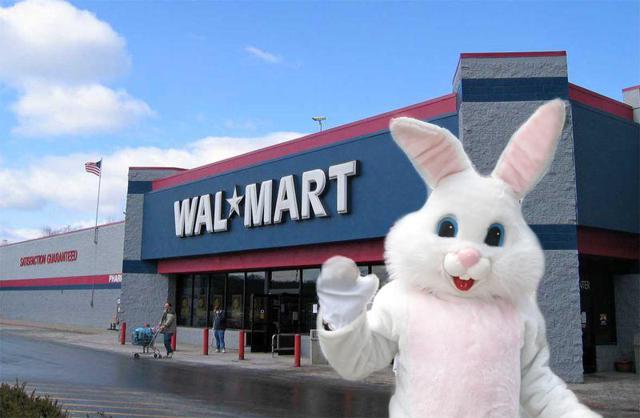 Bye Bye Profits?
Below is today's data on WMT:
VALUENGINE RECOMMENDATION: ValuEngine continues its HOLD recommendation on WAL-MART STORES for 2015-10-13. Based on the information we have gathered and our resulting research, we feel that WAL-MART STORES has the probability to ROUGHLY MATCH average market performance for the next year. The company exhibits ATTRACTIVE Company Size but UNATTRACTIVE Earnings Growth Rate.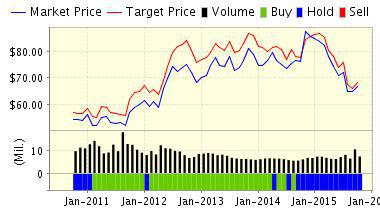 ValuEngine Forecast
 
Target
Price*
Expected
Return
1-Month
66.84
0.16%
3-Month
67.37
0.96%
6-Month
68.38
2.47%
1-Year
68.05
1.98%
2-Year
69.77
4.55%
3-Year
80.89
21.22%
Valuation & Rankings
Valuation
3.70% undervalued
Valuation Rank(?)
50
1-M Forecast Return
0.16%
1-M Forecast Return Rank
63
12-M Return
-13.96%
Momentum Rank(?)
36
Sharpe Ratio
0.25
Sharpe Ratio Rank(?)
72
5-Y Avg Annual Return
3.84%
5-Y Avg Annual Rtn Rank
66
Volatility
15.46%
Volatility Rank(?)
83
Expected EPS Growth
-2.80%
EPSGrowth Rank(?)
20
Market Cap (billions)
215.08
Size Rank
100
Trailing P/E Ratio
14.03
Trailing P/E Rank(?)
78
Forward P/E Ratio
14.43
Forward P/E Ratio Rank
57
PEG Ratio
n/a
PEG Ratio Rank
n/a
Price/Sales
0.44
Price/Sales Rank(?)
84
Market/Book
3.34
Market/Book Rank(?)
34
Beta
0.45
Beta Rank
70
Alpha
-0.15
Alpha Rank
35
DOWNLOAD A FREE SAMPLE OF OUR WAL-MART (WMT) REPORT BY CLICKING HERE
(LINK FIXED)
ValuEngine Market Overview
Summary of VE Stock Universe
Stocks Undervalued
57.62%
Stocks Overvalued
42.38%
Stocks Undervalued by 20%
24.03%
Stocks Overvalued by 20%
13.78%
ValuEngine Sector Overview
ValuEngine.com is an independent research provider, producing buy/hold/sell recommendations, target price, and valuations on over 7,000 US and Canadian equities every trading day.
Visit www.ValuEngine.com for more information