We can use our data to track individual stocks, industries, sectors, and indices. For today's bulletin, we take a look at a long-troubled company, Sears Holdings (SHLD), and news that the company may now be on the verge of bankruptcy.
Sears Holdings Corporation, the parent of Kmart and Sears, Roebuck and Co., is the leading home appliance retailer in North America and is a retail sales leader in tools, lawn and garden, home electronics, and automotive repair and maintenance. Key proprietary brands include Kenmore, Craftsman and DieHard, and a broad apparel offering, including such well-known labels as Lands' End, Jaclyn Smith and Joe Boxer, as well as the Apostrophe and Covington brands.
This retail giant, once a very symbol of the American good life and its connection to consumer goods and retail, has been in trouble for a long time. The troubles started when it was taken over by an ideologically-driven financier, who sough to apply his radical right-wing economic theories to the various divisions across the firm.
The thinking was that competition within the various divisions would be Darwinian in nature, with the good performers taking off and the bad ones weeded out. In this manner, the company could make the difficult transition from old-economy stalwart of Craftsman tools and appliances, clothing, toys, etc. The classic "department store," to new- economy power house, capable of competing with the Amazons and Wal-Marts of the 21st century.
The outcome was foreseen by some, but still, it has taken a long time for the day of reckoning to occur. But it may now be here. Shares have tumbled today as investors have had a chance to digest the firm's latest SEC filings. In those filings, the company noted that "Our historical operating results indicate substantial doubt exists related to the company's ability to continue as a going concern."
Indeed, survival has been a fight, with Sears selling off critical assets--such as the iconic Craftsman tool brand--in recent times merely to meet financial obligations and stay afloat. Pension costs have been a significant drain on cash resources, as the company--like many entities--had a hard time keeping up with pension requirements in the ZIRP environment following the 2008 Bush recession.
We believe Sears may now be little more than a "dead-man walking" and expect asset sales and other wind-down activities to continue. Analysts have long believed that the company is worth more split up for the real-estate value of its stores than the overall business.
No matter what happens with this news today, we see little good here. We have had a SELL or STRONG SELL on Sears for years now, and thus we warned clients long ago to avoid this stock.
Below is today's data on Sears Holdings :
VALUENGINE RECOMMENDATION: ValuEngine continues its STRONG SELL recommendation on SEARS HLDG CP for 2017-03-21. Based on the information we have gathered and our resulting research, we feel that SEARS HLDG CP has the probability to UNDERPERFORM average market performance for the next year. The company exhibits UNATTRACTIVE P/E Ratio and Earnings Growth Rate.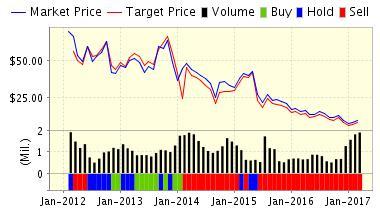 ValuEngine Forecast
 
Target
Price
Expected
Return
1-Month
8.99
-1.24%
3-Month
8.89
-2.32%
6-Month
8.60
-5.50%
1-Year
7.75
-14.84%
2-Year
8.35
-8.26%
3-Year
7.95
-12.69%
Valuation & Rankings
Valuation
n/a
Valuation Rank(?)
n/a
1-M Forecast Return
-1.24%
1-M Forecast Return Rank
2
12-M Return
-40.33%
Momentum Rank(?)
9
Sharpe Ratio
-0.76
Sharpe Ratio Rank(?)
10
5-Y Avg Annual Return
-43.69%
5-Y Avg Annual Rtn Rank
13
Volatility
57.41%
Volatility Rank(?)
29
Expected EPS Growth
-27.56%
EPSGrowth Rank(?)
8
Market Cap (billions)
0.97
Size Rank
62
Trailing P/E Ratio
n/a
Trailing P/E Rank(?)
5
Forward P/E Ratio
n/a
Forward P/E Ratio Rank
n/a
PEG Ratio
n/a
PEG Ratio Rank
n/a
Price/Sales
0.04
Price/Sales Rank(?)
99
Market/Book
n/a
Market/Book Rank(?)
n/a
Beta
1.76
Beta Rank
14
Alpha
-1.16
Alpha Rank
1
Disclosure: I/we have no positions in any stocks mentioned, and no plans to initiate any positions within the next 72 hours.