Chipotle Mexican Grill, Inc. (CGM), together with its subsidiaries, operates Chipotle Mexican Grill restaurants. The Company's Chipotle Mexican Grill restaurants serve a menu of burritos, tacos, burrito bowls (a burrito without the tortilla) and salads. As of December 31, 2016, the Company managed its operations and restaurants based on 11 regions. As of December 31, 2016, the Company operated 2,198 Chipotle restaurants throughout the United States, as well as 29 international Chipotle restaurants, and it also had 23 restaurants in operation in other non-Chipotle concepts. As of December 31, 2016, 29 of its restaurants were located outside of the United States, with 17 in Canada, six in the United Kingdom, five in France and one in Frankfurt, Germany. The Company sells gift cards, which do not have an expiration date. The Company categorizes its restaurants as end-caps (at the end of a line of retail outlets), in-lines (in a line of retail outlets), free-standing or other.

It's been a rough ride for Chipotle Mexican Grill lately as the restaurant chain has suffered a series of food-poisoning incidents--including an outbreak of Norovirus at a Virginia store just last week. The company also had a major data breach where customer payment cards were exposed at some stores. This sort of bad news has had a major effect on the share price. The stock had traded above $700/share back in 2015 but issues with Norovirus, Salmonella, and E.Coli in the "fresh" food severely damaged the company's reputation-- and bottom line.
CEO Steve Ells made reference to these incidents when he noted during the earnings call that "recent events, however, have shown that we still have a lot of opportunity to improve our operations and deliver the outstanding experience that our customers expect."

The recent bad news was tempered by much better-than-expected performance in the latest results. Chipotle reported Q2 2017 results that showed a revenue increase of 17.1%--total revenues of $1.17 billion, an increase in comparable restaurant sales of 8.15%, 50 new restaurants, and a massive increase in diluted EPS of 167%--$66.7 million up from $25.6 million as compared to Q2 2016..

Time will tell if the good earnings can overcome the bad news and if the company can get a handle on their contamination and security issues. For now, ValuEngine continues its HOLD recommendation on Chipotle Mexican Grill for 2017-07-24. Based on the information we have gathered and our resulting research, we feel that Chipotle Mexican Grill has the probability to ROUGHLY MATCH average market performance for the next year. The company exhibits ATTRACTIVE Company Size but UNATTRACTIVE Momentum.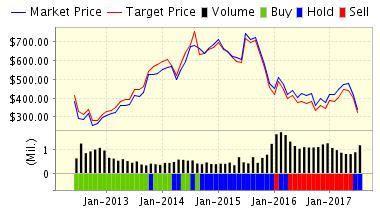 ValuEngine Forecast

 

Target
Price*

Expected
Return

1-Month

338.69
-0.38%

3-Month

335.94
-1.19%

6-Month

322.28
-5.21%

1-Year

324.51
-4.55%

2-Year

285.90
-15.91%

3-Year

266.47
-21.62%
Valuation & Rankings

Valuation

17.90% undervalued

Valuation Rank(?)

81

1-M Forecast Return

-0.38%

1-M Forecast Return Rank

23

12-M Return

-23.00%

Momentum Rank(?)

18

Sharpe Ratio

0.06

Sharpe Ratio Rank(?)

52

5-Y Avg Annual Return

1.82%

5-Y Avg Annual Rtn Rank

53

Volatility

32.24%

Volatility Rank(?)

49

Expected EPS Growth

90.59%

EPS Growth Rank(?)

85

Market Cap (billions)

10.54

Size Rank

89

Trailing P/E Ratio

66.66

Trailing P/E Rank(?)

35

Forward P/E Ratio

34.98

Forward P/E Ratio Rank

12

PEG Ratio

0.74

PEG Ratio Rank

52

Price/Sales

2.55

Price/Sales Rank(?)

42

Market/Book

7.61

Market/Book Rank(?)

19

Beta

0.65

Beta Rank

57

Alpha

-0.06

Alpha Rank

37
Disclosure: I/we have no positions in any stocks mentioned, and no plans to initiate any positions within the next 72 hours.