Week Ending 11/24/17

First, thanks to everyone who has elected to follow my Green Dot Portfolio.
As I said in my first Seeking Alpha article, this is a dynamic growth and income "retirement" investment portfolio, with a dash of swing trading. This is my weekly update provided for the interest of SA followers of my Portfolio (positions provided in my second article).
This past week was shortened due to the Thanksgiving holiday and lighter volume that generally occurs around holidays.

Sells from the Green Dot Portfolio
I stated previously that I bought a number of small positions in several food stocks that were beaten down, at the end of August, thinking that these might be good for a short term bounce. With some market jitters continuing and more than 2 months in the trade, I decided to sell another food stock.
I sold my position in Campbell Soup Co. (CPB) for a +7.92% gain for 58 days in the trade (+34% annualized), including a dividend of $5.25.
I also sold my position in Select Income REIT (SIR) for a +13.12% gain for 50 days in the trade (about +67% annualized), including a dividend of $14.28.

Regarding the sale of Campbell, I sold it at $50.40 on 11/20, the day before earnings. Campbell's 1Q 2018 estimates were in line but were -8% below 1Q 2017 earnings. This resulted in a significant drop on high volume on 11/21, perhaps an over-reaction. On 11/22 the stock rebounded some to close at the daily 200 day SMA, and it closed a bit lower today at $46.04 on very low volume. My reason for selling on 11/20 was that price pierced the gap fill of $50.24 from 8/30 and was clearly extended for the trade period from 8/30 to the day of sale. In addition, the 200 day SMA was quite far away at >$53.00 and I didn't think Campbell was going to get there very soon. The chart below shows the recent 4 month price action for CPB.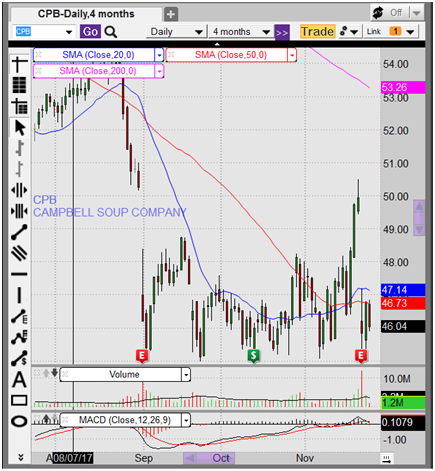 Just to show that I'm on the level regarding selling CPB before the drop, here's a screen shot of my trade log: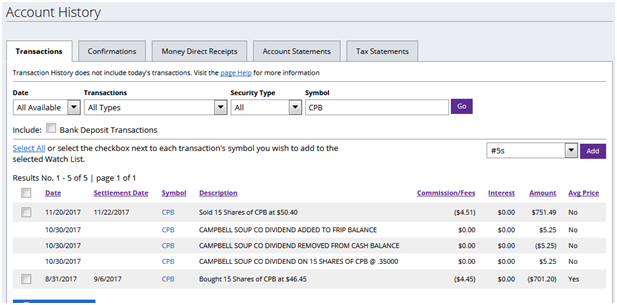 Regarding the sale of SIR, while it was purchased ostensibly as a long-term holding in my portfolio, the recent price action suggested that taking a shorter-term profit was prudent, with the possibility of re-purchasing it on any larger pullback. On 4/18, SIR hit an intra-day high for 2017 at about $26.79, followed by a rather sharp drop to $23.52 by 5/11. By 8/11 SIR fell further to an intra-day low of $22.51, and re-tested that low 2 more times until 9/8 before beginning an uptrend. I purchased SIR on 9/13. On 11/22 SIR hit an intra-day high of $25.92 and was quite extended above the 20 day SMA (blue trend line). On that day SIR pulled up short of piercing a gap opening from 4/25 at $25.93. I do not think that SIR will fill that gap at this time, so I decided to take a great short-term profit, selling at $25.85.  I will wait for a larger pullback before considering re-adding SIR to the Portfolio.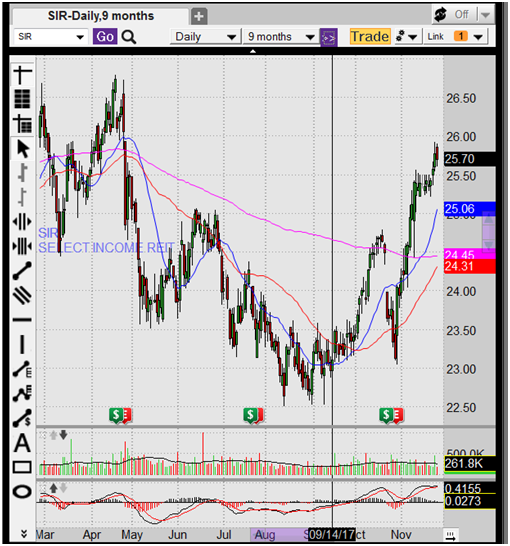 Again, here's a screen shot of my trade log for SIR: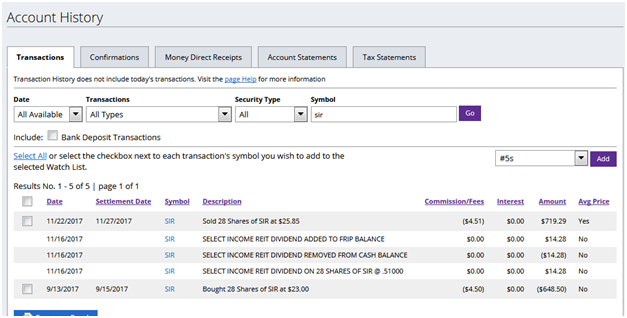 New Positions
Last week I added a first portion in Blackstone/GSO Long-Short Credit Income Fund (BGX). At the time of purchase, this CEF had a distribution rate of 7.83% and was trading at a -7.71% discount to NAV. The fund is described as follows:

     "The investment seeks to provide current income- with a secondary          objective of capital appreciation. The fund employs a dynamic long-short strategy in a diversified portfolio of loans and fixed-income instruments of predominantly U.S. corporate issuers- including first- and second-lien secured loans and high-yield corporate debt securities of varying maturities."
Added to Positions
Due to its continuing weakness, I decided to add 25 shares of Omega Healthcare Investors (OHI), bringing my total shares in this REIT to 85. OHI is yielding +9.56%.
I also added 23 shares of Nuveen Preferred and Income Securities Fund (JPS), a CEF with a current yield of +7.24% and trading at a -0.77% discount to NAV. This purchase was made using a total of $235.64 in dividends from securities in the Portfolio generated from 10/22 to 11/22. The addition brings my total shares of JPS to 88.
Summary Table of Changes for the Week
Below is a summary table of my trades for the week ending 11/24. Note that all trade costs include my commissions.
| | | | | | |
| --- | --- | --- | --- | --- | --- |
| Symbol | Quantity |  Price  | Action | Trade Date |  Amount  |
| JPS | 23 |  $   10.25 | Buy | 11/22/2017 |  $      (235.64) |
| BGX | 50 |  $   15.74 | Buy | 11/22/2017 |  $      (791.73) |
| SIR | -28 |  $   25.85 | Sell | 11/22/2017 |  $       719.29 |
| CPB | -15 |  $   50.40 | Sell | 11/20/2017 |  $       751.49 |
| OHI | 25 |  $   26.75 | Buy | 11/20/2017 |  $      (673.25) |
As next Friday is December 1, I plan to submit an article to Seeking Alpha for the November update of my Green Dot Portfolio. If accepted, that will substitute for weekly blog that I would otherwise post.
Thanks for reading!
Green Dot Investor
Disclosure: I am/we are long JPS, OHI, BGX.