This is an abbreviated weekly update - I was out all week planting trees at my church and did not spend much time with the market.
Week Ending 5/4/18

Actually, despite the strong looking move up today, the overall market condition has not changed, yet.  Using the daily chart below of the SPY (S&P 500) for the past 6 months, it's now been 58 trading days since the market's 10 day drop (from the high at 286.63 on 1/26 to the low at 252.92 on 2/9) that marked the beginning of an intermediate level market pullback. Today's move resulted from a positive reaction to the jobs numbers this morning. The SPY closed at the .382 retrace off of the 2/9 low.  It will take many more such days to clear the resistance overhead.  The research I follow still suggests the SPY will likely make a new low before resuming an uptrend to a new high.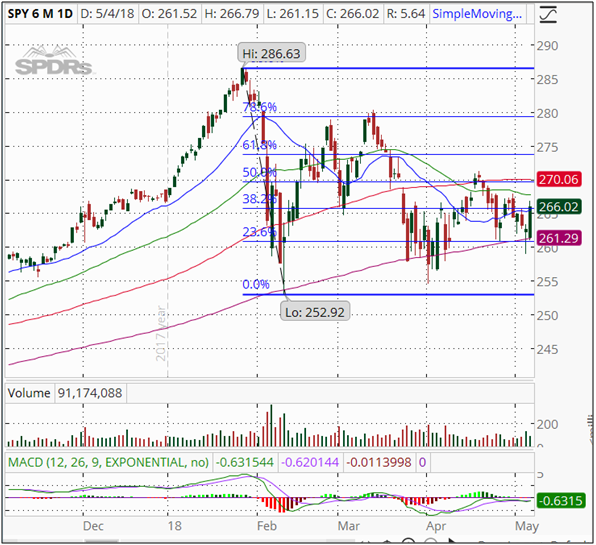 Swing Trades
On Tuesday (5/2) I bought 80 shares of Credit Suisse - VelocityShares 3x Long Gold ETN (UGLD) at $10.735. This trade is based on an expectation for the US dollar, using the PowerShares US Dollar Bull Index (UUP), to pull back, and a resulting increase in gold.  The UGLD is a triple play on the SPDR Gold Shares (GLD).  As the chart below shows, I have temporarily set a sell limit at a price target of $12.35.  I may adjust this depending on the price action next week, but this should be a good trade.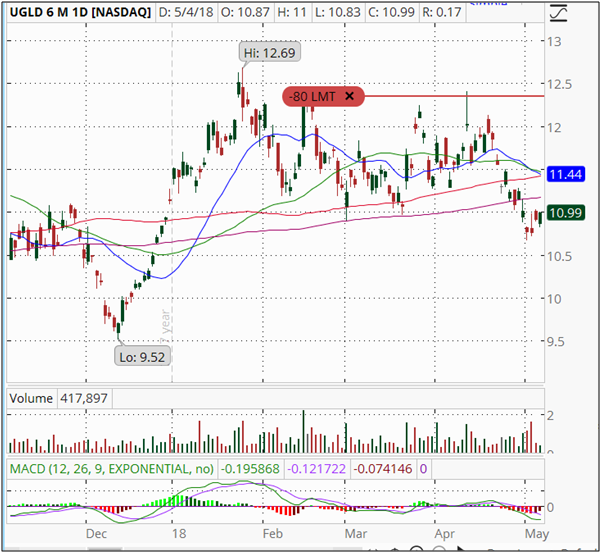 Sells from the Green Dot Portfolio
I did not sell any positions from the portfolio this week.
New Positions
Other than the UGLD swing trade, I did not add new positions this week.  I have been watching a bit some of the SPDR sector ETFs (especially the XLP - consumer staples, XLI - industrials, and XLF - financials), which made 2018 bottoms yesterday.  If/when the SPY makes a new low, these SPDR sector ETFs should be ready for swing longs.

Added to Positions
I did not add to existing positions this week.
Summary Table of Changes for the Week
Below is a summary table of my activity for the week ending 5/4/18.
| | | | | | |
| --- | --- | --- | --- | --- | --- |
| Symbol | Quantity | New Total | Price | Action | Trade Date |
| UGLD | 80 | 80 | 10.735 | Buy | 5/2 |
Finally,
I hope that you enjoyed my weekly blog, and I welcome your feedback. If you think that others would find my Green Dot Portfolio of interest, please share this with others.
Best to your investing/trading!

=Green Dot Investor=
Disclosure: I am/we are long UGLD.