Welcome to new and continuing followers of my Green Dot Portfolio weekly update blog. I hope that there is something here of interest, and I welcome your questions and comments.
Week Ending 6/8/18

As readers of my monthly portfolio update articles and weekly blogs know, I have been using the SPDR S&P 500 ETF (SPY) as a guide to the overall stock market pattern.  Based on several analysts I follow, I have been expecting that the -11.8% intermediate-level decline from January 26 to February 9 is not yet complete. However, after several weeks of failing to do so, this week the SPY finally confirmed a breakout above the triple-touch trend line (1/26, 3/13, 5/10 - heavy blue line on chart below). And whereas the SPY seemed stuck between the .50 and .618 Fibonacci retrace levels, this week the SPY motored to nearly the .786 retrace.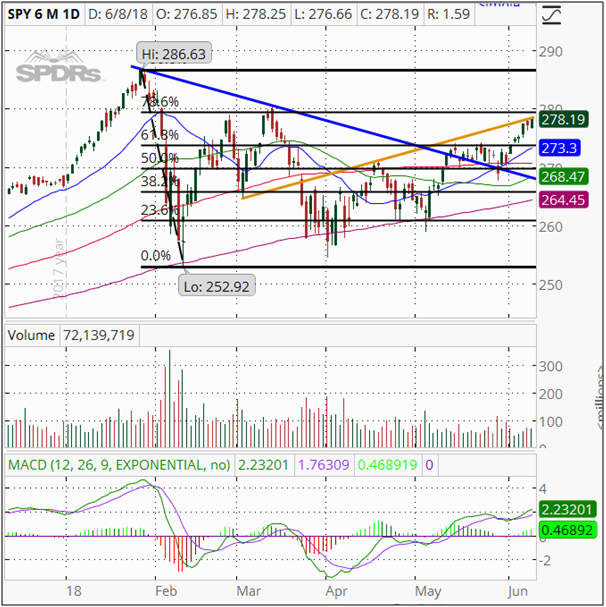 In addition to the Fib retrace for the entire 2018 timeframe and the now-negated triple-top descending trendline, there is now a new resistance line, shown in gold on the chart above.  This suggests that the new resistance area is the .786 retrace, coinciding with this rising trendlne and the weekly red bar just below the .789 retrace.

In summary, by confirming the move above the large red bar week ending 3/23, the market cleared a major hurdle to resuming an uptrend toward a new high.  But there is still more work to be done, and as we have seen before, the market can still reverse.  Several analysts I follow still expect this to happen and for the SPY to re-visit the February low before taking out the January high.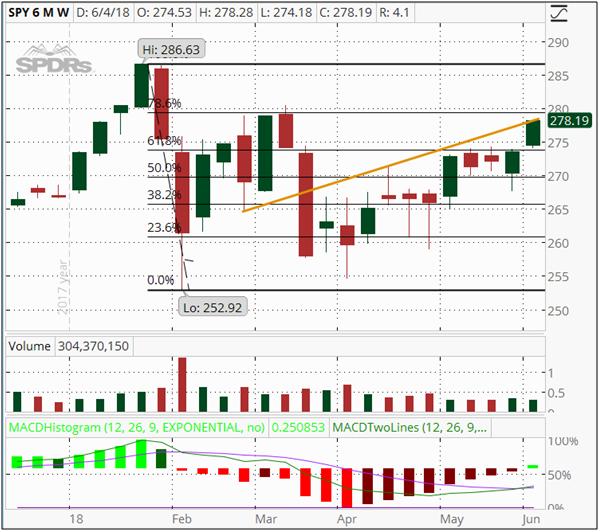 Swing Trades
Swing Trades Closed
I closed 1 swing trade this week:
On Monday (6/4) I sold my small position in the Southern Company (SO) for +1.84%, for 43 consecutive winning swing trades.
I bought 25 shares of SO on 1/16 at $44.33.  This stock had been declining from a high of about $53.50 in early November, and I was hoping to see a rebound from the oversold condition.  The stock declined to a new low on 2/22 at $42.38, and then it increased and hit what turned out to be a short-term intra-day high of $46.75 on 4/27.  The 200 period moving average was overhead at $43.70, and I thought it would get there, a good place to exit.  A few days later earnings beat estimates, but the stock started to decline, reaching in spirit the 2/22 low on 5/18 at $42.42.  Ok, I thought, this can rebound from this double bottom.  The stock began to gain until 5/31, making a lower high, but then reversed again.  This Monday (6/4) was already 97 days in the trade and I decided to exit as I think there is more downside yet to come, and I didn't want to hold this one longer.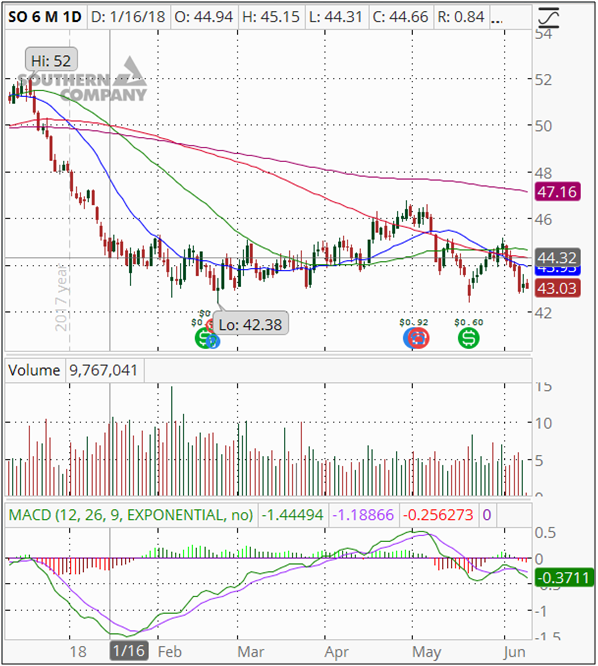 Overall, this was a flat trade.  Because of the time in it, I collected 2 dividend payments totaling $29.50, resulting in a total net gain of only $20.49, or +1.84% (+4.76% annualized).  This was my least productive swing trade closed to date but was better than a loss.  If I had been lucky enough to exit at the late April high I would have realized about a 5.5% gain.

Here's my trade log (not showing dividends; all commissions/fees included):


New Option Premium Swing Trades
This week I initiated 2 new option premium swing trades as the technology sector became very overbought and flashed signs of a top and possible reversal.  I've heard some analysts say that a sector rotation is at hand.
On Monday (6/4) I "bought to open" 3 MSFT Sep 21 2018 90 Puts at $1.03/contract.
Microsoft (MSFT) made new high's this week, but reversed Thursday on the highest trading volume of the week.  It bounced on Friday but closed below the early-week highs.  I have a sell limit order tentatively set at $2.20 but will likely adjust this unless MSFT begins to sell off rapidly.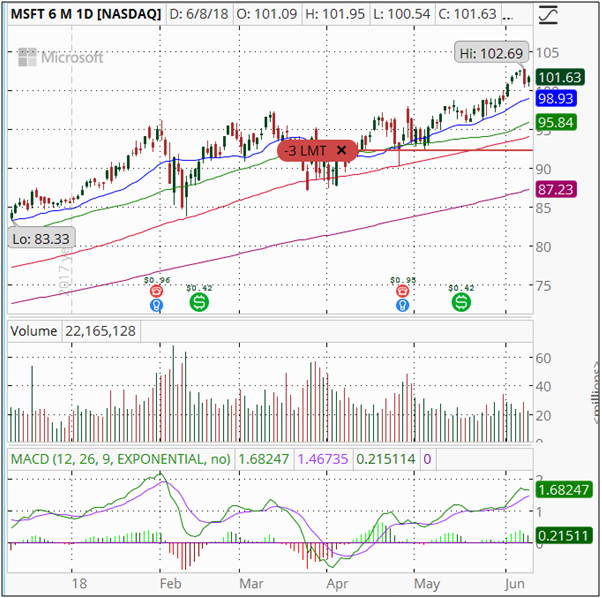 On Monday (6/4) I "bought to open" 4 XLK Sep 21 2018 66 Puts at $0.91/contract.
I thought that it might work to buy puts on the entire technology sector as well as stocks such as AAPL, AMD, and MSFT, so I used the SPDR Select Sector Technology Fund (XLK).  XLK has a very similar pattern to MSFT.   I tentatively have set a sell limit order for $2.00.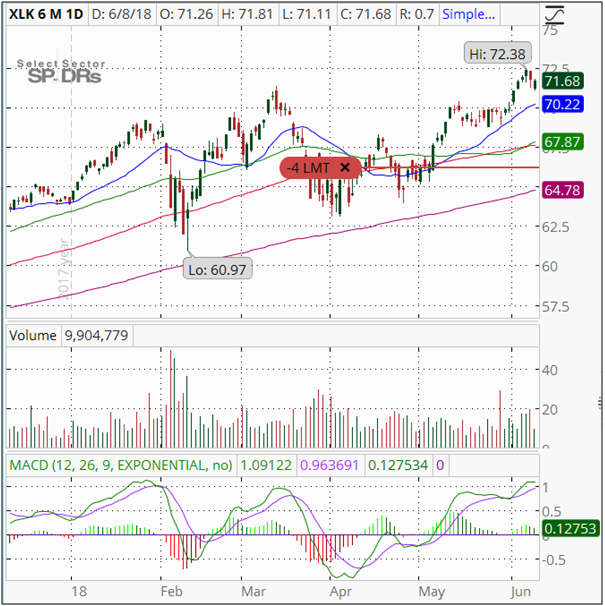 Additions to Open Option Premium Swing Trades
This week I added to 3 of the option premium swing trades that I initiated recently. These adds lower my average cost, and I still have confidence in the ultimate outcome.

On Monday (6/4) I "bought to open" 6 CSX Aug 17 2018 55 Puts at $0.36/contract. The added puts brings my average cost for all 12 to $0.43/contract.

I originally took this position when reading about a trader who shorted CSX Corp. (CSX) in late May, and I decided to try the put options. CSX continues to show some strength, but I have some time for this to roll over. This trade has as much to do with the expectation of the overall market pullback regaining momentum as it does anything about CSX specifically, other than being at a new high. I still tentatively have my sell limit set at $1.00/contract, but will likely change that if CSX heads toward that April gap.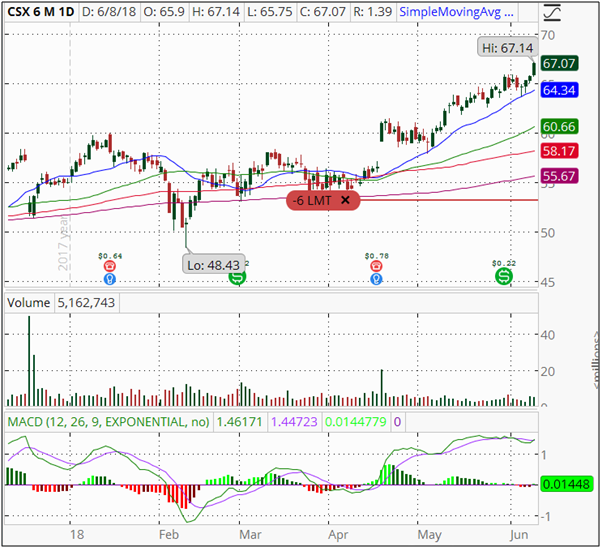 On Monday (6/4) I also "bought to open" 8 additional AAPL Aug 17 2018 150 Puts at $0.21/contract.  This is the first time that I have ever added twice to an options trade.  This brings my average option cost for this Apple Corp. (AAPL) option to $0.35/contract.

Apple (AAPL) may finally be ready to take a breather, based on today's news that the company is preparing for 20% fewer iPhone shipments with this year's upcoming models.  The news was enough to cause a gap down and close lower of almost 1%.  I still tentatively have a sell limit order set at $1.00, but will likely change it if/when the stock drops to the 50-100 period moving average area.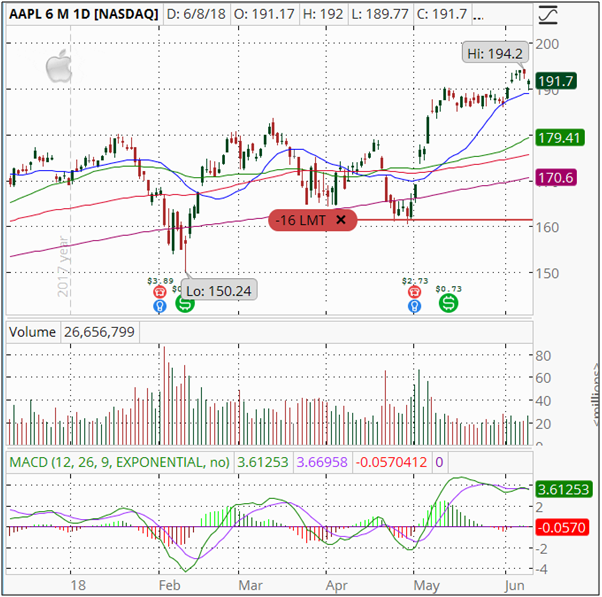 On Monday (6/4) I "bought to open" 8 AMD Aug 17 2018 12 Puts at $0.27/contract.  This brings my average cost for my 12 puts to $0.29/contract.

I bought the fist 8 puts last Friday (6/1) as AMD made a new high and was becoming very extended above the 20 day moving average (blue line).  It continued to increase until this Thursday (6/8), when AMD formed an engulfing reversal candle, on volume.  AMD closed higher on Friday after dropping to $14.31 just after the open.  AMD is still overbought, and I think that a short-term top is in. I tentatively have a sell limit order set at $0.60.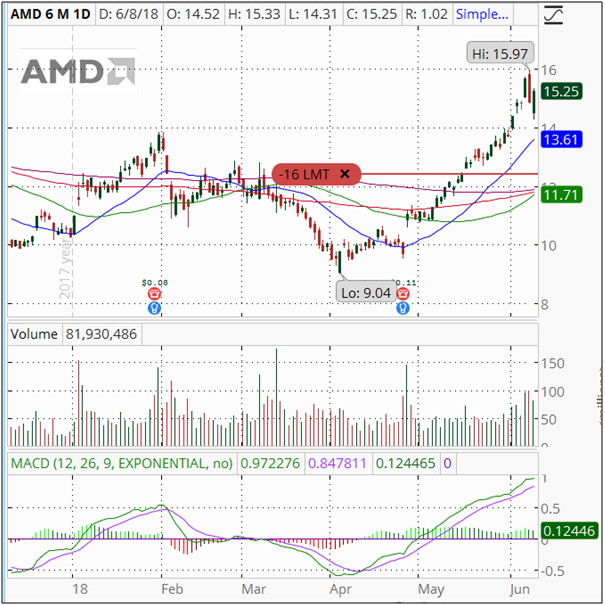 Sells from the Green Dot Portfolio
I have been looking to exit some of the smaller positions in my portfolio for which I have decided to not continue accumulating shares at this time.  Some are in the red, so I have been looking to exit trades as close to profits as I can.  These were not taken as swing trades, and most pay dividends, so I can wait for some progress.
On Monday (6/4) I sold my 25 shares of the mid-cap REIT, Hospitality Properties Trust (HPT), at $29.05/share. 
I bought this small position on 11/6/17 at $28.85/share.  I collected 2 dividends (February and May, 2018) for a total of $26.25, resulting in a small total net profit of $29.34 (+4.04%).  HPT sold off in early 2018 with the general market, making a low in late March just below $24.  It has been slowly recovering but is at a price congestion zone from January.  It may increase further, but I want to reduce my smaller holdings in the REITs at this time before the market pullback resumes, as I have been expecting.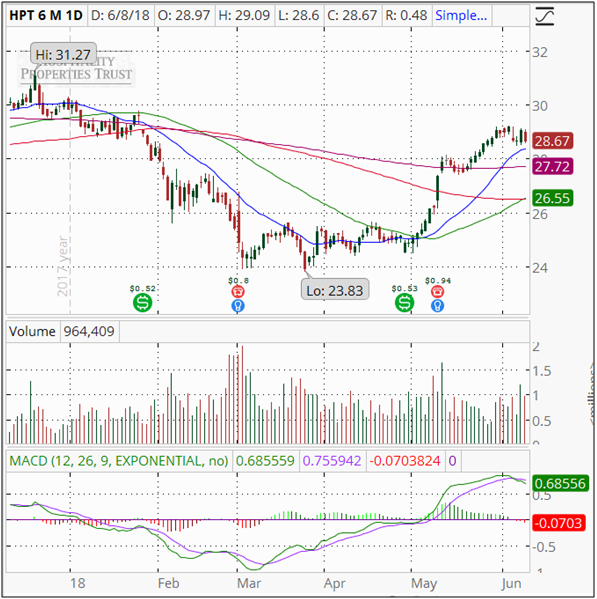 New Positions
I did not open any new non-swing trade positions this week.

Added to Positions
I added to one existing position this week:
On Monday (6/4), I bought an additional 50 shares of Hannon Armstrong Sustainable Infrastructure Capital, Inc. (HASI) at 18.31.  HASI is a small-cap REIT that finances energy efficiency and renewable energy projects.  It currently pays a dividend of $0.33/quarter or $1.32/yr. (7.35% at current price).  The addition brings my total position to 128 shares and lowers my average unit cost to $19.51.  From the recent chart, it may go lower yet, to a double bottom at the late-February post-earnings level.  HASI is a component of a portfolio I follow, so I considered that adding shares at a lower price would be good.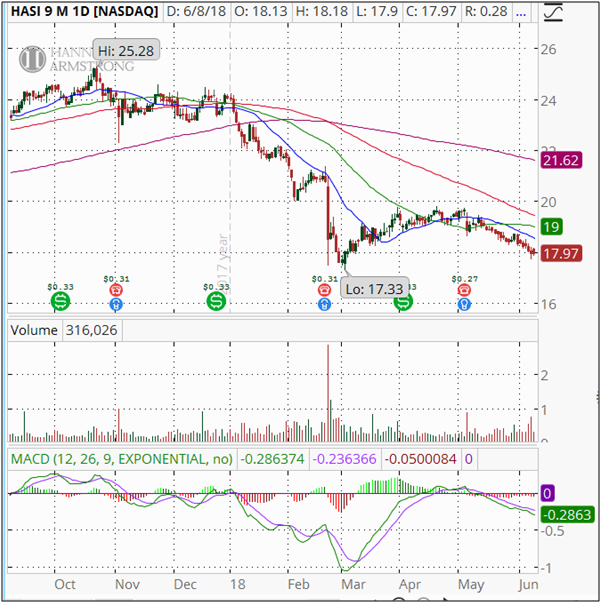 Summary Table of Changes for the Week
Below is a summary table of my activity for the week ending 6/8/18.
| | | | | | |
| --- | --- | --- | --- | --- | --- |
| Symbol | Quantity | New Total | Price | Action | Trade Date |
| MSFT Sep 21 2018 90 Put | 3 | 3 | 1.03 | Buy | 6/4 |
| AMD Aug 17 2018 12 Put | 8 | 16 | 0.27 | Buy | 6/4 |
| HASI | 50 | 128 | 18.31 | Buy | 6/4 |
| SO | 25 | 0 | 44.15 | Sell | 6/4 |
| HPT | 25 | 0 | 29.05 | Sell | 6/4 |
| CSX Aug 17 2018 55 Put | 6 | 12 | 0.36 | Buy | 6/4 |
| XLK Sep 21 2018 66 Put | 4 | 4 | 0.91 | Buy | 6/4 |
| AAPL Aug 17 2018 150 Put | 8 | 16 | 0.21 | Buy | 6/7 |
Finally,
I hope that you enjoyed my weekly blog, and I welcome your feedback and questions. If you think that others would find my Green Dot Portfolio of interest, please share this and encourage them to click on the "Follow" button at the top of one of my articles.
Best to your investing/trading!

=Green Dot Investor=