Welcome to both new and previous readers of my weekly portfolio update blog.
Week Ending 3/8/19
The SPDR S&P 500 ETF (SPY) closed this week for about a -2.5% loss.  Looking at the 10-minute daily chart for this past week (below), the SPY closed last week at 280.49.  On Monday the SPY gapped up to a new 2019 high at 281.87, which was near the .786 retrace of the fall 2018 bear market that I've been tracking.  But Monday's trade reversed deeply early, and then recovered about half of that drop by the close.  Tuesday was a sideways day, followed by a moderate sell-off on Wednesday.  The SPY gapped down a bit on Thursday and sold off, bounced mid-day, and closed near the early morning drop.  On Friday the SPY gapped down again at the open but recovered most of the drop by the close, at SPY 274.52.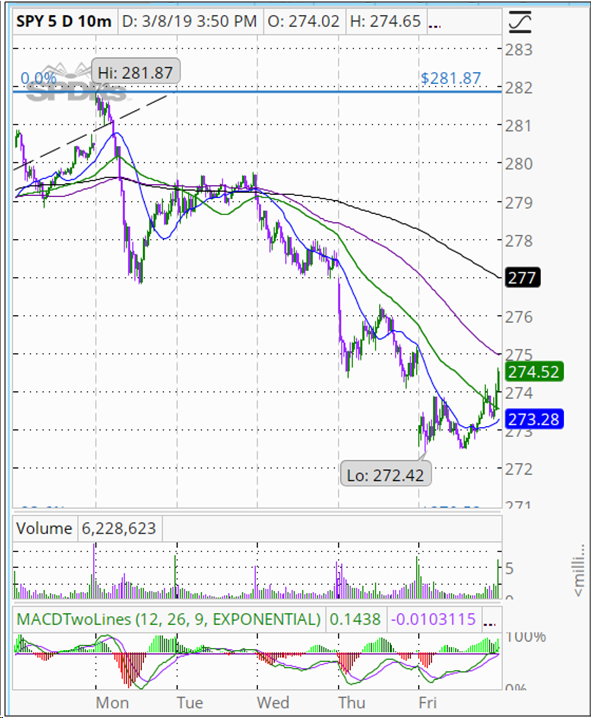 Several times late in the week on CNBC I heard commentators talk again about a resumption of the 2018 bear market.  This seems to happen every time there is a sell-off on a bad economic data report or a geo-political event. But I'm not inclined to think that this will happen at this point.
Looking at the weekly chart for the past 9 months (left below) and the daily chart for the past 3 months (right), this week was clearly a change in trend, but it was not characterized by consecutive days of deep, continuous drops.   The SPY hit the .786 retrace of the 2018 bear market, as I have been expecting, and volume has picked up a bit on this change.  I notice that the drop this week just pierced the the 50 week MA (green line, left) at the convergence of the 8 week EMA (gold line).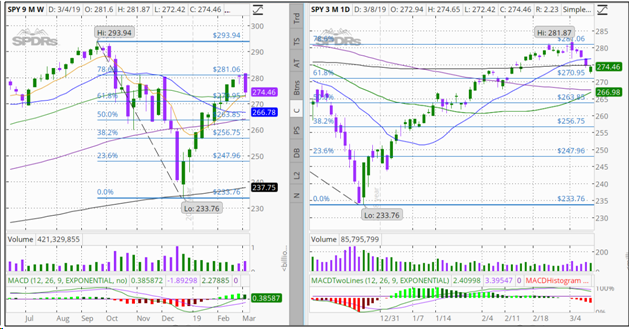 I was originally expecting a 5-7% decline, and this week's drop was only about 2.5% or half of the minimum expected.  Perhaps it goes lower, but the overall price action does not have the look to me of a trend toward a new low. If a larger downtrend were in progress, it would be more likely that on Friday the SPY would not have recovered from the opening gap down.  It seems that investors were willing to hold onto stocks over the weekend.  A selloff to the close would have raised the likelihood of continued selling next week.
If the pullback continues next week, the next area of support would be the SPY 264-267 area, where the 50 period retrace and the 20 and 50 period MAs converge.  At the low end, that's about a 6.4% pullback from Monday's high, perhaps good enough.
Income Positions
I did not make any changes to income positions this week.  I had hoped to add to some of my CEFs, but prices are still too high.
Swing Trades
This week I bought and sold 1 leveraged ETF, added to 1 existing stock, and started positions in 5 additional stocks.
On Tuesday (3/5), I bought 100 shares of Direxion Daily S&P Biotech Bear 3X Shares (LABD) at $19.00/share.  I sold this position the next day (3/6) at $21.20/share, for a net profit of $219.96 (+11.58%).
This -3x ETF on the biotech sector was trending lower at the market bounced from the December low of the 2018 bear market.  It was at a new year low just before it gapped down on 2/25.  With what appeared to be the beginning of this pullback with Monday's sell-off, I decided to go long on this ETF on the next day. As I said in my trade alert, given the risk with this ETF, I was only looking to get a few dollars. I sold on Wednesday after the opening move up faded.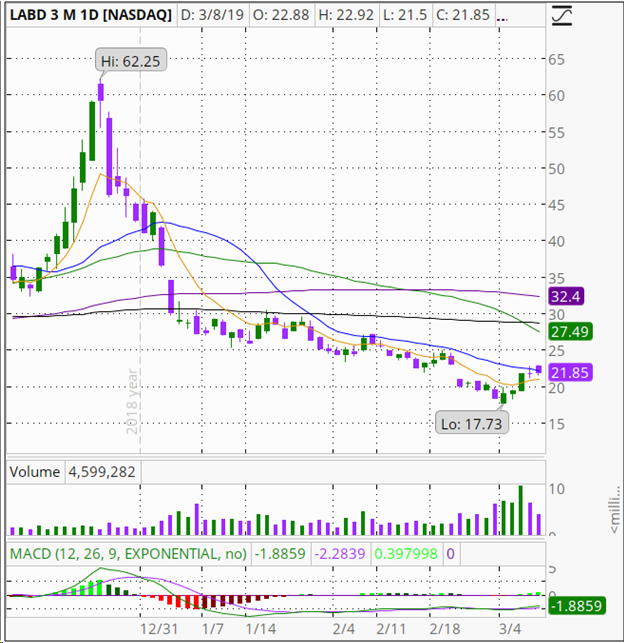 Here's my trade log:

In another trade this week, I added to my existing position in CVS Health Corp. (CVS).
On Thursday (3/7), I bought 32 shares of CVS at $53.00/share. 
I bought the first 23 shares on 2/11 at $62.25/share, and this add brings my total position to 55 shares at an average cost of $58.1227/share. CVS was doing well and I almost took profits the day before earnings, but I decided to hold.  CVS met consensus earnings estimates but go caught in concerns about a class action lawsuit, the controversy over the national "medicare for all" proposal, and the overall market pullback.  The chart below shows the rapid pullback on earnings.  I originally bought this stock because it was a component of a dividend portfolio I follow.  I am willing to hold and collect some dividends along the way (currently $0.50/share).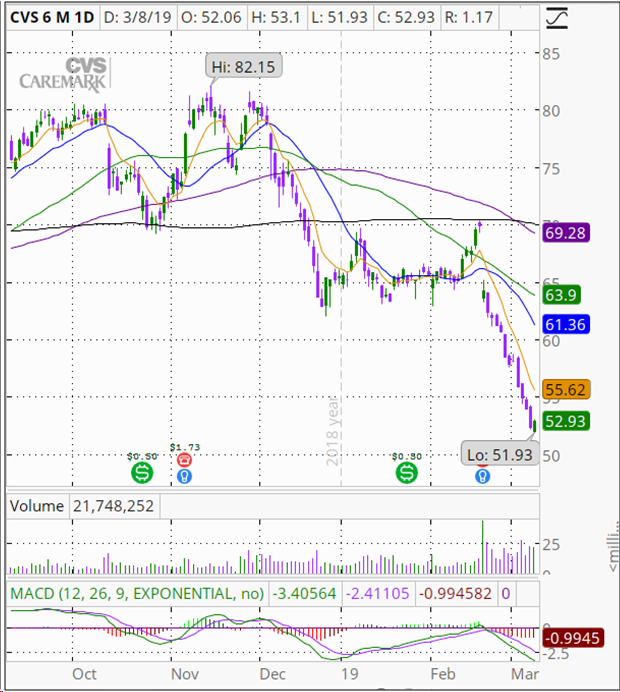 The 5 other positions I opened this week are all stocks that have pulled back during this overall short-term market downtrend.  Four of the 5 are components of portfolio services I follow or swing trade services.  This is often the case for the stocks that I select for swing trading.  Because others pay for the stock recommendations, I am not able to disclose any details until after the swing trades are closed.
As part of my research, I look not only for socks that are recommended in specific portfolio services, but also choose among those the stocks that are trading at the lower end of their trading range and that have some favorable ratings from the analyst reports available through my Ameritrade tools, especially New Constructs and CRFA.  I also look at Y Charts for the comparison of 5-year percentage growth in price and dividend payout.  I talked about that concept previously, wherein increasing dividend payouts act to pull share prices up.
My intention is to hold these oversold stocks for a price appreciation target of close to 10% within a few months.  As always, I will make any specific decisions based on how prices trend in time.  While I wait, I hopefully can collect some dividends.
On Thursday (3/7), I bought 88 shares of Axcelis Technologies Inc. (ACLS) at $20.00/share.
Axcelis is a small cap semiconductor company that, unlike the others here, does not pay a dividend.  Axcelis has pulled back to the 200 MA support area, but it is still in a downtrend and could go lower.  It has several recommendations that are favorable for its price growth.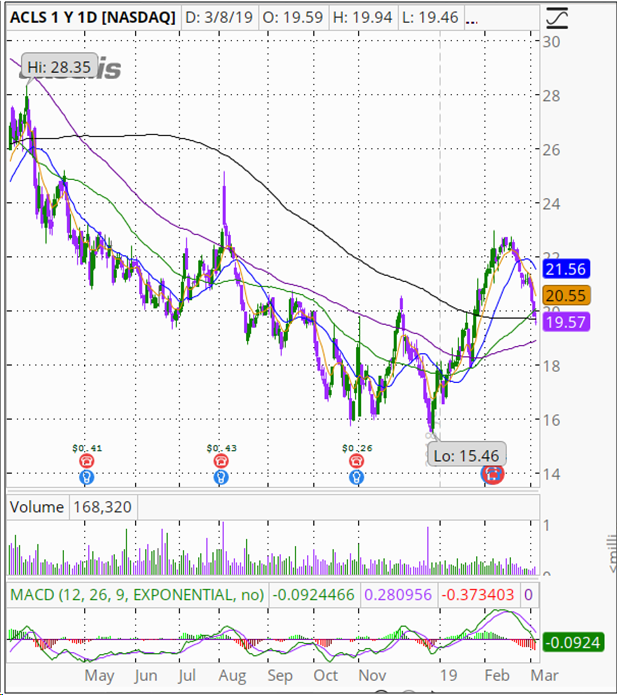 On Thursday (3/7). I bought 10 shares of Amgen Inc. (AMGN) at $181.00/share.
Amgen is a large cap health care/biotech company that currently pays a annual dividend of $5.80 (3.21%), and it just raised its dividend in February.  It has pulled back a lot recently and is very oversold despite having a "Highly Attractive" rating by New Constructs and buy recommendations by 2 other analysts.  The 5 year dividend growth rate (+137%) significantly out-paces the share price growth rate (+44%).  The $180 area has provided support several times during the past 6 months, as seen on the chart below.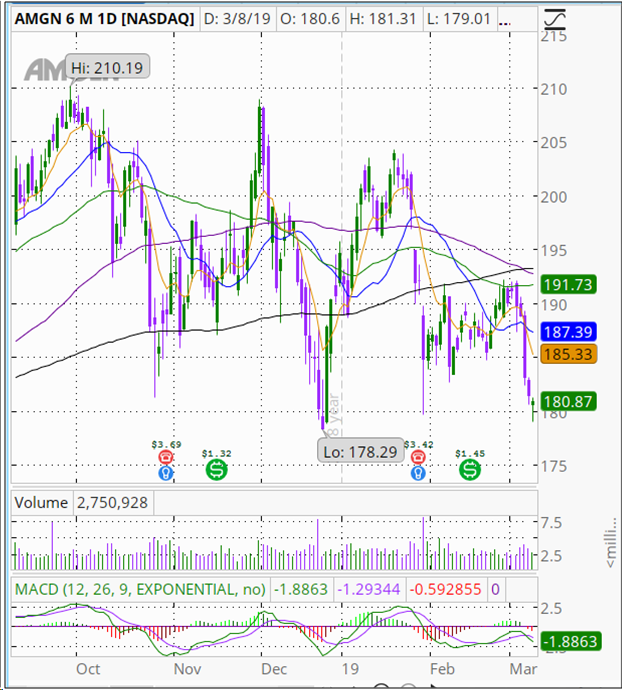 On Thursday (3/7), I bought 10 shares of Cigna Corp. (CI) at $162.90/share.
Cigna is a large cap health care provider/service company.  It pays a negligible dividend and is only rated moderately at present, but it has pulled back to a one-year low.  At this very oversold level, Cigna is a potential bounce candidate.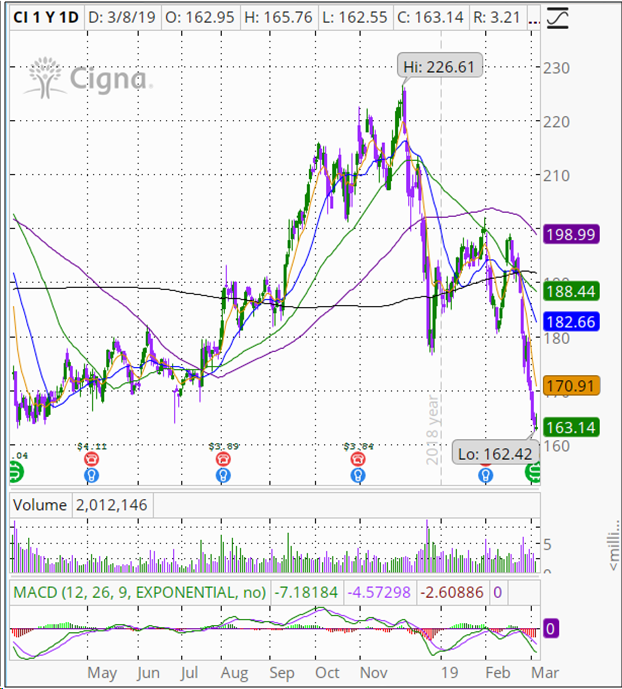 On Thursday (3/7), I bought 17 shares of McKesson Corp. (MCK) at $113.20/share.
Like Cigna, McKesson is a large cap health care provider/service company.  Over the past 5 years, McKesson's dividend, while relatively low ($1.56/yr. or 1.39%), has grown 62% but its stock price has declined 36%, suggesting that its share price should be higher.  As the chart below shows, MCK is re-testing the bear market low in December.  While it may go lower, it is very oversold and at some point is due for a bounce.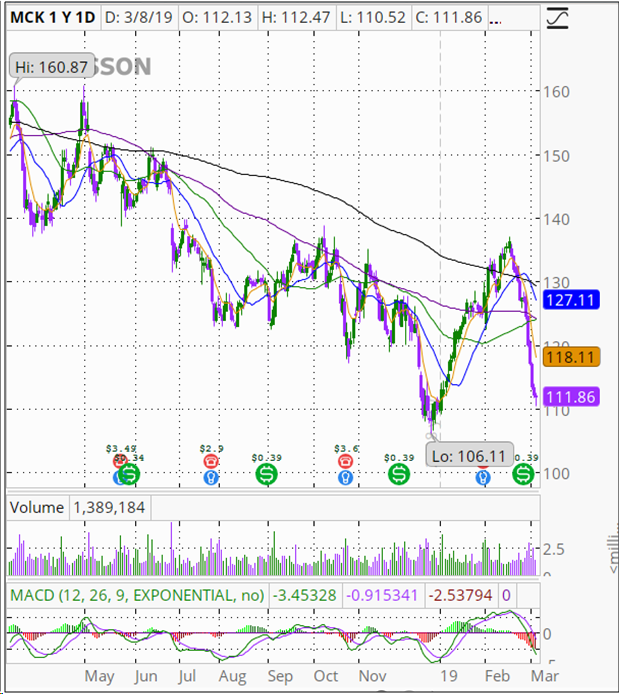 On Thursday (3/7), I bought 30 shares of Principal Financial Group Inc. (PFG) at $50.00/share.
Principal is a mid cap insurance company currently paying an annual dividend of $2.13 (4.27%).  The dividend has increased 65% over the past 5 years but the share price has grown only 5%.  In addition to being a component of a portfolio I follow, it is rated a buy by several analyst firms.  PFG has followed the overall market pattern during the late 2018 bear market and early 2019 rebound.  It is selling off with the recent pullback toward support levels.  If the market regains an uptrend, PFG is likely to follow along again.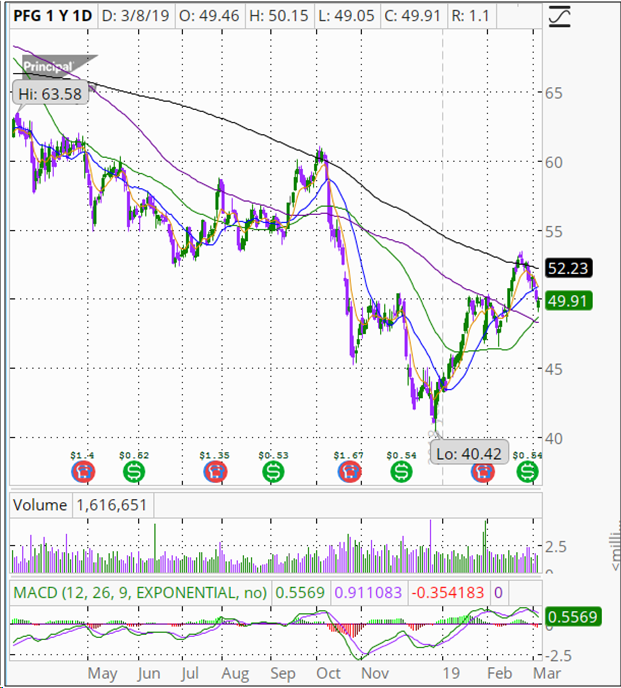 Finally,
I hope that you enjoyed my weekly blog, and I welcome your feedback and questions. If you think that others would find my Green Dot Portfolio of interest, please share this.
Wishing everyone the best for your investing/trading!
=Green Dot Investor=
ADDENDUM
After just posting this blog update, I learned that the Caldaro OEW blog has now been taken up by his team.  It's amazing but this reads almost as if Tony Caldaro were still alive and writing about the market pattern himself.  The overall pattern remains the same: this is Primary III bull market, with Major 1 (up) from 2016-2018 complete, Major 2 bear market in late 2018 complete, and Major 3 bull market underway.
The post suggests that the Minor wave 1 up of major 3 completed at SPY 2817 and that Minor 2 down is underway.  This looks right to me.  Here's the current chart: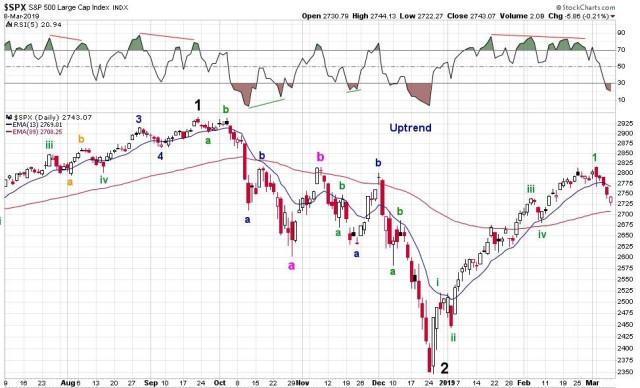 (Source: https://caldaro.wordpress.com/2019/01/19/weekend-update-687/).
They are currently expecting the downtrend to be confirmed "in the coming weeks."  The pattern is suggested to consist of a simple zig-zag: Minute A (down), Minute B (up), Minute C (down), to complete Minor 2 of Major 3. 
If this count holds, I have to decide to hold most of my swings through the completion of this Minor 2 wave and then to sell on the rebound with Minor 3 up, or take profits in the Minute B wave up if there is enough price movement/profit.
=Green=