Welcome to both new and previous readers of my weekly portfolio update blog.  This updates covers the past two weeks (ending 5/3 and 5/10).
Week Ending 5/10/19
The weekly chart below for the SPDR S&P 500 ETF (SPY) shows that trading for this leading market index made a new high on 5/1 at SPY 294.95, finally retracing fully the late 2018 bear market.  But the SPY closed lower that day and has since generally continued to pull back, dipping below the 20 day MA (blue line) and, on Thursday and Friday this past week, dipping below the 50 day MA (green line).  Another reversal seems to be forming, however, as the SPY bounced each of those days and closed well off the lows of the day.  The 50 MA is now providing support.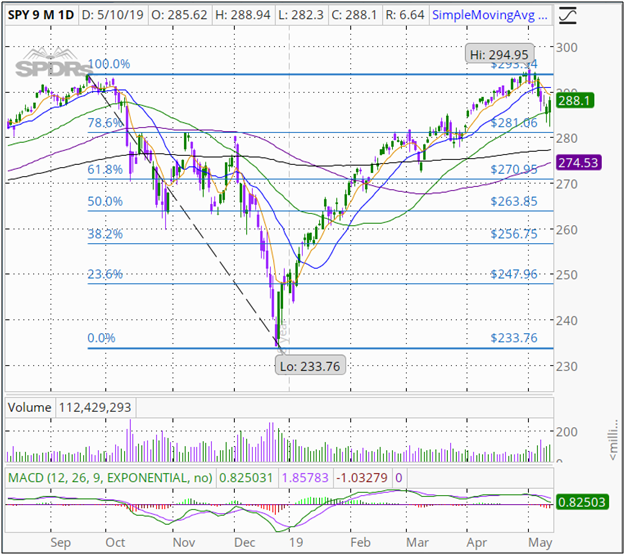 As I have noted previously, the retracement of the bear market has occurred also for the Nasdaq 100 (NDX) and the Nasdaq Composite (COMP), with the DOW Industrials (DIA) still shy of a new high.  On the other hand, the small caps (left chart), Russell 2000 (IWM), and the Financial sector (right chart), (NYSEARCA:XLF) are still lagging a lot.  These components typically rise during bull markets.  Of the two, the financials have made more progress recently.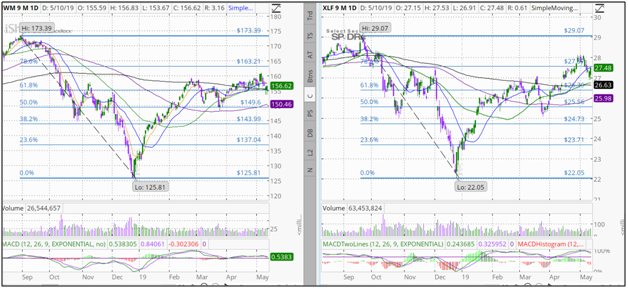 That said, I was surprised to see that not only has the Financial sector index (XLF) not made a new high since early January 2018, but it exhibits a strong resistance trendline with lower highs before the fall 2018 bear market and the current retrace high (relative to the SPY).  This resistance line is shown in gold on the 2-year chart of the XLF (left).  The leading financial stock, JPMorgan Chase & Co. (JPM) also shows lower highs on the 2 year chart (right) although the trendline is not as steeply declining.  Most of the largest bank stocks exhibit trendlines more similar to the XLF, including C, BAC, GS, MS, BK, HSBC, USB, and COF, among others.  Either the financials get moving or this bull market is threatened much earlier than it should have been.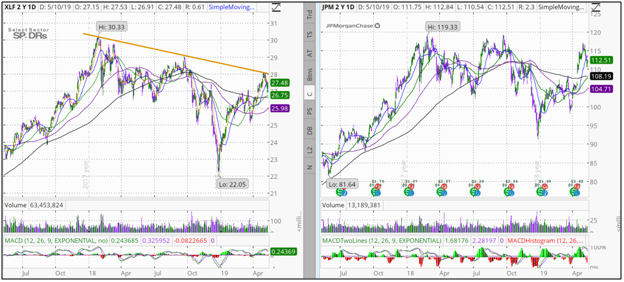 OEW Count
The Objective Elliott Wave pattern analysis (the ELLIOTT WAVE lives on) that I have been referring to for months now maintains the count that the SPX is in Intermediate 1 (up) of Major 3 (up) of the Primary III (up) bull market.  But they indicate that the Dow has now confirmed a downtrend, resulting overall in an inflection point for the market.  The chart below for the Dow, their alternate count, shows a Minor 2 (down) wave in progress.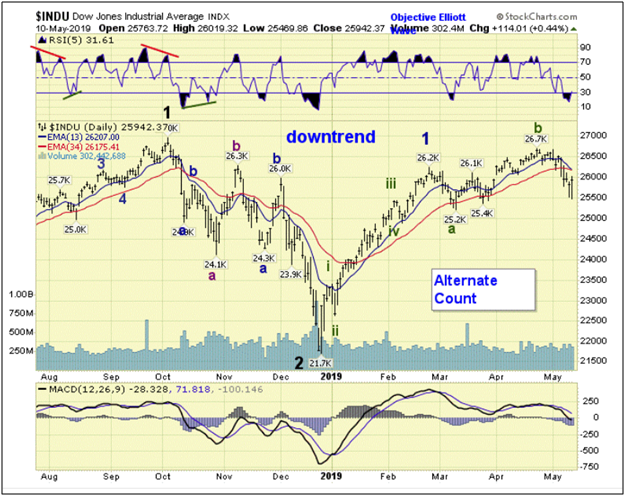 The primary SPX count below shows that Minor 3 (up) is still intact.  If this count is correct, there should be a lot of continuing price gain for the markets in the near term.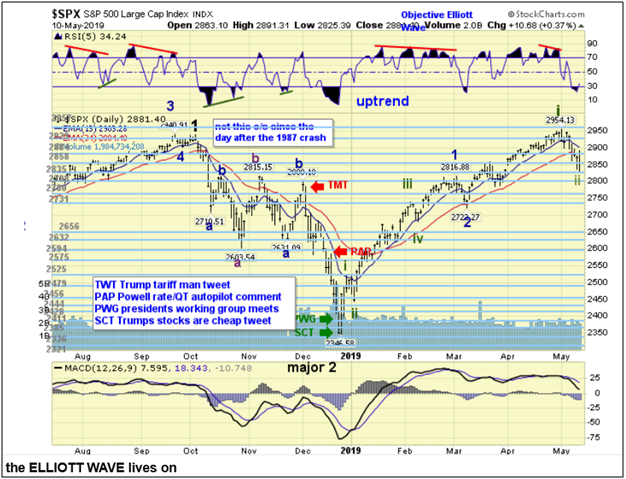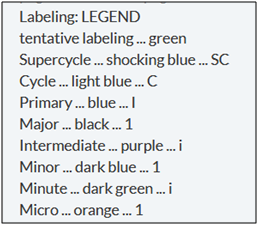 Income Positions
I've been waiting as patiently as I can for the markets to pull back some so that I can add to some of my closed-end funds.  With the weakness this past week, I decided to add some shares.  Despite that the three existing CEFs (KIO, BGX, and HYT) were trading at a higher price than my average unit cost, they were nevertheless trading at a 5% or greater discount to NAV.  2018 was an unusual year, with two large down markets, an Intermediate wave pullback in early 2018 and a Major wave bear market in late 2018.  So the 52-week "average" prices for many stocks and ETFs/CEFs are lower than current prices.
These were the CEF positions that I added to this week:

As I wrote in the previous blog, I also bought 200 shares of a new CEF for my portfolio, Calamos Strategic Total Return Fund (CSQ). CSQ currently pays an income only distribution of $0.0825/share/month (7.83%) and was trading at a small discount to NAV.  I'll add more shares down the road if this pulls back to a larger discount.
I've also been checking out some of the other CEFs, REITs, and dividend growth stocks that I want to re-enter, including PCI, UTF, BXMT, HASI, LADR, MPW, CE, and SYF, but they need to pull back more.
Swing Trades
This week I closed 3 swing trades and added to 1 existing position.
Closed Trades
On 5/2 I sold my 135 shares of ProShares UltraShort Bloomberg Crude Oil (SCO) at $15.80 for +14.36% for 8 days in the trade.
I was fortunate to enter SCO on the day it made a recent low (cursor on chart below). After the reversal, SCO stalled a few days later at the 20 MA and began to consolidate.  When it gapped up on 5/2 I decided to take the profit. It's traded sideways since then.  I had been in UCO only a few weeks earlier and that took a long time to gain only 4.88%, so I was happy with this quick trade.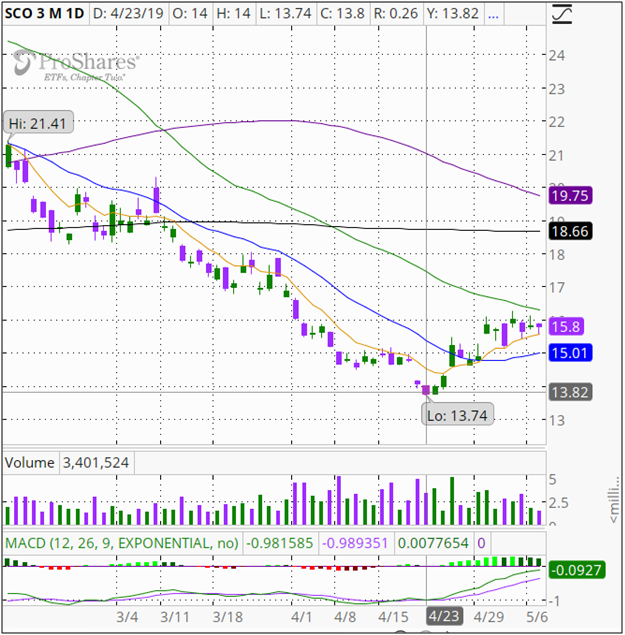 Here's my trade log:

ON 5/3, I sold my 180 shares of United State Steel Corp. (X) at $16.64 for +4.13% for 15 days in the trade.
I bought US Steel on 4/12 (cursor on chart below) when it made a new 52-week low, thinking that it might bounce as the overall market was uptrending.  But X drifted lower for the next few weeks.  I decided to add a half position early on 5/2 before earnings.  Fortunately there was a good response to earnings and X popped on 5/3.  I sold as it reached its 20 day MA.  X has pulled back since, to a new multi-year low.  I might re-enter this soon as it's close to a late June 2016 pivot at $14.80, but an even lower major pivot from mid-May 2016 is not far below that at $12.77.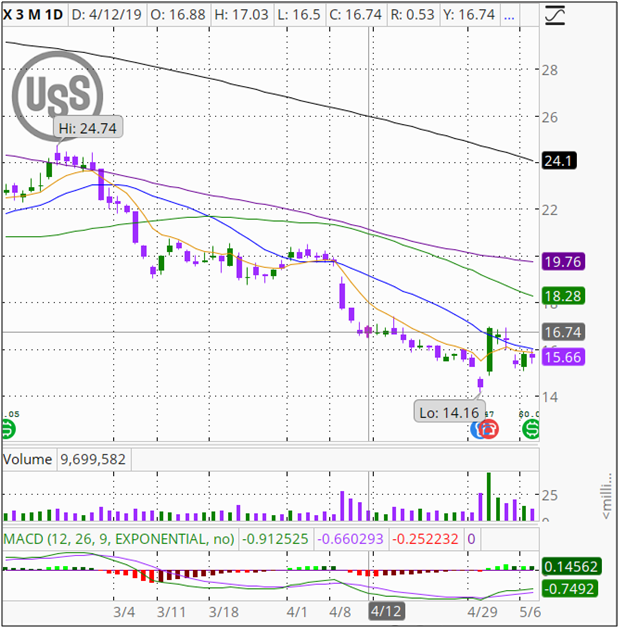 Here's my trade log:

On 5/7, I sold my 65 shares of iPath Series B S&P 500 VIX Short-Term Futures ETN (VXX, formerly VXXB) at $28.99 for +10.52% for 17 days in the trade.
I entered this trade about a week before the recent low.  The VXX then traded sideways before moving up sharply on 5/6 above its 20 day MA, before closing at the low for the day (but still above the 20 MA).  On 5/7, as the VXX gapped up to the 50 day MA and I decided to exit.  The VXX continued to rise that day and even pierced the 100 day MA two days later before falling back into the end of the week.  I left a lot of money on the table at the high, but if I had held until now, I would have lost much of my gain.  The nature of the volatility trade make holding this for long period highly risky, so I was happy with the profit for the time in the trade.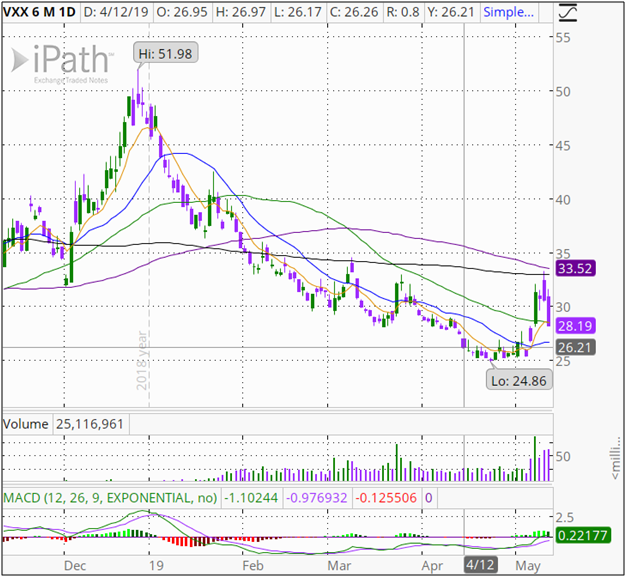 Here's my trade log:

I also added to one swing trade this week:
On 5/2, I added 25 shares of Westlake Chemical (WLK) at $64.80/share.
My WLK trade has not done well so I looked for an opportunity to add to the position recently.  On 5/2 WLK dropped on earnings and I added 25 shares early at about the 3/25 low pivot level (gold line).  But WLK blew through that level and continued lower for a few days until bouncing slightly late this past week.  My average cost is now $69.775, down 12.6%, but I still think that this trade will be profitable before long.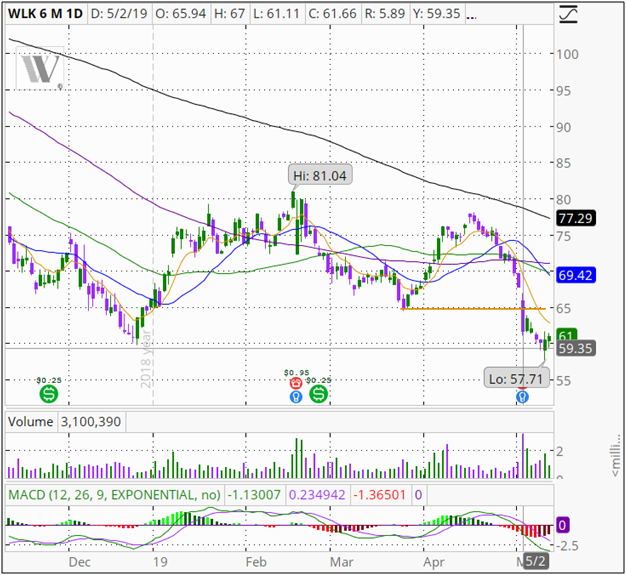 Finally,
I hope that you enjoyed my weekly blog, and I welcome your feedback and questions. If you think that others would find my Green Dot Portfolio of interest, please share this.
Wishing everyone the best for your investing/trading!
=Green Dot Investor=